Uncategorized
Hi everybody!
So yesterday an old friend from school came round to see me for a cup of tea and a catch up. Now to most people this might seem very boring and not out of the ordinary at all but it meant so much to me and I want to explain why.
First of all, she got in touch with me because she found my blog, and when she did and started reading she was amazed at how similar our symptoms and experiences with chronic pain and fatigue were. She emailed me and we started to talk and arranged for her to come visit, and if you have been reading my articles for a while you will know how lonely I get so this was something I was so excited for!
I was nervous because of the amount of time that had passed since we had last seen one another, but I needn't have. We chatted away and in no time found ourselves amazed at how similar our chronic illness journeys were and how we both have struggled with accepting our illnesses and having family understand why we are sick.
I started to think about all the chronic illness warriors that I know through social media, you tube and this blog and wondered just how similar our paths seem to be. It in incredible that no matter what our diagnosis, we all walk the same path and it is this fact that connects us all. I started to realise that so many of us are in reality so isolated and alone, spending weeks at times not seeing friends or even leaving the house just like me!
Seeing my friend was wonderful, I felt so tired and in pain afterwards but I have not stopped smiling since because I am so happy! I feel like I am part of a worldwide network of chronic illness warriors who have many different illnesses and yet we all walk a similar path! So if you ever feel lonely or just need to talk my instagram, twitter, facebook and my email all have ways to get in touch with me and I would love to connect with you!
Namaste xxx
Hey everybody!
First of all I apologise for not writing a post last week! There was supposed to be someone to come and assess me for PIP the new disability benefit in the UK. I was so stressed it made my pain worse, and so I was struggling with so much…and then on top of that they just did not show up and did not call to explain! I have another appointment but I am not looking forward to all the stress it will bring. Anyway, yes that is why I did not post anything last week, I apologise.
So, I have been practising yoga now for about six years and for most of that time I have done it daily using the teacher Yoga with Adriene I have spoken about her many times. She is an amazing teacher and I love her style, however her videos are not aimed at the Spoonie community and so it can be difficult to keep up.
I often found that I had to choose whether to do yoga or some housework and practising daily was impossible. I love yoga and I want to do it daily it is my main form of exercise, it keeps my body supple and helps me to be in the moment. I use it as part of my religion as I am Christian Buddist and so I really wanted to find a gentle practice that I could do every day and it would not make me too tired.
Then Adriene uploaded a 'Yin yoga' routine which is a form of yoga I had not heard of before:
"Yin yoga is a slow-paced style of yoga with postures, or asanas, that are held for longer periods of time—for beginners, it may range from 45 seconds to two minutes; more advanced practitioners may stay in one asana for five minutes or more."
I really enjoyed it and though it is not what people picture when they think of yoga I really got so much out of it because it moved my body but was gentle and did not tire me out….so I started hunting for different yoga teachers on You Tube who practiced more gentle routines that could help me to listen to my body more and not make my illnesses worse.
I found a couple of teachers so far, Sleepy Santosha is a woman who is a Spoonie and because of that her routines are designed for people with illnesses. She has a very soothing style, the routines are awesome and she has some specifically for Chronic Fatigue Syndrome and Fibromyalgia. Chakrapod is the another teacher who has routines for specific illnesses but also some that are a little tougher and more traditional, I love her style she is really chill and I would recommend her. I have some others as well and you can find the exercise routines I do in a playlist HERE
Overall, this change has bought me closer to what yoga is really about, it is not about getting abs and doing crazy poses that you can show off! Yoga is anything where you are concentrated on breath and movement, and there are lots of yoga routines you can actually do in bed. This change in my attitude to yoga means I can now do yoga every day and I can still manage a little housework, my symptoms are more level and do not fluctuate as much as they were when I was trying to push myself.
Do you have any yoga teachers like this that you would recommend? If you try any of the yoga routines in my list let me know I would love to know what you think of them.
Namaste xxx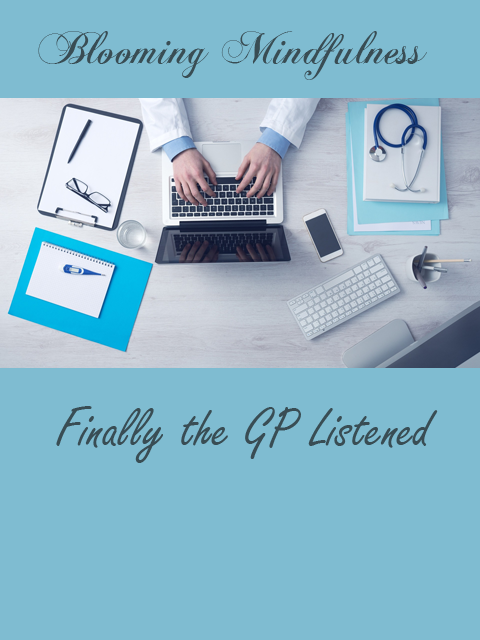 Hey everyone!
So my chronic illness journey, like for many, has been complicated! It took them 5 years to diagnose me with Multiple Sclerosis, and then 10 years after that they said they were wrong and discharged me from Neurology. I was referred to a Rheumatologist and finally diagnosed with Fibromyalgia…but then they discharged me too…
Since then I have relied heavily on my local GP, and intermittent referrals to physiotherapy to deal with my illness. So I went from ten years with a specialist nurse, specialist neurologist, and psychologist to nothing and I have often questioned why but never really had much luck getting an answer.
Today I returned to my GP with new symptoms:
Pressure migraines thanks to the pain and cramping I experience from Fibro in my shoulders and neck
Dizzy spells
Almost passing out if I bend down and then stand up again
Honestly I was sure that I would not get much help from the doctor because I never do and it was a new GP I saw, I wish I could say I was hopeful and determined but after almost 3 years with no real back up for my illnesses I had more or less given up.
However, when I saw the GP she listened to me and looked back in my files and agreed that I should have more help and a regular specialist who can support me more with my symptoms and who will help me. It felt like such a relief to be taken seriously and listened to and to be told she would make sure I was referred to someone and got the help I need.
I really felt so much lighter and almost like crying as I left the doctors because I have just been told to drink more water, light exercise and to maybe have a referral to a physiotherapist. It really felt like the moment my diagnosis changed so did the level of care I received, but my symptoms and my actual experiences with the illness did not change. I am so thankful that I got to see a new doctor today and I am hopeful that I will get better care and be taken more seriously from now on.
Namaste xxx
Hey everybody!
I am feeling a little overwhelmed and tired, and it is all because I want to be able to be a person a normal person and I want to do things and get things done but my body feels so heavy and painful and tired! I sometimes feel like I am trapped in a body that does not want to do the things I do so it tries to hold me back and stop me from doing what I want to do!
For example, today has been a good day I have done a short yoga sequence, cleaned the bathrooms, had a shower and now I want to write and catch up on things…but now I am in pain in the back of my head, my shoulders and upper back. I also feel so tired I keep having to retype words because my hands will not do what I need them to!
Part of me thinks it would be easier to give up and live in a dump let myself get fat and my brain go numb watching daytime TV!!! However, I am not built that way, I need to learn and grow I need to keep on top of my body which is squishier than I'd like, but I can only do my best right?
So, I know this post is a little moany, but to be honest that is how I feel at the moment! My husband is struggling too I think it is the weather! In the UK right now it is cloudy, hot and the air feels heavy. This kind of weather gives me a lot of headaches and my pain is always worse when the weather is up and down like the typical British summer.
Now, if you read my blog regularly you might be wondering how I am going to get myself back to the positive again????
Well, I have thought long about this and I think I am going to tackle things in smaller chunks! I am going to spread my work out through the day so maybe 10-15 minutes three times a day instead of trying to do it all in one?  Also, maybe break down my cleaning even more, so if there are a lot of ornaments in a room, maybe clean it over two days? Yes when pain and fatigue get's overwhelming it can be easy to give up and yes I have a little weight to lose right now, but if I am patient and keep on fighting I can do this!
Namaste xxx
Hey everybody!
Yesterday was a big day for me, I love making new friends and going out, but when you have an anxiety disorder it can easily spiral into something you force yourself through instead of enjoying yourself.
I was going out with one of my best friends to celebrate her getting married, we first went out to learn to make cocktails in a really nice bar, and then to a different place to eat a lovely meal. We went out to a big city close to where we live, but it was still an hour each way on the train and walking from place to place though thankfully they were less than 5 minutes walking from one another.
I woke really early and was ready to go a long time before I needed to be, now this is normal for someone with an anxiety disorder. I was ready early because I didn't want to make anyone wait or let anyone down. But waiting has it's own problems because then I have time to worry and make up scenarios in my head. To combat this I watched you tube videos on my ipad, they are perfect because they are short and you can watch them without worrying too much about getting caught up in them.
I bought myself a new dress to help with my confidence as well, and though my  dress was 1950s style I felt so pretty in it and not like I stuck out. I think that with a little make up really helped me to feel like I could hide if I felt overwhelmed, but my friend and her friends and family really were lovely and helped me so much! Even when a man in the bar made a comment about me looking like his mother because of my walking stick I managed to shake it off and just have fun!
I made sure as well to have a few drinks and to have fun, but to be careful not to go too far and to drink lots of water as I did so. I had such a fun time, I ate well and the best part was going behind the bar and making actual real cocktails! They all tasted so yummy and fresh and perfect for summer I could have stayed there drinking them all night!
The walking has left me with aching legs, however people walked at my pace and looked after me which I appreciated so much I have been left behind in the past and it does not feel nice at all! I also came home early before I was wrecked (thank goodness for adrenaline am I right?) and got straight into my pyjamas and got into bed.
Today I found my energy so low and my head is aching, my legs hurt, my feet are swollen and itchy, and overall I just want to sleep…but it was so worth it! I think going out with friends is just as important for mental health as meditating and I just wish I went out with friends more often!
Namaste xxxx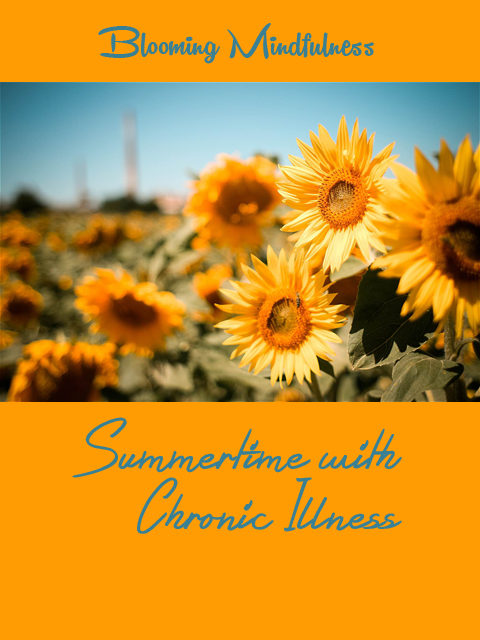 Hey everybody!
Phew it is getting hot here in Britain, something we are not used to and even though we know it is coming we never seem to be prepared for it. I know many people here complain we do not get much of a summer, but when it comes I must admit many of us Brits end up complaining about how stiflingly hot it is!
Today I am in a sundress, something you rarely see, my legs, are on display and I am doing my best to get my jobs done though my pain is bad today. The heat seems to make my hands and feet swell, and I get worse pain everywhere because of it as well as my fatigue making me just want to curl up and sleep!
The main problem which is fatigue, I deal with by going to bed early, taking naps and staying in my living room. We don't get a lot of sunlight in there because we have a small window, so it is perfect for us migraine sufferers who can find too much bright sunlight will bring on an attack! I also make sure to have my large, tower fan on the go all day sweeping the room in cool air, it really makes a difference and keeps me from melting in the heat.
I also have two more things in my toolbox to help me cope with the summer, I bought them when I first got sick so over a decade ago, so I am afraid I cannot provide links as I usually do. However, they can be found both on Etsy and Amazon if you have a look, one is a scarf with gel inside, and the other is a pillow with the same gel inside a pretty cover. You submerge them in cold water for a few hours and then they can be used to keep you cool, I think you can get clothing as well to keep you cool. A good look online should bring up some good results.
I do not tend to sit outside, but if I do I make sure I am under an umbrella and in the shade, as well as using sun cream so I do not burn. At night I have a tower fan on all night to keep me cool so I do not have trouble sleeping and do not wake up with exacerbated symptoms thanks to being too hot all night!
I hope you all have a lovely summer, please keep cool, wear sunglasses and cream and have a look online there are lots of ways to help us Spoonies keep cool in the summer months.
Namaste xxx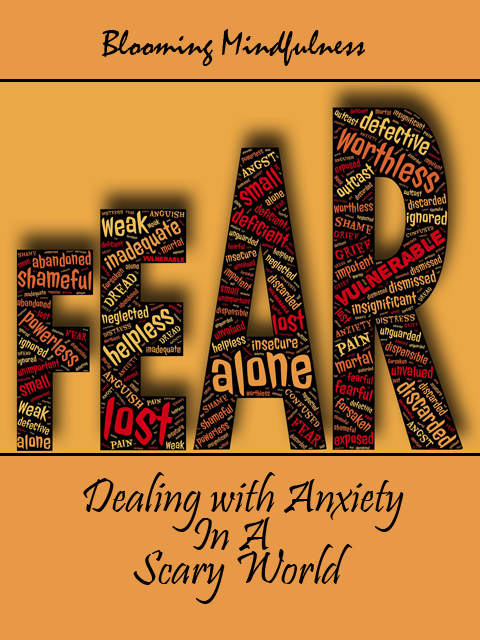 Hey everybody!
Wow is it just me or is the world getting crazier? Here in the UK we have had a concert in Manchester bombed and now stabbings and people hit with a van in London…I am in a small town but I have friends all over and who knows where the next attack is going to come from?
Now I know this will go against the first sentence I wrote up there, but I in fact do not think the world is getting crazier. I have lived through the IRA attacks, I have seen bombings and shootings and wars all over the world and I ask myself, when will we learn? People seem to be nastier and more outspoken, maybe because of the internet or maybe the internet has just given nasty people an outlet?
Either way for me personally seeing that nothing has changed leaves me quaking in my boots afraid to go out of the house to walk my dog and feeling very small and scared. I have been diagnosed with Generalised Anxiety Disorder, which is characterised by WIKIPEDIA as:
"Generalized anxiety disorder (GAD) is an anxiety disorder characterized by excessive, uncontrollable and often irrational worry, that is, apprehensive expectation about events or activities. … These symptoms must be consistent and ongoing, persisting at least six months, for a formal diagnosis of GAD."
I have had this my whole life and was diagnosed about six years ago with it by a therapist who gave me a lot of coping mechanisms and tips and tricks to learn to live with it. In the last few years, I have worked hard to be able to go on short walks with Gizmo alone, and to be able to speak to people in shops etc.
However, these attacks have sent me scurrying back into my home to hide away, the thought of going away to London for a convention is in question and I feel like terror is really setting me back. The problem is that these evil people can strike at any time, we do not know who they are or when they are doing this which is why it is such a shock when it happens. I am worried that this will undo all the hard work I have put in and I really do not want that to happen.
I am hoping that I can set myself small goals, and use logic to try and stop myself slipping backwards, and I can only pray that these attacks stop soon. I hope we as humans can be good and can learn from the past, I do not understand war and I never want to know it all we can do is put our faith in the government to keep us safe and to protect us.
Stay safe everyone
Namaste xxx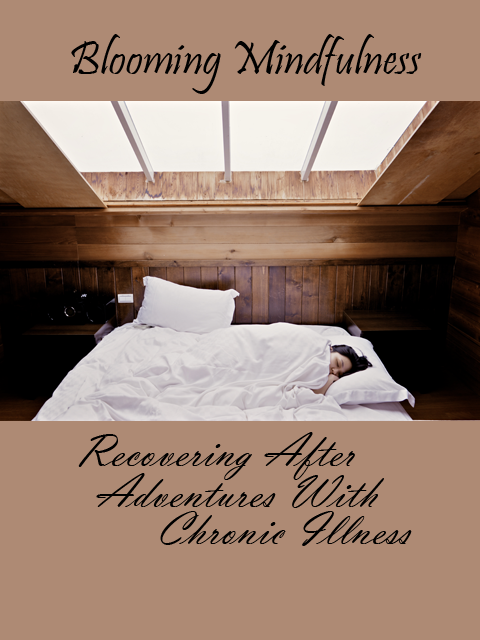 Hey everybody!
Phew what a week!!! Monday I travelled alone by train to London to stay with my best friend Louise, we both have chronic illnesses so we mainly rested, but we did go to see two plays! And then I came home, rested for one day and then went to a convention where I met some of the cast from IZombie!
London is overwhelming in itself because of me mostly being home alone and being in a small town, but add into that a convention and I feel dreadful! My pain level is about 11/10 and my fatigue saw me not get out of bed until 3pm today!!! I need a holiday to recover I think, instead I am at home and using everything in my arsenal to be able to get my body through it!
I love having these little adventures, but my body really struggles with it so I have to be careful and rest lots, which I did. Thankfully Louise understands and we only went to the plays with nothing else planned while I was there. We spent a lot of time in our PJs and resting which was a lifesaver when I went to the convention!
Now I have a pressure migraine, I am so tired and my upper back in painful, my arms and legs are burning and overall I just need time to recover. I do struggle with giving myself a break and understanding I need to rest more than most people. My father my whole life made jokes that I am lazy and he still does it now, I often feel like I let him down because I am not able to work or to keep up with things like he can.
However, I realise he just doesn't get it and I have to quiet those voices that make me want to push myself to the point where I have a flare and end up needing more meds or referrals for more care! Instead, I need to rest, to use whatever medications, lotions, potions, heating pads or anything at all that can help my body recover. I wish I could ignore my body and push through but that would be stupid, I am not well and I need to give myself a break. So I will look through my photographs from my adventures and remember it was all worth it!!
Namaste xxx