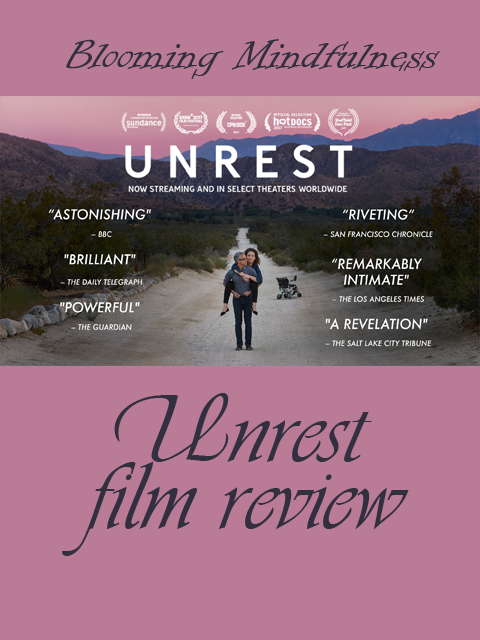 Hey everyone!
So I am on antibiotics at the moment and they are really making me feel awful! So I got up this morning and thought I would order Unrest on Amazon and give it a review.
Unrest centers around Jennifer Brea and her husband who are both intelligent and adventurous people who love travelling and as I put it 'grabbing life by the balls'. Then Jen got sick with a virus and their lives changed drastically as she became sick with Chronic Fatigue Syndrome or Myalgic Encephalopathy. We follow her journey as she records her life, her struggles to cope with her husband becoming her carer, we see her interview other people with the illness all over the spectrum, and we see her husband caring for her.
This is a very raw documentary and I must have cried so many times while watching it because I saw myself and my relationship with my husband so clearly on the screen. This film shows Omar feeling lost and alone as he tries his best to support her, it shows him willing to try anything to help and it also shows that it is so hard to see someone you love suffer and not knowing how to help.
I was so moved by their stories, but it was when she spoke about the history of unknown viruses that cause chronic fatigue in the past that hit me hard. Hysteria especially was hard because it is clearly Chronic Fatigue when you see the old medical videos and photographs and yet these people were locked away in mental institutions and treated terribly because back then doctors thought it was all in our heads…
Then we hear about Karina, a girl whose parents cared for in their home in Denmark, then one day the police took her from her bed to be cared for by a doctor because they believe it is all in her head and her parents are making her sick! Yes these horror stories we like to think do not happen now really do and I know I am being treated like it is in my head by family and doctors!
Unrest is stunning to watch, moving in so many ways, it showed the good days and the bad, it showed the money we spend on made up cures because we get desperate and it shows that when family become carers it can make things so hard. I really found myself coming away from this film feeling thankful that I am not alone, that other people out there know how I feel and all of our stories are real and similar and if only doctors would watch maybe things could change for us all?
I really hope people get to see this powerful and important film, this illness and illnesses like it have been overlooked and hidden away for too long. So go watch the film online HERE is a list of where and how, share it and let's stop hiding this illness and let's get our stories out there so no more people go missing.
Namaste xxx
Hey everybody!
So a couple of weeks ago I posted THIS post, in it I spoke of how I feel let down since my diagnosis was changed from Multiple Sclerosis to Fibromyalgia, Chronic Fatigue Syndrome, and neurological problems they did not look into. I felt strange doing it, but I sent the surgery a link to the article and soon was called to see the doctor to discuss it.
That appointment was yesterday and I really do not know how I feel about how it went!
They listened to me and referred me to people to try and help I have been referred to a rheumatologist to hopefully take over the care of my Fibromyalgia. I have also been referred to have ultrasounds on my shoulders to check what is going on and why I am getting so much pain and cracking with them.
I have also been referred to a therapist, I think because of my chronic depression which has flared, but I wonder if they are thinking some of my symptoms are in my head? She did say at one point that Fibromyalgia is a 'dumping illness' that is used when no other diagnosis can be found and that it cannot be cured.
I sometimes feel as if Doctors being scientists are only interested in illnesses that can be cured or measured. As my illnesses are mainly causing me extreme pain and fatigue neither of which can be cured or measured they really do not know what to do with me!
I sit here before you frustrated but slightly hopeful, maybe something will be found that they can latch onto and that will get me the help I want. Or maybe who I have been referred to will know the latest research and will know how to deal with my neck and shoulder pain which causes headaches and pain without just throwing medication at me???
I will keep you all informed as things progress, I am unsure what to do about the fact the doctor prescribed me Morphine for pain and feel a little disappointed that something else was not suggested…still I am willing to try anything at this point and cling to the hope that next year will bring me some good care.
Namaste xxx
Hey everybody!
So a couple of posts ago HERE, I talked about how I felt the NHS had let me down because since my diagnosis was changed from Multiple Sclerosis to Fibromyalgia and Chronic Fatigue Syndrome. I have had hardly any medical intervention since then and have felt like nobody cared, this started me feeling depressed and lost and honestly I had stopped going to see my GP because I never got answers I wanted and I just put up with worsening symptoms.
So after thinking about it for a little bit, I sent an email to my doctor's surgery with an explanation and a link to that post. I wanted to see if it would make a difference and I wanted to make sure that this kind of thing did not happen to anyone else. I suspected that I simply fell through the cracks of an already overstretched and underfunded NHS, but I am still a human and it was about time I needed to be my own advocate.
I heard back early the next day from the surgery manager who said they were very sorry about how I felt and the doctor wanted to see me. I got a phone call later that day and I have an appointment to discuss my concerns and hopefully get some of my symptoms treated and referred to the right people.
This really did reinforce for me that I am my own advocate, and though I know the NHS is given a raw deal by the government, and though I used to be on the other side, I deserve to be treated better. I read a lot of blogs run by other chronic illness warriors and I follow them on You Tube and I see the sort of treatments that they recieve and I have been given none of those options. So this week I am going to be researching and printing things off and taking it all to the doctors because I need more than I am getting.
So this was a big lesson to myself, but also I hope that it inspires all of you that if you are not feeling supported or well treated by your medical team speak up! I am going to be taking my husband with me to back me up and I am going to make sure together we are heard…nobody can speak up for you unless you try to speak up for yourself.
So if there is any research or treatments you think I need to look into leave me links in the comments and I will get researching!
Namaste xxx
Hey everybody!
Yeah my body right now is painful, my joints hurt, my head aches and I am struggling to get enough energy to keep up with the housework and overall this is what we call a flare! Everyone with chronic illness knows what I mean by a flare, it is when your symptoms get worse and new symptoms even sometimes come to join the party!
When this happens it can be very easy to feel like a useless, painful lump on the sofa and wonder why your loved ones put up with you. I often feel guilty that my wonderful husband has to help me and I can fall into depression which as a chronic sufferer usually gets worse too. However, by using logic and finding ways to make life fun, you can get through to the other side without spending every day crying and feeling like the world would work better without you!
TV shows – I am a Netflix user and right now I am using my flare and bad fatigue as a very good excuse to marathon all those TV shows in my watch list. Right now we are on season 2 of Stranger Things which is absolutely amazing and we are very much enjoying The Crown! Spending time cuddled up with a loved one or an equally cool friend watching awesome TV really distracts you from the negative thoughts that can start crowding in.
Logic – I find a great way to fight my depression is to use logic, so when the depression tells me I am useless I think about what a good friend I am and how when I am well enough I do housework. If it tells me my husband would be better off without me, I look at him and see how happy he is with me and how silly he is and it pushes it away. Using logic to counter every negative thought works really well and was something an old therapist told me to do.
Plan your week – Being organised comes naturally to me and is something I have always done, but it doesn't come naturally to everyone. One thing I suggest is planning your week, split your jobs or chores up into smaller jobs you can manage and do them spread out over the week. Yes this can be frustrating, but it is better to do a little every day than to try and tackle big jobs that either do not get done or defeat you and leave you feeling worse.
Put things away – One thing that comes with high fatigue is the very real problem of using things and not having the energy to put them away. It can leave your home feeling crowded, untidy and overwhelming, it takes a lot less energy to put one thing away than fifty, so next time you need to get up to go to the toilet or something like that, just put things away and tidy up. Keeping my home looking tidy helps me feel better especially if friends or family turn up!
Be kind to yourself – This is a hard one, but imagine you are talking to your best friend and she said that she felt really sick all week and hadn't been able to do housework and she felt really guilty about it…now imagine what you would say to her…treat yourself like your best friend. Be compassionate and loving and caring to yourself and always have a treat in the cupboard for emergencies!
You can cry if you want to – No matter if you do all these things there will always be days when nothing helps, so shout at your illness not your loved ones and let those tears out. Crying is really healthy and not a sign of weakness at all like our society likes to make out. Do not be afraid to put some sad movies on and let it all out trust me the next day will feel better if you do not bottle everything up!
I hope if you are in a flare these help you like they have helped me and I hope things settle down very soon. Please leave me any coping solutions you use when your illnesses flare up down in the comments I would love to find some other ways to help.
Namaste xxx
Hi everybody!
So this is a difficult thing for me to say, I was trained as a nurse in the NHS and I worked with them for a couple of years before I got sick. I love that we have a national health service that is free on point of contact, anyone here can be seen and treated for any health condition without having to worry about how to pay. I hate that the Conservatives are starving it of money and resources but I hope that it can be saved because healthcare should not be something you forego because of the cost!
When I first became sick I was treated for an infected insect bite, but honestly they did not know what was wrong or why my left leg was numb and painful. I was referred to many doctors before I was diagnosed with Multiple Sclerosis in 2005 if memory serves. I saw therapists, MS specialist nurses, physiotherapists and I had a neurologist who treated me as well. I injected myself daily with medications, I had times in hospital, MRI scans, and a lot of support from my GP.
Then in 2015 I was called in to see my neurologist who told me that I had been misdiagnosed and though I had neurological problems they would discharge me as it had been too long and they couldn't look into it. So I was once again lost without a diagnosis, however my GP suspected Fibromyalgia and referred me to a rheumatologist who diagnosed me officially with fibromyalgia, but I have not seen that doctor since.
In the time since then I have not had a main doctor who has been a specialist and looked after me, I have seen physiotherapists a couple of times, and though I have been told by a couple of different people they suspect early arthritis of some kind I have not been referred to anyone. My migraines and headaches that are almost daily now have not been treated though I have told my GP about them, and I have asked to be referred to someone to be in charge of my illness and treatment I am still waiting.
I feel incredibly depressed and as if nobody cares, I am in constant pain, fatigue that leaves it impossible for me to do housework or gentle exercise daily, headaches leave me exhausted and I honestly hate it! I have all the same symptoms, if not more now than I did back then when my diagnosis changed and yet my treatment has gone from feeling supported and cared for to nothing. I feel as if nobody cares in the NHS that I am suffering and crying in pain at some point most days…and yet we do not have the money to go private it is not even an option.
I have no idea what I am meant to do in order for them to listen and care for me again, I am sick and tired of being so useless and lost and all I want is something more than more medications thrown at me. I feel let down by the NHS, either because of bad management or just lack of understanding about this complicated illness…but whatever it is I am left here feeling depressed and wanting to get a little of my life back so I can maybe help my husband more and feel like a functioning and worthwhile human, is that really asking too much?
Namaste xxx
Hi everybody!
So yesterday an old friend from school came round to see me for a cup of tea and a catch up. Now to most people this might seem very boring and not out of the ordinary at all but it meant so much to me and I want to explain why.
First of all, she got in touch with me because she found my blog, and when she did and started reading she was amazed at how similar our symptoms and experiences with chronic pain and fatigue were. She emailed me and we started to talk and arranged for her to come visit, and if you have been reading my articles for a while you will know how lonely I get so this was something I was so excited for!
I was nervous because of the amount of time that had passed since we had last seen one another, but I needn't have. We chatted away and in no time found ourselves amazed at how similar our chronic illness journeys were and how we both have struggled with accepting our illnesses and having family understand why we are sick.
I started to think about all the chronic illness warriors that I know through social media, you tube and this blog and wondered just how similar our paths seem to be. It in incredible that no matter what our diagnosis, we all walk the same path and it is this fact that connects us all. I started to realise that so many of us are in reality so isolated and alone, spending weeks at times not seeing friends or even leaving the house just like me!
Seeing my friend was wonderful, I felt so tired and in pain afterwards but I have not stopped smiling since because I am so happy! I feel like I am part of a worldwide network of chronic illness warriors who have many different illnesses and yet we all walk a similar path! So if you ever feel lonely or just need to talk my instagram, twitter, facebook and my email all have ways to get in touch with me and I would love to connect with you!
Namaste xxx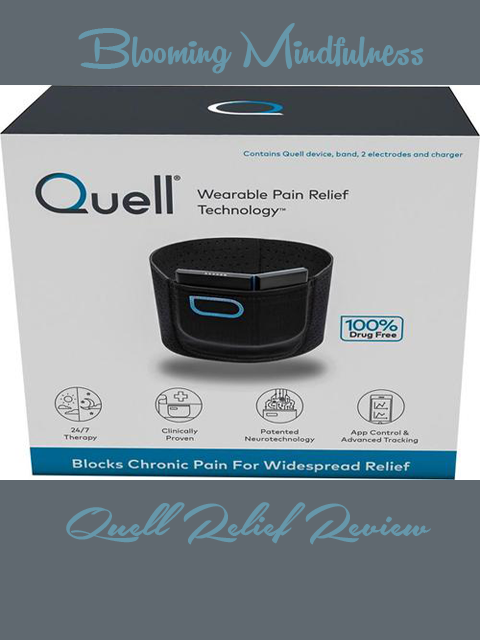 "I have been given this product as part of a product review through the Chronic Illness Bloggers network. Although the product was a gift, all opinions in this review remain my own and I was in no way influenced by the company. "
Hey everybody!
So I was sent the Quell a few weeks ago as I said, and it is a great little product so let's get into the details of it. The website says that it stimulates sensory nerves, taps into the body's natural pain relief response, sensory nerves carry neural pulses to the brain, and that they trigger a natural response that blocks pain signals. These are big claims and I think as anyone who has lived with chronic pain, I was a little sceptical but hopeful that this would help me.
The device itself is easy to put together, the electrodes are attached via two small connectors and there are 4 sections of blue gel that sit on the skin and that is how the device delivers the pulses to the skin. The device then is housed in a long strap which is always worn on the upper calf and it is kept in place with velcro.
The Quell is controlled by an app which is free from the app store and I added it to my phone. There you tell it about how your pain has been over the last 24hours and it uses that information to make sure you get the right amount of signal.
I found it really easy to put together and to use, the app is great you can change how strong the pulses are, and tell it how bad your pain is and it even registers when you sleep and how active you have been. Once it is on your leg it is comfortable and once you have the strap comfortably attached you can almost forget it is even there! I did find that the connectors came away from the unit a few times which meant I was not getting treatment, and there were times when I knocked it because it does stand out a little.
I also felt a little self conscious with it on, I wear a lot of skirts and having this black strap on my leg got people asking a lot of questions! I do wish there were other styles of strap, maybe in other colours just so you could coordinate with your clothing and make it look nice. Many of the pictures on the site show people wearing it to work out and I assume that is why these colours were chosen, maybe other strap designs will come in the future.
I did wear the Quell device to my yoga class and when I was doing my exercises at home, it made some postures a little difficult, but overall there were positions I could hold longer because I had the Quell on! It surprised me to find that, I honestly did not have high hopes but it really took away that dull ache that always seems to be there no matter what meds I take or what I try! I slept better with it on as well, it eased my pain to a point where I felt relaxed and it was great to find something that helped without it having to come from taking tablets!
Overall, this is a really good product, it is easy to operate, you can control the pulses and it is comfortable to wear and to sleep in! Most importantly of all it does control the pain and for me it is great support for the medication that my doctor prescribed me. I will for sure keep on using the Quell and would recommend it to anyone who suffers with chronic pain.
You can check out more information at their official site quellrelief.com
Namaste xxx
Hey everybody!
First of all sorry I needed to take a little break but it has to be expected when you run a blog with chronic illnesses! Also I had my PIP assessment which is to see if I qualify for a benefit here in the UK and the stress and worry from that has not helped!
However, here I am half asleep and frankly p***ed off!!! My fatigue has flared and I honestly feel like I am trapped inside my body! I try to keep up with my housework and to do things that make me feel human, like shower and wash my face and get dressed, but it is a constant battle! I wake up every morning after sleeping like the dead feeling just as tired as the night before and yet I have things I need to do on that day!
I find myself feeling so guilty when my husband is at work and I am just lying about doing nothing but staring into space. I wonder if he would be happier without me and if I am just a useless lump. Then I have to try and shake off the depression and try not to do an impression of Eeyore so I can hopefully pull myself out of this slump and get things done.
I wish I could say this will be a useful and positive post but honestly I am just fed up! I have things I want to get done, like my yoga practice and bible study and a little housework just like I could before and yet I feel so tired and my body feels so heavy I can barely think straight no matter get jobs done!
So instead of giving out tips and tricks of how I deal with things I am reaching out to the chronic illness community and asking for tips? Do you suffer with fatigue and if you do how do you make sure that jobs and goals do not just pile up while you nap? Leave me some comments here or on social media links are around let me know please? I need something to help before I go mad!
Namaste xxx
Hey everybody!
First of all I apologise for not writing a post last week! There was supposed to be someone to come and assess me for PIP the new disability benefit in the UK. I was so stressed it made my pain worse, and so I was struggling with so much…and then on top of that they just did not show up and did not call to explain! I have another appointment but I am not looking forward to all the stress it will bring. Anyway, yes that is why I did not post anything last week, I apologise.
So, I have been practising yoga now for about six years and for most of that time I have done it daily using the teacher Yoga with Adriene I have spoken about her many times. She is an amazing teacher and I love her style, however her videos are not aimed at the Spoonie community and so it can be difficult to keep up.
I often found that I had to choose whether to do yoga or some housework and practising daily was impossible. I love yoga and I want to do it daily it is my main form of exercise, it keeps my body supple and helps me to be in the moment. I use it as part of my religion as I am Christian Buddist and so I really wanted to find a gentle practice that I could do every day and it would not make me too tired.
Then Adriene uploaded a 'Yin yoga' routine which is a form of yoga I had not heard of before:
"Yin yoga is a slow-paced style of yoga with postures, or asanas, that are held for longer periods of time—for beginners, it may range from 45 seconds to two minutes; more advanced practitioners may stay in one asana for five minutes or more."
I really enjoyed it and though it is not what people picture when they think of yoga I really got so much out of it because it moved my body but was gentle and did not tire me out….so I started hunting for different yoga teachers on You Tube who practiced more gentle routines that could help me to listen to my body more and not make my illnesses worse.
I found a couple of teachers so far, Sleepy Santosha is a woman who is a Spoonie and because of that her routines are designed for people with illnesses. She has a very soothing style, the routines are awesome and she has some specifically for Chronic Fatigue Syndrome and Fibromyalgia. Chakrapod is the another teacher who has routines for specific illnesses but also some that are a little tougher and more traditional, I love her style she is really chill and I would recommend her. I have some others as well and you can find the exercise routines I do in a playlist HERE
Overall, this change has bought me closer to what yoga is really about, it is not about getting abs and doing crazy poses that you can show off! Yoga is anything where you are concentrated on breath and movement, and there are lots of yoga routines you can actually do in bed. This change in my attitude to yoga means I can now do yoga every day and I can still manage a little housework, my symptoms are more level and do not fluctuate as much as they were when I was trying to push myself.
Do you have any yoga teachers like this that you would recommend? If you try any of the yoga routines in my list let me know I would love to know what you think of them.
Namaste xxx