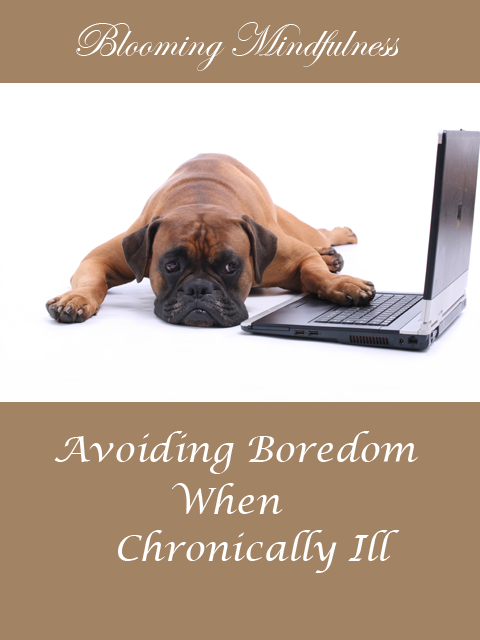 Hey everybody!
So I stopped working about 15years ago, the decision to stop was not an easy one for me to make. When I had to leave nursing I had several jobs in shops and as office assistants, but in the end I had to step away from it all because I just could not cope. My pain and fatigue made it difficult, as well as my brain fog which if anyone suffers with it, makes it impossible to learn new things and retain them well enough to do at a job when you throw in social anxiety!
At first I just kind of fell into a life online, I had just started using the internet at home and I would spend all day on myspace with my friends roleplaying. This is writing as TV and film characters, yes it is as geeky and as fun as it sounds and I still do it on another site.
However, after I married Lee I started to get out of my general depression which had me living a nocturnal life and speaking to hardly anyone. I started to open my eyes and realise that I needed more in my life than that and I wanted to be a better person.
I started to do yoga, and studying about Buddhism and it opened my eyes to learning for fun. Instead of the pressure that came from a school environment and knowing about exams and assignments, instead of a work environment where I was being watched by supervisors etc, I found it so much fun! I started to open my eyes and realise there is more out there than I thought.
I taught myself very simple HTML and started running a few fansites for actors I love and I still have one for Olivia Colman and one for Michael Rosenbaum. The skills I learnt doing this, led me to starting this blog, which was again I wanted a way to improve myself and to give back to a community of people who are often pushed aside or ignored by society because I think people do not like to face illness or how it could change their lives. And now I have started my own You Tube channel and I am starting to learn how to edit, this is probably my biggest challenge but I am excited to see how I can grow and challenge myself.
I have heard so many healthy people say to me "Wow you are so lucky you don't have to work I would love to be at home everyday" and yes they probably would for a day or two, but after a while they would be so bored! I think it can be easy to forget that just because someone is sick they are still a person with dreams and goals. I would love to say that being home alone all day while my husband works is great, but I am here not chilling, I am trying to do the housework and exercise and stay sane while battling pain, fatigue and mental fog that makes my memory so very bad!
I will say this though, if you have a dream, or something you want to learn go for it! Where there is a will there is a way!
Namaste xxx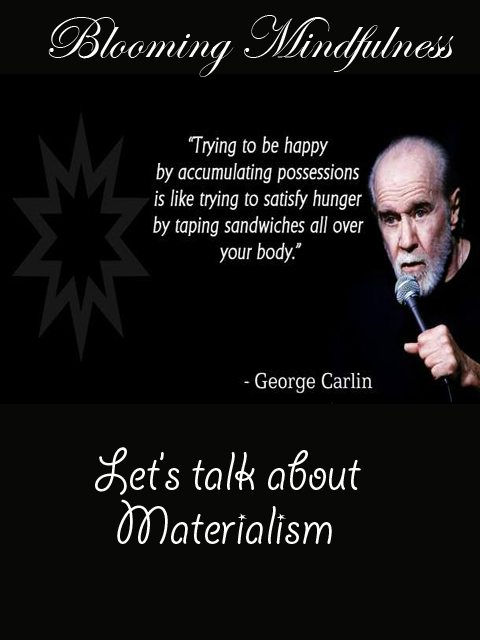 Hey Everybody!
So I think I mentioned this in previous posts, but I was an only child and because I had no siblings I was kind of spoilt. If I wanted something either my parents or my grandparents would make it happen. I was always grateful for this, as a child you have no idea about money or it's worth and getting presents make you feel happy.
However, as an adult suffering with depression I found myself turning to shops to make me happy. Because of this I have accumulated a lot of things that I do not need, I have spoken before about my DVD collection! There was a time that I loved seeing my things all around me, but over the last year I have come to realise that I do not 'need' most of it.
I think it was discovering about tiny homes on You Tube that helped me realise that materialism meant I was outgrowing my home and it was more than enough room for me and my husband. The decision to 'spring clean' my life was one that came surprisingly easily and I am thankful for going through with it, though it gave me anxiety.
Over the last couple of years I have been studying Buddhism, and it is important in that philosophy not to hold onto material goods. This can be difficult to put into practice, however I realised that buying new things did not ever help my depression. in fact there were times when it was made worse because I spent too much or regretted what I had bought.
Depression often makes us feel like we are not worth much, and TV ads, movies and celebrities often like to sell us the idea that buying things will make us worth more. However, I have found since starting to move away from this sort of thinking that it feels good to not buy things because of what others tell us we need. I know those shiny new shoes, or purse that celebrities have look good, but do you really need more than one?
It can be tempting to jump into cleaning your house out, I would love to sweep through my house and get rid of the things that no longer serve me, however I suffer with fatigue and I have to be careful. Because of this I chose to concentrate on one room at a time, I started with the room that has all my books, DVDs and collectables.
I decided to go through my things over a few weeks a little at a time, it is important to know your limits and not push yourself too far. I actually took the whole day to sort the room, and I took a nap half way through the day and I made sure I drank a lot of water. I also used my slow cooker to make sure that I ate well and not give in because I was tired and order take out!
I also would stay away from window shopping, I accumulated quite a long wish list on Amazon, but it was just temptation I did not need. Always remember, material goods might feel good in the moment, but they do not measure up to self-worth, you need to be your own best friend and treat yourself to more than just the latest gadget!
Namaste xxx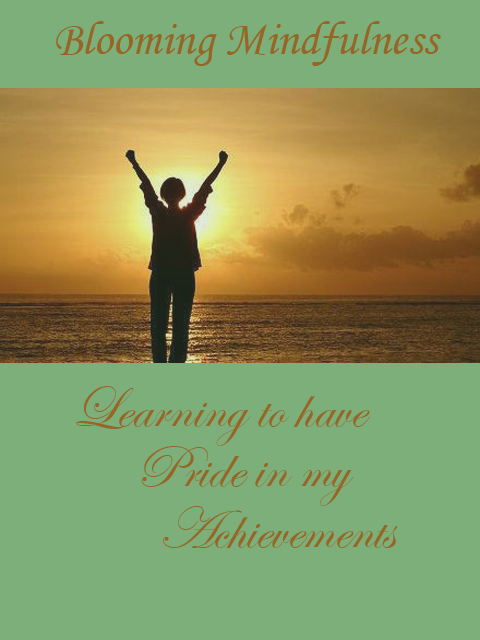 Hey everybody!
So I am English and I feel as if we are as a society taught that feeling good about yourself and having pride in the things you do is a bad thing. English people love to moan and be negative about everything it is just in our nature and something that I always bought into! Negative thinking was how I communicated with myself and I had a very low opinion of myself because of it.
When I started to study Buddhism and started to realise that I cannot have good energy if I am always negative, I started to work hard to change my thinking. Counselling helped, but it really came from me to do the work of learning to think differently. It took a few years to achieve it, and yes I sometimes fall into old patterns, but now instead of looking back on my day and thinking of all the bad and wrong things I did, I try to think of the good things.
Now yesterday me and my husband along with my dad and his girlfriend went for the day to a large shopping center about an hour from where I live. We tend to go every 6 months or so and I have to be honest in the past I would let Lee talk for me, and I would spend a fortune on junk!
However, this year I am working hard on not being materialistic and on cutting down on the things in my home that do not serve me. So I did not come home with a million bags of stuff and feel good for half an hour, instead I bought a couple of make up products, a t shirt and some Lush bath products because baths really help my pain. I avoided shops like Primark where I tend to buy a lot of clothes I do not need and instead just enjoyed a lovely day out!
The first shop we went into was Debenhams because I heard they now stock Kat Von D products…but they are not getting them there for another couple of months! Instead I went to the Urban Decay stand to have a look because I love their pallets and though they are out of my price range I wanted a dream! However, I soon got chatting to the woman there who told me one of the pallets was on offer if I bought it and a lipstick I saved money and got a free gift.
Now the fact that I bought the offer, and tried on some lipstick there is not the point…the point is that 2years ago I could not even speak to someone I did not know! I would ignore people if they spoke to me or I would have a major panic attack, it was not until I had bought these things and come away did I realise how far I had come! I did all the talking, Lee just pushed me in the wheelchair, I did not panic and I chatted to her without even thinking about it.
I also managed to go into the shop Claire's accessories, which for wheelchair users is impossible to navigate because all the stands are so close together. Lee stood outside with my chair and I went into the shop on my own, picked out what I wanted and paid all by myself! I was beaming when I came out and even now I feel so proud of myself for being able to do this.
Anxiety is overwhelming and I have it all the time about everything, the world to me is a big overwhelming and terrifying place! However, I am starting to learn to break the surface and do things like this for myself.  Never give up, set goals that you can achieve that are small and work up to the big stuff and above all remember every small step is a big achievement if you suffer with chronic illness!
Namaste xxx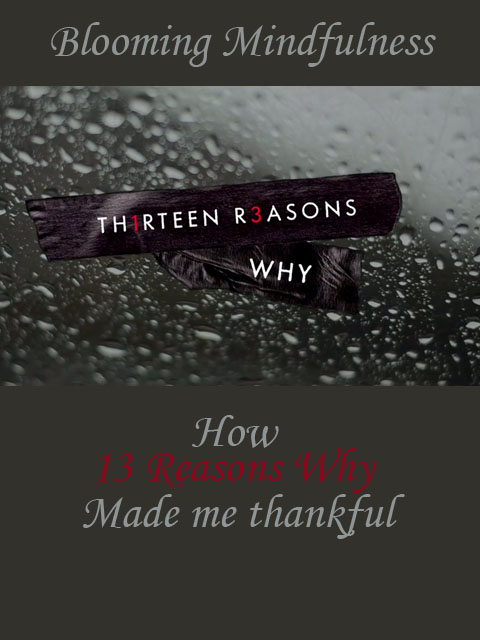 Hey everybody!
First of all if you are planning to watch 13 Reasons Why and have not yet seen it this post will contain spoilers so come back to this after watching. Also, there will be mentions of alcoholism, social anxiety, depression, and suicide in here so please be aware of that if you choose to continue.
So in 2 days I had watched all the episodes and the documentary of the TV show 13 Reasons Why. This show is about a girl called Hannah who leaves behind 13 cassette tapes each one singling out a different person and why they are part of the reason she decided to commit suicide. The show sugar-coats nothing, it is hard to watch, there are times I had to pause it and walk away, or I fast forwarded, cried…yeah it is a tough, but I feel important watch.
Now, when I was a teenager I was very much a mixture of Hannah and Clay, I was incredibly depressed, I suffered with social anxiety and I was suicidal. I used alcohol as an escape and I am sad to say that I was at times suicidal. I was nervous to watch this show as I worried that it would trigger old feelings and thoughts and it did but I coped with it in a very unexpected way…I became thankful!
There is a scene where Hannah and Clay both imagine what their futures could be like if she had not killed herself. This is a really sad scene, yes we want to see this glimpse, but also knowing they could never have that now was so upsetting. That scene got me thinking a lot about the times I was suicidal and wondered if I could have ever imagined where I am now?
Back then life seemed so bleak, the last time I considered ending my life I was in my early 20s, my fiance at the time had left me, I was living with my parents again and I was sick. I had not been living with my illnesses long and I was still waiting for diagnosis and to be honest everything I tried I seemed to fail at. Also as an added bonus, my father became incredibly frustrated and angry to see me so depressed and would shout and say things that I am sure now as I look back he would immediately regret.
But not long after this I started dating, I joined two dating sites and had a few dates on one and only one date on the other…that one date was my soulmate Lee and we have been married seven years! He looks after me, he is kind and funny and totally gets that I have illnesses but he never makes me feel like a burden. I have a wonderful dog, Gizmo, we live in a really lovely house and we are incredibly happy.
Over the past few years I have worked hard on my social anxiety, I have had counselling,  I can go out for a short walk with my dog, I can even talk to a shop assistant without wanting to have a total breakdown. Every day I struggle with my anxiety and depression but I have the tools now to cope with them and to work through them. I might not be able to work, but my self-worth comes from my family, my friendships and how good of a person I am.
13 Reasons Why made me feel so incredibly thankful that I did not choose the path that Hannah did, I kept fighting and things got better. As a teenager I was not able to cope with this harsh and stressful world, but now I have the support and the tools that make it easier.
Namaste xxx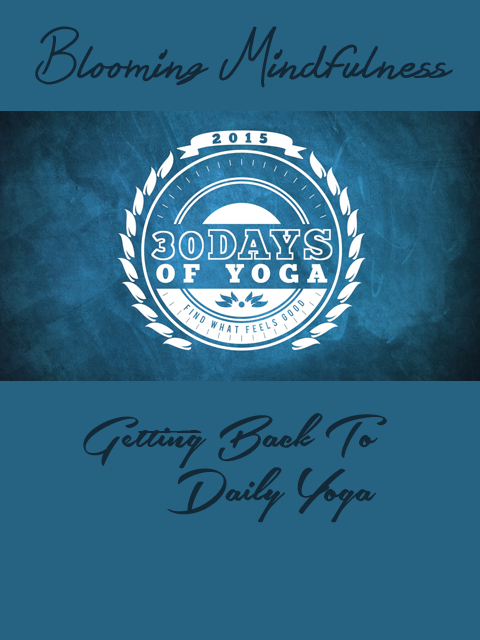 Hey everyone!
So last post I spoke about my recent realisation that depression has crept back into my life and how I have been inspired by a book I read and film I watched to fight it. I think this is something a lot of people get wrong, depression is a mental illness that is incredibly sneaky! You can go for councelling and read books and do the steps but it is, for people who suffer which chronic depression, a daily fight. I wake in the morning to a noisy brain, anxiety and negative thoughts that make it hard to even want to get out of bed. Every single day I have to fight through all of that to get up, get showered, to work out and just to not hide in bed!
I have had a breakdown and been on suicide watch, I have hoarded medications 'just in case', and through it all I have wanted more! If I had ended things there I would have not met my husband, I wouldn't have my dog, I would have missed out on time with my friends and family, and I would have not heard they got my diagnosis wrong!
Now I am learning about alternative therapies, and I have a very different attitude to life and to me daily yoga is a big part of my mental health being good. Over the last year I had slipped to maybe once a week and that to me was a big wake up call when I realised. I knew I needed to change things, so I went to my online Yoga teacher on You Tube 'Yoga with Adriene' and I chose her 30 day challenge to get me going!
This is 30days of yoga and it is a playlist of 30 videos, one a day that I am committed to finishing, however the way I look at this is a bit different to how she meant…
I have chronic illnesses and though I want to do yoga every day, if I am going out one a day, or I am going to yoga class that night there is no way I can do yoga in the morning it would kill me! So I look at it as 30 videos and I am going to finish them all in as little time as possible, so far I have done 4 videos and that has taken me 5 days because yesterday I could barely think straight enough to get out of bed! I have to be smart and look after myself, however that does not mean I am not going to do my best to do a video a day and I am really hopeful that I can complete it!
So far however what means more is how I feel, I am much more positive, I have started doing housework and eating better again, I am sleeping better and overall my pain has improved. Yoga and meditation go hand in hand for me, they are part of my beliefs as a Buddhist and I know from reading Whole Health Life, and the Connection (review HERE) that these are important to lower stress levels. I will keep you updated how I get on but please send me encouragement on twitter, Instagram, here all the places!
Namaste xxx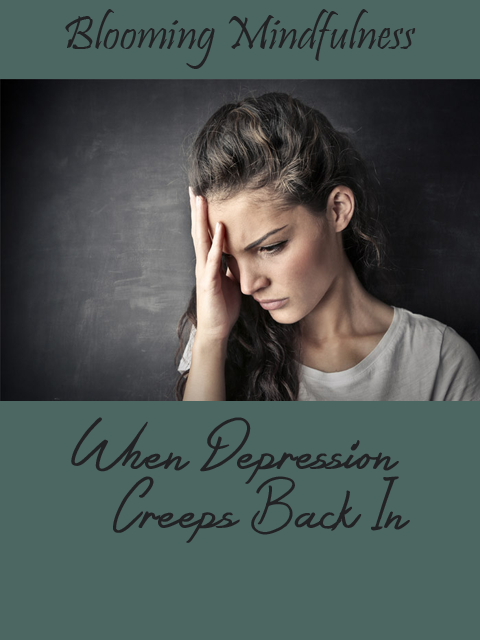 Hey everybody!
Over the past 5 or so years I have been working hard to overcome my mental health issues and find ways to push through them. I had counselling and they taught me to practice mindfulness, to be in the moment and not live in the past. I turned to Buddhism and started to study how to get well. I also got to a point with my anxiety where I could talk to people I didn't know and take my dog Gizmo on short walks by myself.
Then at the beginning of last year it became clear that my Grandad was dying and it is coming up to a year since he passed away. I can honestly say this has been the hardest year of my life, I have been incredibly blessed in so many ways and yet he is always on my mind in one way or another.
Grief takes time and patience, and it is something you cannot rush or push your way through. However, it is something I thought I could avoid so I have not really faced it, I have kind of pushed it down and carried on trying to be myself. The problem is that I was tired all the time, I was not meditating or doing my yoga practice, and I was lying in bed until lunchtime quite often so that I could just wallow in it.
My last post I reviewed a book and movie, and when I watched the documentary with my husband I realised that I had been avoiding things. I realised that if I carried on my illnesses would get worse and I would end up suffering and that would be something my Grandad would never want for me.
I read THIS ARTICLE today where it has been found that worldwide depression is the leading cause of disability worldwide! Todays society and lifestyles are not working for us and we all need to really look into ourselves and those we care about. If we do not start to change our lives we will all be in trouble and it just reaffirmed what the Connection movie and Whole health life book said! I really think depression is so overlooked and is easy to hide if we want.
So when I realised what I was doing and that depression had crept back into my life I immediately took some steps to start getting out of the hole so if you find you are depressed or someone close to you is here are some tips:
Talk: I straight away went to my husband and opened up about how I was feeling, what I thought the problem was and what I wanted to do. This can be the hardest part, I didn't want Lee to worry or get upset, however he was there for me he listened and he gave me advice. He agreed that he thought it was depression and that he had been worried but afraid to say anything, and if you are worried about someone like he was, reach out it means so much.
Make goals: I hate to say it but getting into good habits is not easy, I wanted to get back to daily yoga, housework, getting outside the house, eating regularly, and making sure I get up by a certain time every day. I talked about them with my husband and doing this simply keeps you accountable and gives you someone on your side who will be there to support you and give you a little nudge if you try to get out of it! Make the goals you set small and manageable, it could simply be I will get up and take a shower every day…no matter what the goals are do not make them so ambitious and big that you are going to set yourself up to fail because you will just feel worse.
Talk to your doctor: I am on daily antidepressants anyway because my depression has been chronic since I was 14, but talking to a doctor can help so much. They can refer you to have counselling, maybe put you on antidepressants for a short time to help you at first, and even just be someone to talk to if you have nobody else. This is especially important if you have been turning to harmful behaviour to deal with your depression such as eating disorders, alcohol or drugs, self-harm, etc.
Do research: We live in a world where information is literally at our fingertips, so get online and look up ways to help yourself, read books, join a group online, you can even email the Samaritans now! I am going to start reading a book I bought a while ago about dealing with grief, there is so much out there so pick what works best for you and go for it! Learning more about depression and how to help yourself is important because at the end of the day if you do not do the work you will not get better!
Lastly, if you are struggling, if you have words of encouragement, or if you simply need to talk drop me a comment below, or email me this is a safe place and I am always here for anyone who needs a friend.
Namaste xxx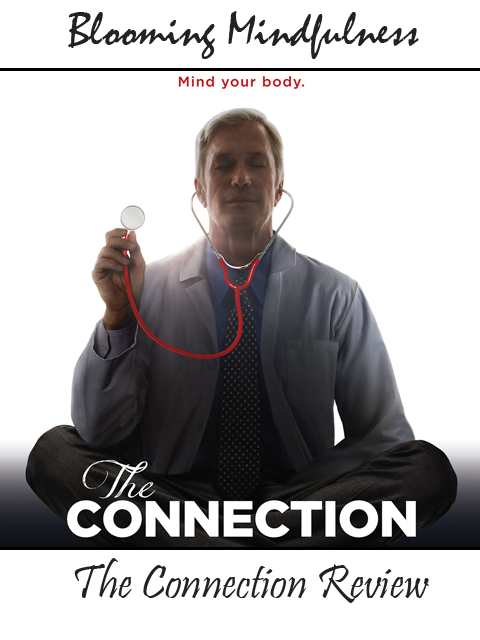 "I have been given this product as part of a product review through the Chronic Illness Bloggers network. Although the product was a gift, all opinions in this review remain my own and I was in no way influenced by the company. "
Hey everybody!
So today I get to talk about a topic close to my heart and that is because I was given the chance to read the book Whole Health Life and watch a film called The Connection. Both were passion projects written by a woman who was once crippled with pain from chronic illness.
When we meet Shannon Harvey in the book, we learn that she was trying to get ahead in her chosen profession of journalism when she first got sick. This really resonated with me because when I first got sick I had only been qualified as a nurse for 18months. Like Shannon I found the stress of the job and not looking after myself when I was not at work were really the crux of why I became so sick so fast and I think why the Drs were baffled at first.
Like the author, it took 5years for me to get a diagnosis of Multiple Sclerosis and when I heard that I basically gave up. In the book and the film Shannon and the specialists she interviews, really show that the way the doctor gives you your diagnosis can really go on to influence how you go on to survive from the illness. For ten years I basically gave into my symptoms and gave up, and I found a lot of what I read in the book reflected my own journey and because of this there were times when I found the book very emotional and difficult to read.
It is hard to look back and think "wow I wasted a decade…" but yeah I did! Then one doctor's visit I was told they had made a mistake it was not Multiple Sclerosis but Fibromyalgia with some neurological issues. When I got home from that I made a decision, I started to eat better, reduced the amount of chemicals I used, took up daily yoga and meditation and started to work on my depression and anxiety.
I feel a lot better after making that decision and it is the main reason that I wanted to start my blog, chronic illness is on the rise and we need to change the way we live or things are going to be bad! The film and the book really reinforced my decision to face my illness and fight it, I found it to be incredibly inspiring and uplifting as well as pretty challenging.
This is not an easy fix, nor is it a how to get better if you follow these easy steps and to be honest I am thankful for that! So many times people prey on the sick and try to get us to sign up for all sorts of potions, lotions and contraptions…however this book and film are merely made to give the facts. Everything is scientifically backed up, and nowhere in here is there something to sell. But, if like me you read this book and watch this movie and come away inspired to research alternative therapies, look for meditations, read scientific journals and you are willing to put in the work every day then you can find your way back to being healthy.
The WEBSITE for the project also has a brilliant podcast, as well as incredible resources that help you put the things you have read into the context of your life. I found this to be so helpful and really helped me to apply the things I read, I would for sure recommend reading the book first like I did because it has a lot more information that the film and goes a lot more in depth into her life and the research she found. The film is easy to follow and understand which I was worried about because it is interviews with doctors and health professionals and scientists, but I found it to be eye opening and really cemented the conclusions I had come to by reading the book.
You can find the book available HERE
The film is HERE
Have you read the book? If so what changes did it inspire in you and what things do you hope others will take from it? Leave me a comment I would love to talk about it.
Namaste xxx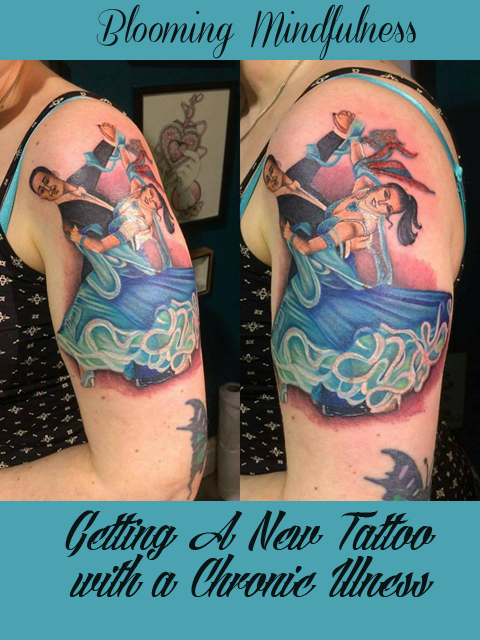 Hey everybody!
So I have always loved tattoos, I think they look so beautiful on the skin and really show a part of the person. They can be their favourite books, or TV and movie characters, or something that is just straight up art, but it is always something they love and cherish.
I always get the usual comments about what will you look like when you are old, and won't you regret them…but to me the answers are I will look beautiful and no never!
I always loved old circuses and freak shows, they fascinated me and whenever I saw a 'Tattooed Lady' represented I would get excited. Thankfully now tattoos are more accepted and most people have one and it is much easier to find actual artists rather than relying on the walk in type that can be very hit and miss!
I decided after doing a lot of research that I would go to Amy at Siren's Cove Tattoo Parlour in Cannock. It is run by three amazing female tattoo artists, but Amy's style really stood out to me and I knew she would get what I wanted captured so well. She was excited to do a piece based on a photograph I had found on Pinterest of two ballroom dancers in memory of my Grandad who was a beautiful dancer and his partner for over 70years my Nan.
I was nervous, but excited about getting the tattoo finally, however I was unsure as to how I would cope with my fatigue, how my medications would affect me and how I would be able to cope with over 4hours of being tattooed. So I could take a break if I really needed to I booked the whole day with Amy, and I am glad I did because it meant that though I did not take any breaks other than for lunch, nobody was feeling rushed.
As anyone who had known me a while will know I do have anxiety issues particularly when it comes to talking to new people, however my good friend Amanda had offered to come with me which helped so much! I also found Amy to be really down to Earth and easy to chat to, she was open and kind and though she knew I had illnesses it was not something she asked about nor did they come up over the course of the day.
It was so nice to just sit with her and Amanda and talk about tattoos and general chit chat, I felt like a normal person which is rare when I am out of the house. At some point my illnesses usually are talked about, however even when I took my lunchtime meds they did not become a focal point and I loved that!
My pain levels from my other illnesses did not start up, it was just normal tattoo pain and I guess it is because that was the focus I probably did not notice, but it felt good to not be in pain everywhere else! This is so rare and I loved just chilling out and having a beautiful piece of art on my arm in memory of one of my favourite humans.
However, a few tips if you are planning a tattoo and have chronic illnesses:
Medications: As THIS ARTICLE states, medications whether prescribed or over the counter should be discussed with your tattoo artist before getting tattooed. Some medications like Accutane can affect the healing of your tattoo, Marijuana has been shown to make the pain worse, and medications like aspirin will make your blood thinner and make you bleed more. Always discuss whether you can take your medications while being tattooed, and ask a pharmacist if your artist is not sure.
Rest up: Chronic illnesses are tiring, but if you also suffer with fatigue you might need a nap just after having a shower. You might find that a long tattoo session will make you feel more tired because of adrenaline burning out after hours being tattooed. If you are worried that resting a lot in the weeks before your appointment might not be enough maybe talk to your artist about breaking the tattoo down into smaller sessions.
Snack city: Taking snacks with you to an appointment is a must! Adrenaline and being tattooed will mean your blood sugars may be out so always bring snacks and if you have diabetes speak to your artist about it. I bought slow release snacks like Naked bars made of fruit and nuts, and popcorn, also make sure to bring water and stay hydrated nobody wants to pass out during a tattoo!
Keep warm: Sitting for hours being tattooed it gets cold, bring layers so that you can keep your temperature under control and remember that you might have to get a little naked so be prepared with shorts or vest tops so your artist can easily get to where you want inked.
Overall, just remember that just because you have a chronic illness does not mean that you are not a person who wants to ride that rollercoaster or get that tattoo! Think things through, do your research, and talk to your artist they want you to have the best appointment, and to heal so you can love your tattoo for the rest of your life! If you are concerned about your fatigue or medications, just drop them a message I am sure they would much prefer that to you ending up with a less than perfect tattoo or getting sick!
Namaste xxx
PS Amy is an amazing artist so if you are anywhere near Cannock, in Staffordshire UK go see the girls at Sirens Cove!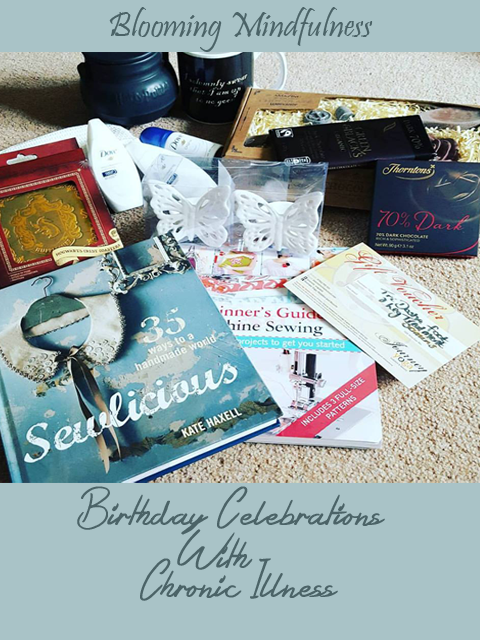 Hey everybody!
-plops down in a chair- Wow I had such an amazing few days celebrating my birthday! I have been spoilt by the people who mean the most to me and I have eaten more processed food and sugar than I usually eat in a year! It was so worth it!
On Thursday I was woken early, it was my birthday and I had presents to open and then I was told I needed to get showered for a surprise! The surprise was my best friend Louise and her mom, Gill coming all the way from London for the day and oh my goodness it made such an incredible day! We sat and chatted for aaages, my mom came for a little bit too and then my mom had to go home so she couldn't come out for lunch which was a shame. However, me, Lee, Louise and Gill went to a local pub we love for lunch.
We had such lovely food and more talking and I cannot even express how much it meant to me to have them with me for my day. I so wish we lived closer but I cherish every time I get to see them and it made my day so special to see them. In the evening, my dad and his girlfriend Linda came over and we just had a really relaxed night chatting and we had a take away of Indian food which was so yummy.
Yesterday was part 2 of the celebrations as me, Lee, my Nan, my dad, Linda, and some close friends Annalise, and Jess and Paul all came out for Afternoon tea. This was at a local hotel which is really lovely they have a lot of weddings and afternoon tea is lots of nice tea in lovely china teapots, and sandwiches, cakes and scones. It is so very English but really relaxed and just so nice to eat lots of yummy food and spend time with the people who count.
Now, I have a few illnesses that mean these two days were difficult for me and though I think it was worth it I also had to have it all planned out for a while! I started resting ready for celebrating at the start of the month, I definitely needed to because being social and talking as well as the walking needed are all so tiring. Getting tired also means that my pain is worse so I have to be aware if I take more meds that they will make me drowsy and I need to be patient with myself and let myself rest.
It is now the day after and I feel hungover though I did not drink anything and that is because of all the sugar and processed food I ate, I feel nauseous and my pain in my shoulders and the back of my head feels awful. I usually try to eat plainly, to make my food from scratch and to not eat take away or cakes and things. I am someone who tries to be as healthy as I can and I do notice if I eat food that is less healthy I can tell. Today I am drinking a lot of water to try and flush my system out and help my body filter out the less than healthy food.
I think however much we try to look after our health it is good to remember that there are special occasions and events where you need to enjoy yourself. Of course, afterwards your illnesses might flare but if you have had fun I find I don't tend to mind it as much.
Namaste xxx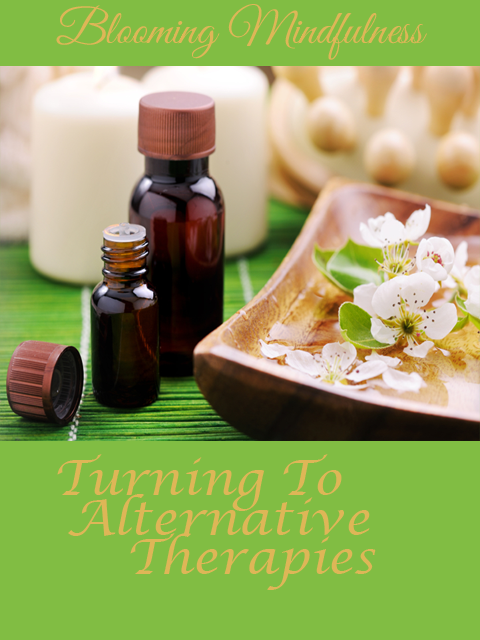 Hey everybody!
I was a qualified nurse before I got sick, but even I have to admit modern medicine has kind of let me down! I am constantly told I am on so much pain relief they do not know what to give me if it gets worse. On top of that I was not diagnosed with anything for five years, and then ten years after that I was told I didn't have Multiple Sclerosis and it was Fibromyalgia instead!
So I have been looking into alternative therapies this year and to be honest it is…well overwhelming! It is almost impossible to know where to start and there is so much information out there it is almost impossible to know where to begin and what is genuine!
Thankfully I have yoga, that has been my exercise for years now and though I still use it as my exercise I also use it for symptom management. I found bedtime yoga can help my muscles relax and my head to calm ready for bed. I have found routines for headaches, for muscle cramps, and it opened up a world of treating my body my moving it instead of resting all the time to try and treat myself.
On top of this I have meditation, I am still learning how to do it alone, but Yoga Nidra and guided meditation on you tube are brilliant. They are just lying and listening while focusing on breath and it helps my mind to let go and my body to relax. If you have not tried meditating you are really missing out on something that can really help.
However, then I got a little lost and for a few months I did not know where to turn, the internet is a great resource but also a little overwhelming! So I went on Etsy and looked up Fibromyalgia wondering if there was anything people were selling could help and I found THIS
It is a massage oil that has lots of herbs and essential oils in it and you just rub it in where it hurts…it is amazing! I used it on my arms and the pain and cramping just melted away! I really felt relaxed and it smelt so wonderful I just cannot say enough about it. On top of that I got the balm which helps with joint pain which I get a lot in my hands and it is so soothing and really nice to use. If you have fibro I would certainly recommend them!
Lastly CBD oil it is cannibis without the illegal drug bit! I thought it was illegal here, but it turns out that it was made legal in January here in the UK and so when I saw a sign for it in my local health food shop I rushed in there! I chose the lowest dose and I just use it under my tongue at night to help with my pain and insomnia. I am spending much less time napping since I started it and I also found my anxiety has lessened by using it!
The question I pose now though is where do I go from here? I know I want to save for a diffuser, but what alternative therapies do you use? Are there any must have oils or books that would help me? Please comment me links to books, purchases and articles as well as any advice you might have?
Namaste xxx