alternative therapies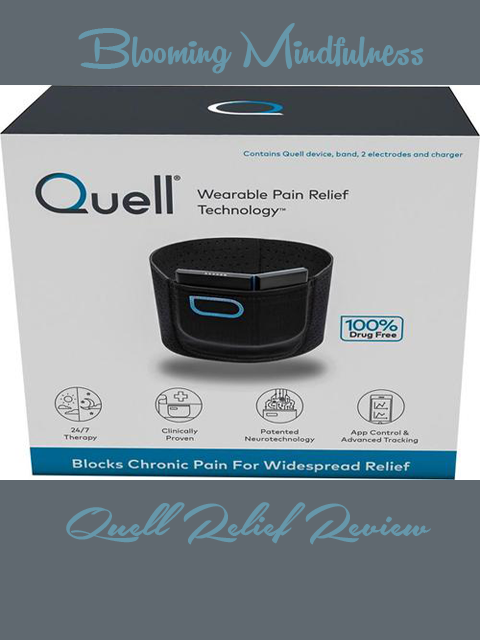 "I have been given this product as part of a product review through the Chronic Illness Bloggers network. Although the product was a gift, all opinions in this review remain my own and I was in no way influenced by the company. "
Hey everybody!
So I was sent this product a few weeks ago as I said, and it is a great little product so let's get into the details of it. The website says that it stimulates sensory nerves, taps into the body's natural pain relief response, sensory nerves carry neural pulses to the brain, and that they trigger a natural response that blocks pain signals. These are big claims and I think as anyone who has lived with chronic pain, I was a little sceptical but hopeful that this would help me.
The device itself is easy to put together, the electrodes are attached via two small connectors and there are 4 sections of blue gel that sit on the skin and that is how the device delivers the pulses to the skin. The device then is housed in a long strap which is always worn on the upper calf and it is kept in place with velcro.
The small device is controlled by an app which is free from the app store and I added it to my phone. There you tell it about how your pain has been over the last 24hours and it uses that information to make sure you get the right amount of signal.
I found it really easy to put together and to use, the app is great you can change how strong the pulses are, and tell it how bad your pain is and it even registers when you sleep and how active you have been. Once it is on your leg it is comfortable and once you have the strap comfortably attached you can almost forget it is even there! I did find that the connectors came away from the unit a few times which meant I was not getting treatment, and there were times when I knocked it because it does stand out a little.
I also felt a little self conscious with it on, I wear a lot of skirts and having this black strap on my leg got people asking a lot of questions! I do wish there were other styles of strap, maybe in other colours just so you could coordinate with your clothing and make it look nice. Many of the pictures on the site show people wearing it to work out and I assume that is why these colours were chosen, maybe other strap designs will come in the future.
I did wear the device to my yoga class and when I was doing my exercises at home, it made some postures a little difficult, but overall there were positions I could hold longer because I had the device on! It surprised me to find that, I honestly did not have high hopes but it really took away that dull ache that always seems to be there no matter what meds I take or what I try! I slept better with it on as well, it eased my pain to a point where I felt relaxed and it was great to find something that helped without it having to come from taking tablets!
Overall, this is a really good product, it is easy to operate, you can control the pulses and it is comfortable to wear and to sleep in! Most importantly of all it does control the pain and for me it is great support for the medication that my doctor prescribed me. I will for sure keep on using this product and would recommend it to anyone who suffers with chronic pain.
You can check out more information at their official site HERE
Namaste xxx
Hey everybody!
First of all sorry I needed to take a little break but it has to be expected when you run a blog with chronic illnesses! Also I had my PIP assessment which is to see if I qualify for a benefit here in the UK and the stress and worry from that has not helped!
However, here I am half asleep and frankly p***ed off!!! My fatigue has flared and I honestly feel like I am trapped inside my body! I try to keep up with my housework and to do things that make me feel human, like shower and wash my face and get dressed, but it is a constant battle! I wake up every morning after sleeping like the dead feeling just as tired as the night before and yet I have things I need to do on that day!
I find myself feeling so guilty when my husband is at work and I am just lying about doing nothing but staring into space. I wonder if he would be happier without me and if I am just a useless lump. Then I have to try and shake off the depression and try not to do an impression of Eeyore so I can hopefully pull myself out of this slump and get things done.
I wish I could say this will be a useful and positive post but honestly I am just fed up! I have things I want to get done, like my yoga practice and bible study and a little housework just like I could before and yet I feel so tired and my body feels so heavy I can barely think straight no matter get jobs done!
So instead of giving out tips and tricks of how I deal with things I am reaching out to the chronic illness community and asking for tips? Do you suffer with fatigue and if you do how do you make sure that jobs and goals do not just pile up while you nap? Leave me some comments here or on social media links are around let me know please? I need something to help before I go mad!
Namaste xxx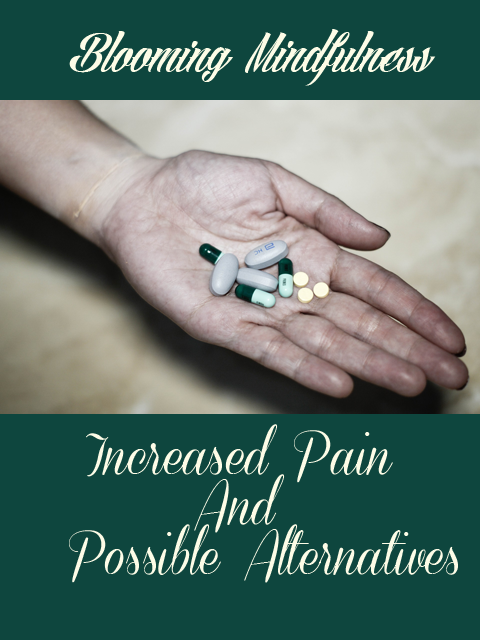 Hey everybody!
Summer is here in England, and as we Brits know that means it is hot, humid, stormy and can be raining in the morning, blazing sun in the afternoon and that night have a storm! The problem for us fibromyalgia sufferers is that means our symptoms start to shout and make themselves known and mine certainly are!
I have been having a lot of sinusitis, headaches, pressure migraines, burning pain in my arms and legs, and increased pain in my shoulders, upper back and neck…basically I hurt everywhere and the medications I am on from the doctors are not really helping anymore! Usually I would make an appointment to see someone and get my meds reviewed, but at the moment that is not really an option as getting an appointment means waiting about a month or begging and pleading every day!
So being typical me I hit google for alternative therapies and the one thing I have not been trying is supplements. The problem is as you can see from THIS LIST is that there are so many recommended for fibromyalgia how do I know where to start? I am feeling very lost and overwhelmed and wishing I could win the lottery so I could maybe have all the latest treatments and get rid of the daily pain!
However, as that is not really an option I have ordered two books from Amazon one is From Fatigued to Fantastic and Pain Free 1-2-3 both by Jacob Teitelbaum. I got them used and they are coming from the USA, but by getting them second hand I am saving almost £25!! I am someone who does believe in Western medicine, afterall I was a nurse before I got sick, but honestly I feel like it is letting me down and I need to take control of my own health!
When I was wrongly diagnosed with Multiple Sclerosis I had a psychiatrist, a neurologist, physiotherapy, accupuncture, even people to cut my toe nails so that I wouldn't hurt myself while unable to feel my feet. Now I have a different diagnosis all of that has gone away, and it is really hard for me to get in to see my GP. My symptoms however, have not changed and I sometimes feel like I have been kicked out and left to deal with it all by myself. Well if that is the case I am going to study and get my symptoms under control by myself I am not going to let it beat me!
So readers, what alternative therapies do you use? What have you tried has has or has not worked and are there any books that have helped you?
Namaste xxx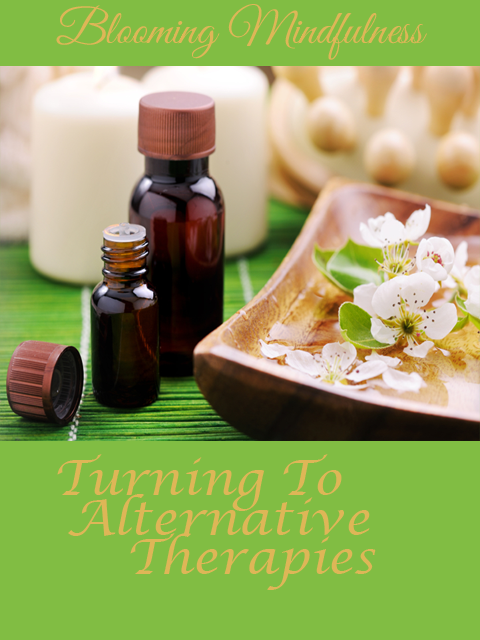 Hey everybody!
I was a qualified nurse before I got sick, but even I have to admit modern medicine has kind of let me down! I am constantly told I am on so much pain relief they do not know what to give me if it gets worse. On top of that I was not diagnosed with anything for five years, and then ten years after that I was told I didn't have Multiple Sclerosis and it was Fibromyalgia instead!
So I have been looking into alternative therapies this year and to be honest it is…well overwhelming! It is almost impossible to know where to start and there is so much information out there it is almost impossible to know where to begin and what is genuine!
Thankfully I have yoga, that has been my exercise for years now and though I still use it as my exercise I also use it for symptom management. I found bedtime yoga can help my muscles relax and my head to calm ready for bed. I have found routines for headaches, for muscle cramps, and it opened up a world of treating my body my moving it instead of resting all the time to try and treat myself.
On top of this I have meditation, I am still learning how to do it alone, but Yoga Nidra and guided meditation on you tube are brilliant. They are just lying and listening while focusing on breath and it helps my mind to let go and my body to relax. If you have not tried meditating you are really missing out on something that can really help.
However, then I got a little lost and for a few months I did not know where to turn, the internet is a great resource but also a little overwhelming! So I went on Etsy and looked up Fibromyalgia wondering if there was anything people were selling could help and I found THIS
It is a massage oil that has lots of herbs and essential oils in it and you just rub it in where it hurts…it is amazing! I used it on my arms and the pain and cramping just melted away! I really felt relaxed and it smelt so wonderful I just cannot say enough about it. On top of that I got the balm which helps with joint pain which I get a lot in my hands and it is so soothing and really nice to use. If you have fibro I would certainly recommend them!
Lastly CBD oil it is cannibis without the illegal drug bit! I thought it was illegal here, but it turns out that it was made legal in January here in the UK and so when I saw a sign for it in my local health food shop I rushed in there! I chose the lowest dose and I just use it under my tongue at night to help with my pain and insomnia. I am spending much less time napping since I started it and I also found my anxiety has lessened by using it!
The question I pose now though is where do I go from here? I know I want to save for a diffuser, but what alternative therapies do you use? Are there any must have oils or books that would help me? Please comment me links to books, purchases and articles as well as any advice you might have?
Namaste xxx