alternative therapies
Hey everybody!
So if you have been following my blog and you tube channel you will know I am currently doing HEAL CHRONIC FATIGUE COURSE and though it is set up as a six week course I have taken a little longer over the middle weeks. This is because it deals with nutrition and how we often think we are being healthy when we actually are being lied to by companies who use far too much sugar and salt and far too many chemicals!
I have been trying to find a healthy diet to follow for years now, but getting reliable information is so difficult! Just a simple google search will show you just how much emphasis there is on low fat and being thin rather than being healthy!! I have tried so many times but now I am even more determined because after reading what Zoe, who runs the course, says I want to be feeling as well and able to do things as possible.
Since starting the course, I have found myself able to do gentle yin yoga, a little light housework and shower every day which was impossible before! I am working hard to make sure I am getting enough sunshine, breathing fresh air, not relying on electric lamps too much and taking time off the ipad/phone and I am feeling better for it.
Nutrition is the last part of the puzzle, but where do I start??? Budget is a big factor, so I want to start making my own cereal bars and snacks, baking, and making our own bread…but so much is still confusing and hard to navigate. I am working my way through the food I already have in my home as I hate food waste, but as I run out I am making it a mission to replace each thing with a healthy alternative.
This is the only way I have found to navigate this HUGE minefield and to try and actually get good food that is not full of chemicals and sugar! I feel like as a whole diet is hard to understand for me, brain fog makes it hard to understand and I have memory problems that mean it is hard to remember a lot of information.
So one at a time I am going to replace the rubbish with food that has totally readable ingredients or that I have made myself, it is a scary and slightly daunting task but I want to do it. I want to reduce my symptoms as much as possible so I can be the best person I can, so I can keep up with housework and be a partner to my husband instead of someone who depends on him.
What are you doing to eat healthier? Do you bake and cook everything from scratch? Is there a specific diet that you follow? Let me know down below any help is most certainly appreciated!
Namaste xxx
Hey everybody!
So right now I am struggling with the fact that my Nan is nearing the end of her life, she has been one of the biggest influences on my life. I have been lucky enough to have her in my life for so long and I am thankful for that, however grief is creeping in and I am aware that I do not want to fall into the same depression that I did when we lost my Grandad.
So this time I am concentrating on the good, I am thinking through every good memory I have of times with her and remembering how thankful I am that she was chosen to be a part of my life. She taught me about God and how to have faith, she was always there to listen and she never put me down or made fun of my struggles over the years like others did.
My Nan is amazing and I am determined to follow her example and to hold onto God as I go through this journey with her. She always taught me that if you have your faith you have everything you need, and that is so true. My prayer times have been so sacred to me and have helped me so much to get out my feelings as well as to send love and care to her.
I have also been holding onto the Heal Chronic Fatigue course teachings and remembering to turn each negative thought into something good. Buddhism teaches that we should not try to hold onto people or things because they are not going to always be there. I have been using positive affirmations, good memories and positive thoughts to make sure I stay as positive as possible right now.
However, self care is not just about staying postive and being happy, I let my tears fall when they need to but the difference is I do not wallow in it. I let my emotions flow now I do not judge them like I used to and I am being patient with myself as my mind is very scattered right now because I am trying to wrap my head around losing my beloved Nan. Grief can be overwhelming at times, but it is important to treat yourself well, make sure you eat well and often and give in to comfort food sometimes because it is called that for a reason!
Have you been through grief? How did you cope and what things did you learn from that time?
Namaste xxx
Hey everybody!
So this week has been pretty interesting and a little bit of an experiment that I am actually pretty excited about!
So on Wednesday I got to see a headache clinic for a chat and to find out if there was anything could be done for my daily headaches, and weekly migraines. He was the first specialist I have seen for a while who did not make assumptions because I had chronic illnesses but just wanted to help my pain. He listened to everything I said and seemed pretty shocked when I said I had been suffering since I was at university!
I have never been offered any specific medications or other options to treat them so we had a good chat and decided that some nerve blocks might help as well as a couple of medications to take if a migraine hit me.
A nerve block is when local anaesthetic is applied to a group of nerves to block pain, most people have heard of an epidural during labour and it is a type of this. I was nervous, but my best friend has this treatment for her Fibromyalgia pain in her upper back so I knew it could give excellent results.
I thought he would refer me to someone to do this treatment as we were in a doctors office, but he did it there and then! It was strange having injections into my head, I had one at the base of my skull on the right side and one above my left eye in my scalp, and I could hear the needle against my skull which was so weird! He also injected some steroids into my left jaw joint right by my ear which he said was swollen and not opening properly which explains a lot! I felt a bit bewildered as I left, a bit shaky, but overall and most importantly very thankful! I could not stop thanking him for listening and for helping me which seemed to puzzle the doctor but he understood I hope.
The next few days were hard, the pain from the injections was quite bad and I spent the next couple of days in bed resting and feeling quite fragile! Getting comfortable on my pillow was not easy and even now on day 5 I feel like if I move my head too fast it will be painful, I guess because the headache is still there but the signal cannot get through? Still it is so nice to not have a headache and to feel like my head is clearer so I can think a bit better.
I am going to be seeing a Rheumatologist soon so I am going to suggest it maybe for my neck and upper back pain and if it could be done together I might find myself pain free for a few weeks at a time? I know it is wise to be careful and not get my hopes up, but when you have been in pain for so long with nobody really listening it can be nice to have a little glimpse at something that could help!
Have any of you tried this pain therapy? Has it helped and would you recommend it? Let me know in the comments because this is something I am quietly excited about!
Namaste xxx
Hey everybody!
I really do hope that this cold snap is not affecting you all too much, I have been reading blog posts and watching You Tube videos by my fellow spoonies and it is not looking good! This year even in Florida there was snow, and I am definitely feeling the climate change that all the boffins have been warning us about.
For me personally it is making it harder to want to drink enough water, my pain is worse, my fatigue is hitting me and my depression is trying to push me around. Every joint seems to hurt and I even dislocated one of my knees just by turning round something that really shocked me!
So how am I keeping going and pushing through while this cold weather tries to push us to our limits? I mean we all have our tips and tricks and if we share them surely we will all feel a little better?
Keep hydrated: It is not easy to keep hydrated, drinking 2 litres of cold water a day is not easy when you feel cold. I keep a glass beside me at all times and I know if I refill it four times a day then I have had my quota. It has mermaids on it and that helps very much!
Hot drinks count: Keeping warm is as much about our intake as what we wear, however I struggled making hot drinks because of standing by the kettle and lifting it. But then someone on twitter said they bought this kettle by Breville that is more like a coffee machine, you don't lift the kettle you put your cup under it! Also, it boils in seconds so no more standing for long periods of time which is incredible it saves me energy because of that and it is so much safer because you are not lifting and pouring boiling water…plus it is in the sale at ASDA which was a big help.
Bundle up: Yes it might sound silly, but layer your clothes and there are lots of cute blankets for sale out there, like I got a very cute mermaid blanket from New Look before christmas which is so warm and cuddly! I am sat here in so many layers and blankets, and I even wear fingerless gloves in the house to help my hand pain!
Turn up the heat: By this I do not only mean turning on the heating or the fire, but also things like heating pads, hot water bottles etc can all make the difference between being in pain and feeling good. I also often go to bed early this time of year, I have the electric blanket on and a fleece blanket as well as a thick quilt and it is so nice to lie there warm and safe to read or watch TV.
Stay in: Most of the time I love to go out, it doesn't happen often because my husband works, but if he offers even to get in the car and wait while he goes to the shops I am up for it. However, sometimes we have to think about the weather, if it is cold, or icy then going out can be a risk too big to tackle. If us spoonies get a chill, or fall then it can take a lot to recover so don't be afraid to say no and stay in the warmth and be safe.
So these are some of the things I do, what do you do to keep warm and comfortable this time of year any tips and tricks gratefully received.
Namaste xxx
Hey everybody!
First of all, Happy New Year! Yes it is 2018 and there is so much to look forward to and be inspired by when it comes to the start of a new year!
A few weeks ago, I was contacted by a woman called Zoe who has constructed an online six week course because she managed to cure herself of her chronic fatigue. She wanted to ask for a little advice about the website and we got to chatting. Now this post is not sponsored this is all my own wording until I hand it over to a few words she sent me, however she allowed me to take part in the course for free in exchange for me talking about my experience here on my blog and my You Tube Channel.
Now I am always sceptical when someone claims to be able to cure an illness, however I am also someone who would rather try and fail than to never try at all. So over six weeks of the course I will be doing weekly videos on my You Tube about how I am getting on, and then at the end I will post here how I am feeling, and just a general review of the course.
I am extremely hopeful and things worked out so that here January 1st 2018 I am going to be starting the online course. This is something I have been looking forward to and I am hopeful you will subscribe to be on You Tube and follow along as I try out Zoe's course!
Heal Chronic Fatigue Course and Community
A message from course leader, Zoe:
"The Heal Chronic Fatigue Course came about once I had recovered from several years of severe ME/CFS. I wanted to let others know that it is possible to fully get better and to share my knowledge of healing techniques that have worked for me and for others. One of the hardest things about this illness is the sense of isolation and this is something else I really wanted to change.
The number one message I would like to share with people who have ME/CFS or any kind of fatigue-based illness right now is that it can get better. I know how hard it feels when there seems to be no sign of hope or improvement – but please know that, no matter how long it has been, things can still turn around. I also want you to know that you are not alone. All over the world, hundreds of thousands of people with ME/CFS are listening to the still, small voice inside which tells them that they deserve better health. It's important to understand that there is no convenient external 'cure': healing is an internal process and it can be challenging, but that is why we are a community with such a strong focus on supporting one another.
In my experience, when people with fatigue-based illnesses gather together to learn and share the healing methods that have worked for them, an incredible shift in health consciousness occurs. This involves taking back power and responsibility for our own experience. I understand that this idea can be hard to come to terms with, especially if we have been ill for a very long time, but most people report that feelings of empowerment are a huge, huge catalyst for healing.
The course itself covers three main topics in detail: cognitive, nutritional, and emotional health. We discuss the lifestyle patterns that create and promote fatigue-based illnesses and the corresponding patterns which heal those illnesses. We've had extraordinary positive reviews so far from our members and from health professionals. It's a new model for treating chronic illness – one that focuses on healing the cause, not just the symptoms.
I'm really looking forward to partnering with Beverley and following her journey on the course. I wish her all the best and I know that she will be able to provide some truly valuable insight as well. So, watch this space!
For more information on the Heal Chronic Fatigue Course, please visit: healfatigue.teachable.com/p/heal-chronic-fatigue. You'll find details about what the course includes, our community, my background, frequently asked questions, and our inclusivity scheme. We know that everyone deserves and has the potential to get better. So, do join us and be part of the movement!"
Zoe B. C. Emma is a certified Complementary Medicine Practitioner, with qualifications in Nutrition, Neuro-Linguistic Programming, and Mindfulness-Based Stress Reduction.
Wish me luck!!
Namaste xxx
Hey everybody!
Well it is that time of year again, I have cards to make, presents to wrap and right now I just want to fast forward to January and be done with it! Now do not get me wrong I am not a Christmas hater and I am not one to be compared to The Grinch at all! In fact,  I always loved this time of year and looked forward to seeing my family and giving presents to people I love. I enjoyed the cheesy films and decorating the house….
Then my Grandad died, and my parents split, my Dad now has a new family he is spending Christmas with and my mom is spending it with her friends and my Nan is staying in the home she now lives in for her dementia. This will in fact be my first Christmas not eating dinner with either parent or my Nan, me and my husband are going to be eating Christmas dinner together with our dog in a local pub.
I have decorated our living room, but that was so tiring and the added time and effort it takes to clean now I have extra things to move makes me wonder why I even bothered! I have not yet recieved a single card, and no invitations or planned time with friends leaves me feeling extremely lonely.  I feel very lost and nothing feels right and I have this unsettled feeling all the time which is triggering both my depression and anxiety and overall I am just lonely and miserable!
However, I am not the sort of person to give up and I am putting a few things in place to try and keep my mental health under control while I navigate this time:
Meditation and prayer: I am someone who tries to keep myself centered and I do that by looking to God. I try to spend time every day meditating and talking to God, my faith is something I take very seriously and it really helps me. Now I am not trying to say everyone go find God, but I am saying we all have something that helps keep us grounded whether that is a best friend, favourite song or your faith. Concentrating on and holding onto this really helps in times of trouble so don't knock it until you try it.
Exercise: Depression wants us sitting around feeling useless and doing nothing, I find walking around my living room, doing Yin Yoga, or just dancing to a song I like are all things that can really help shake off depression even just for a little while.
Keeping busy: It literally took me most of today to work up to being bothered to write this blog post, but that is the depression not me who loves writing my blog. It is best to keep busy in order to stop those negative thoughts clouding in and taking over. No matter whether it is learning a new hobby, reading or just planning what next year has to offer try to keep your mind from taking over!
Mindfulness: Now this is simply taking a moment to concentrate on this moment without judgement. Just stop and take a breath, take in your surroundings and stop those thoughts it really can change everything to just step back and realise we live in this moment and not in the past or future where depression and anxiety live.
Be thankful: I try every day as I get into bed, to list things I am thankful for over the day. Things like doggy cuddles, cups of tea, being warm, not needing to nap, etc. It really helps to stop looking at what we do not have and starting to appreciate what we do have. This time of year adverts are everywhere, people on social media bragging about buying so many presents, and movies that show the 'perfect christmas'. In reality, nobody needs 500 presents, kids just want to be loved, and perfection does not exist. Be thankful for what you do have and can do and stop trying to keep up with the Jones'!
Avoid adverts: This is related to the last one, but I turn off or mute all adverts on TV and you tube, I do not want those toxic 2 minutes in my life! They make me feel like I want so much and none of it is actually needed! Take the pressure off by turning away from adverts and instead take those moments to be mindful, or cuddle the dog!
I hope these small things are manageable for you, and I hope this holiday season is better than you imagined, and if you ever need to talk my emails are always open.
Namaste xxx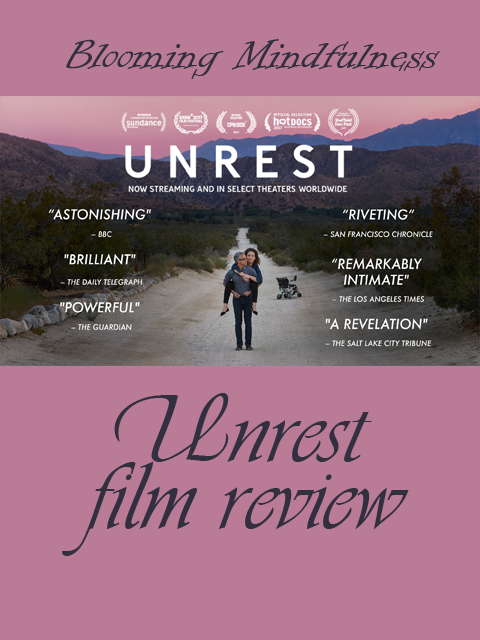 Hey everyone!
So I am on antibiotics at the moment and they are really making me feel awful! So I got up this morning and thought I would order Unrest on Amazon and give it a review.
Unrest centers around Jennifer Brea and her husband who are both intelligent and adventurous people who love travelling and as I put it 'grabbing life by the balls'. Then Jen got sick with a virus and their lives changed drastically as she became sick with Chronic Fatigue Syndrome or Myalgic Encephalopathy. We follow her journey as she records her life, her struggles to cope with her husband becoming her carer, we see her interview other people with the illness all over the spectrum, and we see her husband caring for her.
This is a very raw documentary and I must have cried so many times while watching it because I saw myself and my relationship with my husband so clearly on the screen. This film shows Omar feeling lost and alone as he tries his best to support her, it shows him willing to try anything to help and it also shows that it is so hard to see someone you love suffer and not knowing how to help.
I was so moved by their stories, but it was when she spoke about the history of unknown viruses that cause chronic fatigue in the past that hit me hard. Hysteria especially was hard because it is clearly Chronic Fatigue when you see the old medical videos and photographs and yet these people were locked away in mental institutions and treated terribly because back then doctors thought it was all in our heads…
Then we hear about Karina, a girl whose parents cared for in their home in Denmark, then one day the police took her from her bed to be cared for by a doctor because they believe it is all in her head and her parents are making her sick! Yes these horror stories we like to think do not happen now really do and I know I am being treated like it is in my head by family and doctors!
Unrest is stunning to watch, moving in so many ways, it showed the good days and the bad, it showed the money we spend on made up cures because we get desperate and it shows that when family become carers it can make things so hard. I really found myself coming away from this film feeling thankful that I am not alone, that other people out there know how I feel and all of our stories are real and similar and if only doctors would watch maybe things could change for us all?
I really hope people get to see this powerful and important film, this illness and illnesses like it have been overlooked and hidden away for too long. So go watch the film online HERE is a list of where and how, share it and let's stop hiding this illness and let's get our stories out there so no more people go missing.
Namaste xxx
Hey everybody!
So a couple of posts ago HERE, I talked about how I felt the NHS had let me down because since my diagnosis was changed from Multiple Sclerosis to Fibromyalgia and Chronic Fatigue Syndrome. I have had hardly any medical intervention since then and have felt like nobody cared, this started me feeling depressed and lost and honestly I had stopped going to see my GP because I never got answers I wanted and I just put up with worsening symptoms.
So after thinking about it for a little bit, I sent an email to my doctor's surgery with an explanation and a link to that post. I wanted to see if it would make a difference and I wanted to make sure that this kind of thing did not happen to anyone else. I suspected that I simply fell through the cracks of an already overstretched and underfunded NHS, but I am still a human and it was about time I needed to be my own advocate.
I heard back early the next day from the surgery manager who said they were very sorry about how I felt and the doctor wanted to see me. I got a phone call later that day and I have an appointment to discuss my concerns and hopefully get some of my symptoms treated and referred to the right people.
This really did reinforce for me that I am my own advocate, and though I know the NHS is given a raw deal by the government, and though I used to be on the other side, I deserve to be treated better. I read a lot of blogs run by other chronic illness warriors and I follow them on You Tube and I see the sort of treatments that they recieve and I have been given none of those options. So this week I am going to be researching and printing things off and taking it all to the doctors because I need more than I am getting.
So this was a big lesson to myself, but also I hope that it inspires all of you that if you are not feeling supported or well treated by your medical team speak up! I am going to be taking my husband with me to back me up and I am going to make sure together we are heard…nobody can speak up for you unless you try to speak up for yourself.
So if there is any research or treatments you think I need to look into leave me links in the comments and I will get researching!
Namaste xxx
Hey everybody!
Yeah my body right now is painful, my joints hurt, my head aches and I am struggling to get enough energy to keep up with the housework and overall this is what we call a flare! Everyone with chronic illness knows what I mean by a flare, it is when your symptoms get worse and new symptoms even sometimes come to join the party!
When this happens it can be very easy to feel like a useless, painful lump on the sofa and wonder why your loved ones put up with you. I often feel guilty that my wonderful husband has to help me and I can fall into depression which as a chronic sufferer usually gets worse too. However, by using logic and finding ways to make life fun, you can get through to the other side without spending every day crying and feeling like the world would work better without you!
TV shows – I am a Netflix user and right now I am using my flare and bad fatigue as a very good excuse to marathon all those TV shows in my watch list. Right now we are on season 2 of Stranger Things which is absolutely amazing and we are very much enjoying The Crown! Spending time cuddled up with a loved one or an equally cool friend watching awesome TV really distracts you from the negative thoughts that can start crowding in.
Logic – I find a great way to fight my depression is to use logic, so when the depression tells me I am useless I think about what a good friend I am and how when I am well enough I do housework. If it tells me my husband would be better off without me, I look at him and see how happy he is with me and how silly he is and it pushes it away. Using logic to counter every negative thought works really well and was something an old therapist told me to do.
Plan your week – Being organised comes naturally to me and is something I have always done, but it doesn't come naturally to everyone. One thing I suggest is planning your week, split your jobs or chores up into smaller jobs you can manage and do them spread out over the week. Yes this can be frustrating, but it is better to do a little every day than to try and tackle big jobs that either do not get done or defeat you and leave you feeling worse.
Put things away – One thing that comes with high fatigue is the very real problem of using things and not having the energy to put them away. It can leave your home feeling crowded, untidy and overwhelming, it takes a lot less energy to put one thing away than fifty, so next time you need to get up to go to the toilet or something like that, just put things away and tidy up. Keeping my home looking tidy helps me feel better especially if friends or family turn up!
Be kind to yourself – This is a hard one, but imagine you are talking to your best friend and she said that she felt really sick all week and hadn't been able to do housework and she felt really guilty about it…now imagine what you would say to her…treat yourself like your best friend. Be compassionate and loving and caring to yourself and always have a treat in the cupboard for emergencies!
You can cry if you want to – No matter if you do all these things there will always be days when nothing helps, so shout at your illness not your loved ones and let those tears out. Crying is really healthy and not a sign of weakness at all like our society likes to make out. Do not be afraid to put some sad movies on and let it all out trust me the next day will feel better if you do not bottle everything up!
I hope if you are in a flare these help you like they have helped me and I hope things settle down very soon. Please leave me any coping solutions you use when your illnesses flare up down in the comments I would love to find some other ways to help.
Namaste xxx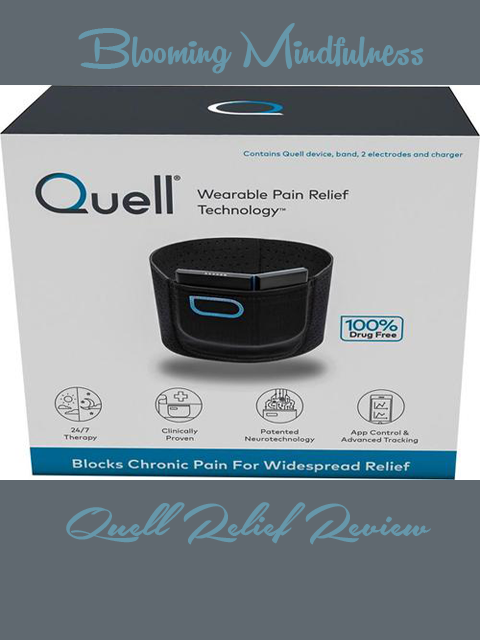 "I have been given this product as part of a product review through the Chronic Illness Bloggers network. Although the product was a gift, all opinions in this review remain my own and I was in no way influenced by the company. "
Hey everybody!
So I was sent the Quell a few weeks ago as I said, and it is a great little product so let's get into the details of it. The website says that it stimulates sensory nerves, taps into the body's natural pain relief response, sensory nerves carry neural pulses to the brain, and that they trigger a natural response that blocks pain signals. These are big claims and I think as anyone who has lived with chronic pain, I was a little sceptical but hopeful that this would help me.
The device itself is easy to put together, the electrodes are attached via two small connectors and there are 4 sections of blue gel that sit on the skin and that is how the device delivers the pulses to the skin. The device then is housed in a long strap which is always worn on the upper calf and it is kept in place with velcro.
The Quell is controlled by an app which is free from the app store and I added it to my phone. There you tell it about how your pain has been over the last 24hours and it uses that information to make sure you get the right amount of signal.
I found it really easy to put together and to use, the app is great you can change how strong the pulses are, and tell it how bad your pain is and it even registers when you sleep and how active you have been. Once it is on your leg it is comfortable and once you have the strap comfortably attached you can almost forget it is even there! I did find that the connectors came away from the unit a few times which meant I was not getting treatment, and there were times when I knocked it because it does stand out a little.
I also felt a little self conscious with it on, I wear a lot of skirts and having this black strap on my leg got people asking a lot of questions! I do wish there were other styles of strap, maybe in other colours just so you could coordinate with your clothing and make it look nice. Many of the pictures on the site show people wearing it to work out and I assume that is why these colours were chosen, maybe other strap designs will come in the future.
I did wear the Quell device to my yoga class and when I was doing my exercises at home, it made some postures a little difficult, but overall there were positions I could hold longer because I had the Quell on! It surprised me to find that, I honestly did not have high hopes but it really took away that dull ache that always seems to be there no matter what meds I take or what I try! I slept better with it on as well, it eased my pain to a point where I felt relaxed and it was great to find something that helped without it having to come from taking tablets!
Overall, this is a really good product, it is easy to operate, you can control the pulses and it is comfortable to wear and to sleep in! Most importantly of all it does control the pain and for me it is great support for the medication that my doctor prescribed me. I will for sure keep on using the Quell and would recommend it to anyone who suffers with chronic pain.
You can check out more information at their official site quellrelief.com
Namaste xxx