friends
Hey everybody!
First of all, the neural blocks I spoke about last post are working, my head is a lot nicer without pain, I will do a full review of how I am doing in a week or so to give them a chance.
So, on Wednesday I am off to London to stay with my best friend for two nights and on Thursday we are going to see Hamilton! I love this play so much I definitely got caught up in the amazingness of it and I cannot wait to see it now it is in London as well!
I am not going to be there long, I am going to chill with my best friend she has Chronic Fatigue and Fibromyalgia as well so we rest a lot. We have a lot of similar interests so we are looking forward to spending time together and just having a nice time.
I get there by using the disabled help offered by National rail where you book assistance in advance when you book your ticket. My husband will take me to the station and there we will book in and someone will provide a ramp onto the train and there will be a disabled space for me. I will then get help off the train in London and Louise and her parents will meet me off the train, it is a good system and it works well so long as the station is manned that you are using.
I have done this before and not had problems so I know it will be fine I will take a book and be lost reading and not notice the time pass at all. I quite like the time on the train, it is scary and something I rarely do, but it feels nice to be out alone like I used to be before I got sick and for a little while I can pretend I am not sitting in a wheelchair and I am just going away for a couple of days.
Right now however my mind is buzzing with worries and fears as my generalised anxiety disorder kicks up a fuss and tries to dampen my excitement. I have had my outfits planned out in my head for weeks, and I keep worrying they will look silly or be wrong for the weather or a million other worries that have no basis in reality because I know my outfits are super cute and I will feel so good wearing them. Then there are worries about what to pack, do I need to take 10 pairs of pants? Do I really need extra socks just in case? Which pyjamas will be best…..the list goes on!
So when my brain is working on overdrive how do I stop the worries and get back to being excited?
Breathe: Yes it might seem simple, but pausing to take deep, slow breaths can slow my mind and help me get back to feeling like I did after my morning meditation.
Organise: To keep my anxiety down I tend to plan everything in advance, if I know what to pack and when and what baggage I am taking etc it can really help me to stop worrying so much.
Pray: I stay close to the bible every day, and all through are examples of things working out if people simply take their worries to God and have faith that it will be sorted by God. I find this so comforting to know and I hold onto it with both hands.
Mindfulness: This is a big part of the Buddhist faith and something that really helps me when my anxiety is pressing in on me. If I take a breath and concentrate on what I can see and hear in that moment it clears the negative and worrying thoughts from my head. In this moment everything is fine and I am safe so why worry?
Trust: I have stayed with Louise and her family many times, they have always looked after me, spoilt me and made every visit special. They would never let anything happen to me and knowing I can trust them fully goes a long way to easing any crazy scenarios that my brain can come up with!
So after holding those five things close to me, I am managing to keep my anxiety to a minimum and my excitement to see my best friend and to finally see Hamilton on stage high. I will hopefully be doing some kind of video while I am there not sure if it will be a vlog or an interview with my best friend so make sure you are SUBSCRIBED to me to find out.
Namaste xxx
Hey everybody!
So it is getting closer to Christmas, with plans for visiting relatives and going out for dinner on the day as well as visiting my elderly Nan are all hovering over me. Of course, my body has chosen right now to get a cold and to hit me hard with fatigue that leaves me laying on the sofa unable to think straight no matter get dinner going!
My wonderful husband has epilepsy and his medications make him drowsy and tired, yet he comes home from work and makes dinner, helps me undress and get into bed and listens to me natter on and on about TV shows and Instagram and whatever else is in my head!
The problem is that I am constantly hit with guilt, I am forever saying sorry to him and that drives him insane! But I do feel so guilty, about him having to cook after being at work all day and I just hate that I feel like a useless blob on the sofa!
So much of our self-worth in society is tied up in what we do for a living, where we live, how we look and if you are unable to keep up, judgement comes from inside as well as from society at large. I find even my mother, who has Multiple Sclerosis, give me looks and makes comments when I ask Lee to pass me something or to help me. So when it even comes from those we think should understand how are we as chronic illness sufferers meant to keep our heads up and not drown in guilt?
I know many of you will understand what I am saying and will probably agree with a lot of points I have said, but my question is if we cannot do the housework and we need to put on family and friends how do we push passed this guilt that comes with fatigue? How do I as a woman who prides herself on having a clean and tidy house, deal with being unable to keep up with keeping everywhere clean? How do I pass jobs on to my husband when he is already tired from work and not feel like the most awful failing housewife?
Usually, I like to give tips and ideas but this time it is me asking for them: How do you keep your self worth going when you are unable to work or keep up with housework? How do you push passed the guilt that comes with times of extreme fatigue? Answers in the comments please? I will hopefully do a follow up to this post soon with some conclusions and helpful ideas to help my fellow Spoonies keep their self worth high!
Namaste xxx
Hey everybody!
Well it is that time of year again, I have cards to make, presents to wrap and right now I just want to fast forward to January and be done with it! Now do not get me wrong I am not a Christmas hater and I am not one to be compared to The Grinch at all! In fact,  I always loved this time of year and looked forward to seeing my family and giving presents to people I love. I enjoyed the cheesy films and decorating the house….
Then my Grandad died, and my parents split, my Dad now has a new family he is spending Christmas with and my mom is spending it with her friends and my Nan is staying in the home she now lives in for her dementia. This will in fact be my first Christmas not eating dinner with either parent or my Nan, me and my husband are going to be eating Christmas dinner together with our dog in a local pub.
I have decorated our living room, but that was so tiring and the added time and effort it takes to clean now I have extra things to move makes me wonder why I even bothered! I have not yet recieved a single card, and no invitations or planned time with friends leaves me feeling extremely lonely.  I feel very lost and nothing feels right and I have this unsettled feeling all the time which is triggering both my depression and anxiety and overall I am just lonely and miserable!
However, I am not the sort of person to give up and I am putting a few things in place to try and keep my mental health under control while I navigate this time:
Meditation and prayer: I am someone who tries to keep myself centered and I do that by looking to God. I try to spend time every day meditating and talking to God, my faith is something I take very seriously and it really helps me. Now I am not trying to say everyone go find God, but I am saying we all have something that helps keep us grounded whether that is a best friend, favourite song or your faith. Concentrating on and holding onto this really helps in times of trouble so don't knock it until you try it.
Exercise: Depression wants us sitting around feeling useless and doing nothing, I find walking around my living room, doing Yin Yoga, or just dancing to a song I like are all things that can really help shake off depression even just for a little while.
Keeping busy: It literally took me most of today to work up to being bothered to write this blog post, but that is the depression not me who loves writing my blog. It is best to keep busy in order to stop those negative thoughts clouding in and taking over. No matter whether it is learning a new hobby, reading or just planning what next year has to offer try to keep your mind from taking over!
Mindfulness: Now this is simply taking a moment to concentrate on this moment without judgement. Just stop and take a breath, take in your surroundings and stop those thoughts it really can change everything to just step back and realise we live in this moment and not in the past or future where depression and anxiety live.
Be thankful: I try every day as I get into bed, to list things I am thankful for over the day. Things like doggy cuddles, cups of tea, being warm, not needing to nap, etc. It really helps to stop looking at what we do not have and starting to appreciate what we do have. This time of year adverts are everywhere, people on social media bragging about buying so many presents, and movies that show the 'perfect christmas'. In reality, nobody needs 500 presents, kids just want to be loved, and perfection does not exist. Be thankful for what you do have and can do and stop trying to keep up with the Jones'!
Avoid adverts: This is related to the last one, but I turn off or mute all adverts on TV and you tube, I do not want those toxic 2 minutes in my life! They make me feel like I want so much and none of it is actually needed! Take the pressure off by turning away from adverts and instead take those moments to be mindful, or cuddle the dog!
I hope these small things are manageable for you, and I hope this holiday season is better than you imagined, and if you ever need to talk my emails are always open.
Namaste xxx
Hi everybody!
So yesterday an old friend from school came round to see me for a cup of tea and a catch up. Now to most people this might seem very boring and not out of the ordinary at all but it meant so much to me and I want to explain why.
First of all, she got in touch with me because she found my blog, and when she did and started reading she was amazed at how similar our symptoms and experiences with chronic pain and fatigue were. She emailed me and we started to talk and arranged for her to come visit, and if you have been reading my articles for a while you will know how lonely I get so this was something I was so excited for!
I was nervous because of the amount of time that had passed since we had last seen one another, but I needn't have. We chatted away and in no time found ourselves amazed at how similar our chronic illness journeys were and how we both have struggled with accepting our illnesses and having family understand why we are sick.
I started to think about all the chronic illness warriors that I know through social media, you tube and this blog and wondered just how similar our paths seem to be. It in incredible that no matter what our diagnosis, we all walk the same path and it is this fact that connects us all. I started to realise that so many of us are in reality so isolated and alone, spending weeks at times not seeing friends or even leaving the house just like me!
Seeing my friend was wonderful, I felt so tired and in pain afterwards but I have not stopped smiling since because I am so happy! I feel like I am part of a worldwide network of chronic illness warriors who have many different illnesses and yet we all walk a similar path! So if you ever feel lonely or just need to talk my instagram, twitter, facebook and my email all have ways to get in touch with me and I would love to connect with you!
Namaste xxx
Hey everybody!
Yesterday was a big day for me, I love making new friends and going out, but when you have an anxiety disorder it can easily spiral into something you force yourself through instead of enjoying yourself.
I was going out with one of my best friends to celebrate her getting married, we first went out to learn to make cocktails in a really nice bar, and then to a different place to eat a lovely meal. We went out to a big city close to where we live, but it was still an hour each way on the train and walking from place to place though thankfully they were less than 5 minutes walking from one another.
I woke really early and was ready to go a long time before I needed to be, now this is normal for someone with an anxiety disorder. I was ready early because I didn't want to make anyone wait or let anyone down. But waiting has it's own problems because then I have time to worry and make up scenarios in my head. To combat this I watched you tube videos on my ipad, they are perfect because they are short and you can watch them without worrying too much about getting caught up in them.
I bought myself a new dress to help with my confidence as well, and though my  dress was 1950s style I felt so pretty in it and not like I stuck out. I think that with a little make up really helped me to feel like I could hide if I felt overwhelmed, but my friend and her friends and family really were lovely and helped me so much! Even when a man in the bar made a comment about me looking like his mother because of my walking stick I managed to shake it off and just have fun!
I made sure as well to have a few drinks and to have fun, but to be careful not to go too far and to drink lots of water as I did so. I had such a fun time, I ate well and the best part was going behind the bar and making actual real cocktails! They all tasted so yummy and fresh and perfect for summer I could have stayed there drinking them all night!
The walking has left me with aching legs, however people walked at my pace and looked after me which I appreciated so much I have been left behind in the past and it does not feel nice at all! I also came home early before I was wrecked (thank goodness for adrenaline am I right?) and got straight into my pyjamas and got into bed.
Today I found my energy so low and my head is aching, my legs hurt, my feet are swollen and itchy, and overall I just want to sleep…but it was so worth it! I think going out with friends is just as important for mental health as meditating and I just wish I went out with friends more often!
Namaste xxxx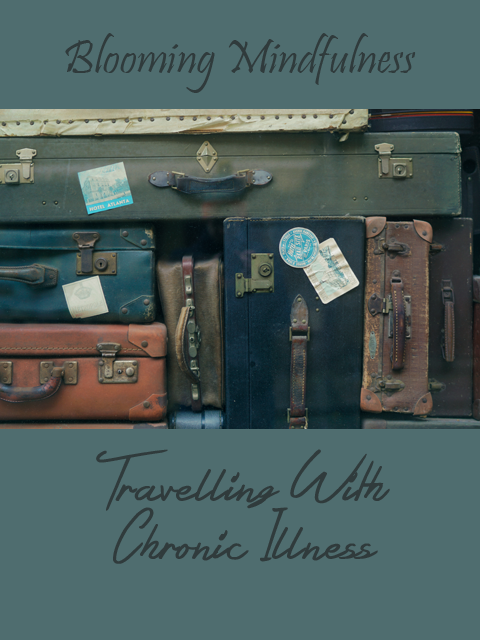 Hi everybody!
So I am really excited I am going to London tomorrow for a few days to spend some time with my best friend Louise and to see some plays. London is not the most disabled friendly of cities and I find it can be a case of lots of planning when it comes to making it happen. Thankfully, Louise has lived all her life just outside London, and has suffered with chronic illnesses for most of her life so she is used to dealing with things and is great at navigating the city.
Both she and I suffer with fatigue so we have nothing planned during the days we are going to simply rest and concentrate on the two plays we have booked. Booking disabled tickets for theatres in London I have found to be a bit of a lottery, sometimes you get a free ticket for a carer, sometimes you have a terrible view it is all down to the individual buildings.
Planning travelling around the city can be difficult as well because the Underground system was built so long ago and most of the stations do not have wheelchair access because they do not have lifts. I have however, enjoyed seeing the city through travelling by bus, which can be hard to navigate, but all busses have lift access and wheelchair spaces.
Louise and I however, usually go by taxi, we are both disabled which means her parents do not need to worry about us as much and you can just sit back and relax. I will say though be aware that some taxi drivers can get grumpy when they see that you have a wheelchair so make sure to mention you use one when booking!
The biggest obstacle for me is not so much travelling within the city though, it is the journey to London, which thankfully is one train with no changes! They are easy to book, British Rail has a disabled booking line and you can call to book assistance which will be help on and off the train. Because I will be using my wheelchair they will use a ramp to get me on and off the train and I will get help both ends and both times I will be using it.
My anxiety comes into play because though I have booked assistance every time I have travelled, there has been a couple of times when nobody has come to get me off the train! This is incredibly scary and I get afraid that I will be left alone on the train unable to get off or taken somewhere far away! Thankfully my friend is meeting me off the train in London, and my husband is meeting me this end, I will of course be adding photographs to my instagram and updates to twitter so make sure you are following me for my London adventures which I will tell you all about when I get back!
Namaste xxx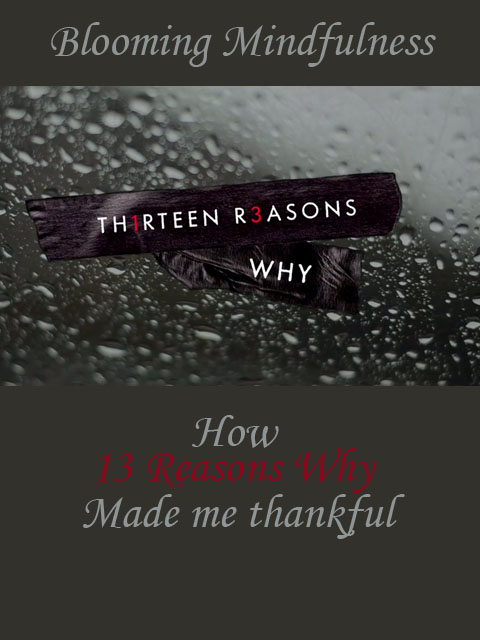 Hey everybody!
First of all if you are planning to watch 13 Reasons Why and have not yet seen it this post will contain spoilers so come back to this after watching. Also, there will be mentions of alcoholism, social anxiety, depression, and suicide in here so please be aware of that if you choose to continue.
So in 2 days I had watched all the episodes and the documentary of the TV show 13 Reasons Why. This show is about a girl called Hannah who leaves behind 13 cassette tapes each one singling out a different person and why they are part of the reason she decided to commit suicide. The show sugar-coats nothing, it is hard to watch, there are times I had to pause it and walk away, or I fast forwarded, cried…yeah it is a tough, but I feel important watch.
Now, when I was a teenager I was very much a mixture of Hannah and Clay, I was incredibly depressed, I suffered with social anxiety and I was suicidal. I used alcohol as an escape and I am sad to say that I was at times suicidal. I was nervous to watch this show as I worried that it would trigger old feelings and thoughts and it did but I coped with it in a very unexpected way…I became thankful!
There is a scene where Hannah and Clay both imagine what their futures could be like if she had not killed herself. This is a really sad scene, yes we want to see this glimpse, but also knowing they could never have that now was so upsetting. That scene got me thinking a lot about the times I was suicidal and wondered if I could have ever imagined where I am now?
Back then life seemed so bleak, the last time I considered ending my life I was in my early 20s, my fiance at the time had left me, I was living with my parents again and I was sick. I had not been living with my illnesses long and I was still waiting for diagnosis and to be honest everything I tried I seemed to fail at. Also as an added bonus, my father became incredibly frustrated and angry to see me so depressed and would shout and say things that I am sure now as I look back he would immediately regret.
But not long after this I started dating, I joined two dating sites and had a few dates on one and only one date on the other…that one date was my soulmate Lee and we have been married seven years! He looks after me, he is kind and funny and totally gets that I have illnesses but he never makes me feel like a burden. I have a wonderful dog, Gizmo, we live in a really lovely house and we are incredibly happy.
Over the past few years I have worked hard on my social anxiety, I have had counselling,  I can go out for a short walk with my dog, I can even talk to a shop assistant without wanting to have a total breakdown. Every day I struggle with my anxiety and depression but I have the tools now to cope with them and to work through them. I might not be able to work, but my self-worth comes from my family, my friendships and how good of a person I am.
13 Reasons Why made me feel so incredibly thankful that I did not choose the path that Hannah did, I kept fighting and things got better. As a teenager I was not able to cope with this harsh and stressful world, but now I have the support and the tools that make it easier.
Namaste xxx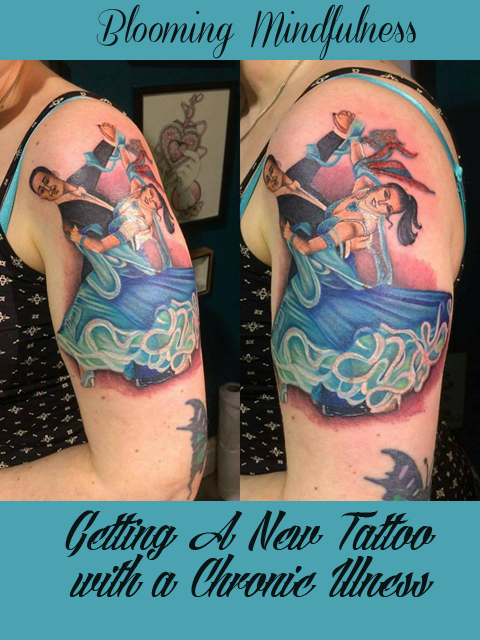 Hey everybody!
So I have always loved tattoos, I think they look so beautiful on the skin and really show a part of the person. They can be their favourite books, or TV and movie characters, or something that is just straight up art, but it is always something they love and cherish.
I always get the usual comments about what will you look like when you are old, and won't you regret them…but to me the answers are I will look beautiful and no never!
I always loved old circuses and freak shows, they fascinated me and whenever I saw a 'Tattooed Lady' represented I would get excited. Thankfully now tattoos are more accepted and most people have one and it is much easier to find actual artists rather than relying on the walk in type that can be very hit and miss!
I decided after doing a lot of research that I would go to Amy at Siren's Cove Tattoo Parlour in Cannock. It is run by three amazing female tattoo artists, but Amy's style really stood out to me and I knew she would get what I wanted captured so well. She was excited to do a piece based on a photograph I had found on Pinterest of two ballroom dancers in memory of my Grandad who was a beautiful dancer and his partner for over 70years my Nan.
I was nervous, but excited about getting the tattoo finally, however I was unsure as to how I would cope with my fatigue, how my medications would affect me and how I would be able to cope with over 4hours of being tattooed. So I could take a break if I really needed to I booked the whole day with Amy, and I am glad I did because it meant that though I did not take any breaks other than for lunch, nobody was feeling rushed.
As anyone who had known me a while will know I do have anxiety issues particularly when it comes to talking to new people, however my good friend Amanda had offered to come with me which helped so much! I also found Amy to be really down to Earth and easy to chat to, she was open and kind and though she knew I had illnesses it was not something she asked about nor did they come up over the course of the day.
It was so nice to just sit with her and Amanda and talk about tattoos and general chit chat, I felt like a normal person which is rare when I am out of the house. At some point my illnesses usually are talked about, however even when I took my lunchtime meds they did not become a focal point and I loved that!
My pain levels from my other illnesses did not start up, it was just normal tattoo pain and I guess it is because that was the focus I probably did not notice, but it felt good to not be in pain everywhere else! This is so rare and I loved just chilling out and having a beautiful piece of art on my arm in memory of one of my favourite humans.
However, a few tips if you are planning a tattoo and have chronic illnesses:
Medications: As THIS ARTICLE states, medications whether prescribed or over the counter should be discussed with your tattoo artist before getting tattooed. Some medications like Accutane can affect the healing of your tattoo, Marijuana has been shown to make the pain worse, and medications like aspirin will make your blood thinner and make you bleed more. Always discuss whether you can take your medications while being tattooed, and ask a pharmacist if your artist is not sure.
Rest up: Chronic illnesses are tiring, but if you also suffer with fatigue you might need a nap just after having a shower. You might find that a long tattoo session will make you feel more tired because of adrenaline burning out after hours being tattooed. If you are worried that resting a lot in the weeks before your appointment might not be enough maybe talk to your artist about breaking the tattoo down into smaller sessions.
Snack city: Taking snacks with you to an appointment is a must! Adrenaline and being tattooed will mean your blood sugars may be out so always bring snacks and if you have diabetes speak to your artist about it. I bought slow release snacks like Naked bars made of fruit and nuts, and popcorn, also make sure to bring water and stay hydrated nobody wants to pass out during a tattoo!
Keep warm: Sitting for hours being tattooed it gets cold, bring layers so that you can keep your temperature under control and remember that you might have to get a little naked so be prepared with shorts or vest tops so your artist can easily get to where you want inked.
Overall, just remember that just because you have a chronic illness does not mean that you are not a person who wants to ride that rollercoaster or get that tattoo! Think things through, do your research, and talk to your artist they want you to have the best appointment, and to heal so you can love your tattoo for the rest of your life! If you are concerned about your fatigue or medications, just drop them a message I am sure they would much prefer that to you ending up with a less than perfect tattoo or getting sick!
Namaste xxx
PS Amy is an amazing artist so if you are anywhere near Cannock, in Staffordshire UK go see the girls at Sirens Cove!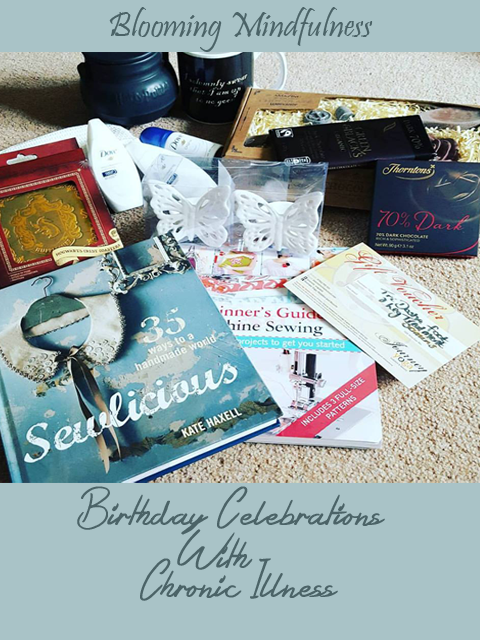 Hey everybody!
-plops down in a chair- Wow I had such an amazing few days celebrating my birthday! I have been spoilt by the people who mean the most to me and I have eaten more processed food and sugar than I usually eat in a year! It was so worth it!
On Thursday I was woken early, it was my birthday and I had presents to open and then I was told I needed to get showered for a surprise! The surprise was my best friend Louise and her mom, Gill coming all the way from London for the day and oh my goodness it made such an incredible day! We sat and chatted for aaages, my mom came for a little bit too and then my mom had to go home so she couldn't come out for lunch which was a shame. However, me, Lee, Louise and Gill went to a local pub we love for lunch.
We had such lovely food and more talking and I cannot even express how much it meant to me to have them with me for my day. I so wish we lived closer but I cherish every time I get to see them and it made my day so special to see them. In the evening, my dad and his girlfriend Linda came over and we just had a really relaxed night chatting and we had a take away of Indian food which was so yummy.
Yesterday was part 2 of the celebrations as me, Lee, my Nan, my dad, Linda, and some close friends Annalise, and Jess and Paul all came out for Afternoon tea. This was at a local hotel which is really lovely they have a lot of weddings and afternoon tea is lots of nice tea in lovely china teapots, and sandwiches, cakes and scones. It is so very English but really relaxed and just so nice to eat lots of yummy food and spend time with the people who count.
Now, I have a few illnesses that mean these two days were difficult for me and though I think it was worth it I also had to have it all planned out for a while! I started resting ready for celebrating at the start of the month, I definitely needed to because being social and talking as well as the walking needed are all so tiring. Getting tired also means that my pain is worse so I have to be aware if I take more meds that they will make me drowsy and I need to be patient with myself and let myself rest.
It is now the day after and I feel hungover though I did not drink anything and that is because of all the sugar and processed food I ate, I feel nauseous and my pain in my shoulders and the back of my head feels awful. I usually try to eat plainly, to make my food from scratch and to not eat take away or cakes and things. I am someone who tries to be as healthy as I can and I do notice if I eat food that is less healthy I can tell. Today I am drinking a lot of water to try and flush my system out and help my body filter out the less than healthy food.
I think however much we try to look after our health it is good to remember that there are special occasions and events where you need to enjoy yourself. Of course, afterwards your illnesses might flare but if you have had fun I find I don't tend to mind it as much.
Namaste xxx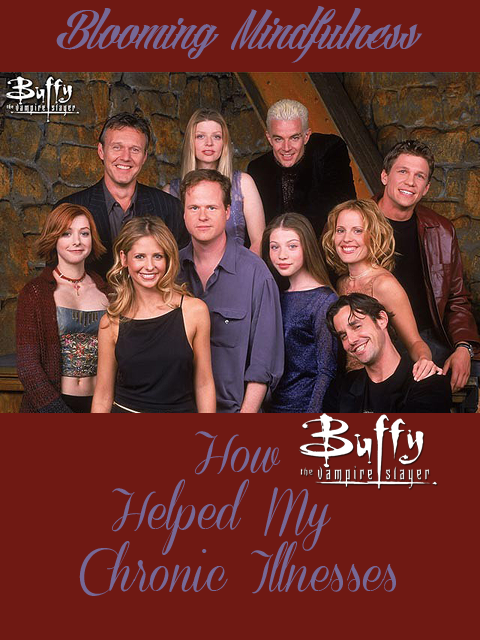 Hey everybody!
So it is 20years since Buffy the Vampire Slayer first aired, this is my favourite show of all time for so so so many reasons but most of them I will tell you about today!
I remember I did not know about Buffy until the second episode, my best friend at the time told me about it and I immediately added it to my list of shows and became addicted. I bought all the episodes on video, I had videos of interviews with the cast and would buy the magazine every week! It was my obsession and the greatest show I had ever seen…and is yet to be beaten to be honest!
I became a fan of the show before I became sick, and it was a show I loved and enjoyed but it was not as special at that point as it was to become.
In 2002 after only being qualified as a nurse for a year my life changed at a festival I was at. In the afternoon my leg swelled up and I couldn't walk on it, the next morning I went to my doctor and was given antibiotics because they thought it might be an infected insect bite. Gradually over the coming months I became numb all over, I stopped having the energy I had and was forced to leave my job and move back in with my parents. I quickly became depressed and lost, going from job to job just trying to keep my head above water.
Then one day I opened up the Buffy magazine and there was an advert for a convention to meet Mercedes McNab who played Harmony and Rudolf Martin who played Dracula. This started my love of going to signings and conventions to meet my favourite casts and collecting their autographs. I loved making new friends and I needed them because my illness had meant that I lost all my friends that I had when I was well because of having to move, and also because of being too sick to do fun things with them.
I started to also do a thing online called roleplaying, which I still do now, where I write as characters from TV and film shows. This hobby helped me to carry on being creative, I made so many friends through this and many of them are still in my life now. I found my friends I found through this amazing show understood me better than anyone I had met before and they looked after me when I was not feeling well at events. I started to see that I was worth more than being well, that even if I felt sick some people cared enough to still be around and be there for me.
This show also tackled mental health issues, the main character Buffy Summers suffered a lot with depression and problems figuring out who she was in the world. Back then this was not seen much on shows and it meant so much to me to be able to see someone else struggle like me in the world. Since then characters like Raven Reyes in The 100 and Bucky Barnes in Marvel have carried on this feeling for me and helped me to identify with my own feelings and thoughts and to start to believe in myself.
Now I know for the non-geeks out there this all probably sounds insane, especially as I was never a teenage girl through this…but trust me when a TV show or a film captures your feelings and thoughts so perfectly it can help ease your fears, it can bring you friends and self worth then you will love it forever too.
Happy Anniversary to all the cast and crew and thank you!
Namaste xxx