positive attitude
Hi everybody!
Over the last month or so my depression has flared, I have had chronic depression since I was 14years old and usually I can battle it, but sometimes it just gets to be too much. I have often fallen into letting my depression take over and stop me from doing the things I love and enjoy. It can even stop me bothering to shower or clean my teeth and that leads to me just feeling even worse!
I have come to realise that this is how depression works, it stops you wanting to do the things that can help you to feel better. So this time I fought back and followed the following steps as a way to stop it taking over totally:
Eat healthy food: It is easy to skip meals and snack on junk food when you feel depressed, but this time I used an app called Lifesum to track my food and to make sure that I am eating the right things and drinking enough water every day.
Get enough sleep: Now when you are plagued with negative thoughts and worries sleep often stays away. I have found listening to relaxing music, or podcasts or audiobooks can stop you being able to think and allow you to relax enough to rest if not to sleep.
Limit time online: These days this can be hard, but spending too long online, scrolling through social media etc, has been shown in many studies to contribute to depression. If you want to fight depression do not give it the tools to bring you down!
Be kind to yourself: This means something different to everyone, but it does not mean shopping and eating! This means small things like taking a bath, using body creams of your favourite scent, having a little chocolate or watching a favourite movie.
Fresh air: Getting out of the house for a short walk, preferably in nature if possible, can really help to ease your mind and help you to feel less like a blob on the sofa and more like a human who is struggling but fighting every step of the way.
Plan your day: Every day plan a few tasks, no matter how small even if it is make the bed, wash my face, take a short walk. Keeping busy and feeling like you have achieved something no matter how small can make all the difference to how you feel about yourself at the end of the day.
Be thankful: Every night as you get comfortable in bed, say to yourself three things you are thankful for, preferably one of them is about yourself. This helps you to be grateful for what you do have and to see at least one good thing about yourself that can poke through the negative thoughts.
These are the things that helped me, and the depression is now starting to lift off me thankfully. What are the tips and tricks you utilise when you feel depressed?
Namaste xxx
Hey everyone!
This week I wanted to talk about fatigue and how hard it can be to just want to get out of a warm, comfortable bed when all you want to do is rest. When you wake every morning in pain, your joints stiff, your head aching and every limb hurting on top of extreme fatigue it is so hard to want to get up and get your jobs done.
I spoke on this weeks Chronic Illness Video (HERE) about how fatigue feels, it is not just being tired, or how you feel if you couldn't get comfortable at night so check that out if you think it is! Fatigue is deep inside extreme tiredness that makes it impossible to want to do anything.
Now if you have been reading my blogs for a while, you will know that I am a very motivated person and if I set myself goals I will do anything to achieve them. The problem comes, when your body is heavy and tired and you cannot think straight enough that you are still a person who wants to do things and be a human! You have dreams and goals and when day after day you are not well enough to achieve them that can be incredibly demoralising and depressing.
It has taken me a long time to come to terms with this, I have been sick since 2002 and I have just started to be able to do it! But, being patient and not letting guilt take over can be the first steps in accepting what you can and cannot do and then coming to peace with your illness and your goals.
In Buddhism, acceptance and peace are the main goals and applying that to my illnesses has helped me to relax that inner need to do the housework every day and do a yoga routine every day and take the dog out and cook healthy dinners and…..There will always be 'ands' but take a breath and remember that being the perfect person is not something we can ever achieve.
I am reading a book called 'How to live well with chronic pain and illness: A mindful guide' by Toni Bernhard and to quote her:
"The unrealistically high standard at work here is that we don't think we should be chronically ill. Even though 130 million people suffer from chronic illness in the United States alone, we live in a culture that repeatedly suggests that, with proper diet and lifestyle changes, no one need be sick and no one need be in pain. When we're not living up to what we perceive  to be that cultural standard, we feel embarrassed."
For me that really hit the nail on the head, it is society constantly telling us that we should be perfect, loved, and happy if we just eat the right foods, do the right exercise, everything will be sunshine and roses! But when famous people, who the press tell us are perfect and to be like them, are committing suicide, taking drugs and turning to alcohol to cope…can we really expect our lives to be perfect?
I think what I am trying to say is, do not let society make you feel less because you couldn't do that load of washing, or you were in too much pain to walk the dog! Be prepared to have days, sometimes weeks even months, when all you can do is rest and do not feel less because you need to just sit.
My best advice is to use a slow cooker and have meals prepared in the freezer, have family help you to do things and do not let anyone ever make you feel less because I know you are fighting every day just to want to get out of bed and some days that is enough!
Namaste xxx
Hey everybody!
I am feeling a little overwhelmed and tired, and it is all because I want to be able to be a person a normal person and I want to do things and get things done but my body feels so heavy and painful and tired! I sometimes feel like I am trapped in a body that does not want to do the things I do so it tries to hold me back and stop me from doing what I want to do!
For example, today has been a good day I have done a short yoga sequence, cleaned the bathrooms, had a shower and now I want to write and catch up on things…but now I am in pain in the back of my head, my shoulders and upper back. I also feel so tired I keep having to retype words because my hands will not do what I need them to!
Part of me thinks it would be easier to give up and live in a dump let myself get fat and my brain go numb watching daytime TV!!! However, I am not built that way, I need to learn and grow I need to keep on top of my body which is squishier than I'd like, but I can only do my best right?
So, I know this post is a little moany, but to be honest that is how I feel at the moment! My husband is struggling too I think it is the weather! In the UK right now it is cloudy, hot and the air feels heavy. This kind of weather gives me a lot of headaches and my pain is always worse when the weather is up and down like the typical British summer.
Now, if you read my blog regularly you might be wondering how I am going to get myself back to the positive again????
Well, I have thought long about this and I think I am going to tackle things in smaller chunks! I am going to spread my work out through the day so maybe 10-15 minutes three times a day instead of trying to do it all in one?  Also, maybe break down my cleaning even more, so if there are a lot of ornaments in a room, maybe clean it over two days? Yes when pain and fatigue get's overwhelming it can be easy to give up and yes I have a little weight to lose right now, but if I am patient and keep on fighting I can do this!
Namaste xxx
Hey everybody!
Yesterday was a big day for me, I love making new friends and going out, but when you have an anxiety disorder it can easily spiral into something you force yourself through instead of enjoying yourself.
I was going out with one of my best friends to celebrate her getting married, we first went out to learn to make cocktails in a really nice bar, and then to a different place to eat a lovely meal. We went out to a big city close to where we live, but it was still an hour each way on the train and walking from place to place though thankfully they were less than 5 minutes walking from one another.
I woke really early and was ready to go a long time before I needed to be, now this is normal for someone with an anxiety disorder. I was ready early because I didn't want to make anyone wait or let anyone down. But waiting has it's own problems because then I have time to worry and make up scenarios in my head. To combat this I watched you tube videos on my ipad, they are perfect because they are short and you can watch them without worrying too much about getting caught up in them.
I bought myself a new dress to help with my confidence as well, and though my  dress was 1950s style I felt so pretty in it and not like I stuck out. I think that with a little make up really helped me to feel like I could hide if I felt overwhelmed, but my friend and her friends and family really were lovely and helped me so much! Even when a man in the bar made a comment about me looking like his mother because of my walking stick I managed to shake it off and just have fun!
I made sure as well to have a few drinks and to have fun, but to be careful not to go too far and to drink lots of water as I did so. I had such a fun time, I ate well and the best part was going behind the bar and making actual real cocktails! They all tasted so yummy and fresh and perfect for summer I could have stayed there drinking them all night!
The walking has left me with aching legs, however people walked at my pace and looked after me which I appreciated so much I have been left behind in the past and it does not feel nice at all! I also came home early before I was wrecked (thank goodness for adrenaline am I right?) and got straight into my pyjamas and got into bed.
Today I found my energy so low and my head is aching, my legs hurt, my feet are swollen and itchy, and overall I just want to sleep…but it was so worth it! I think going out with friends is just as important for mental health as meditating and I just wish I went out with friends more often!
Namaste xxxx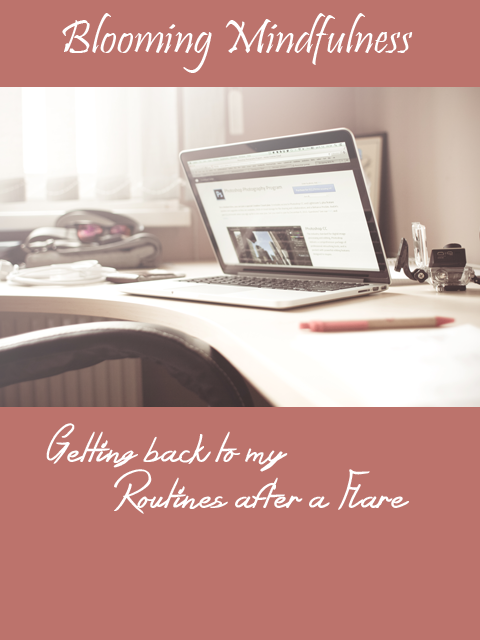 Hey everybody!
The last year has been incredibly hard for me, I lost my Granddad, I had a flare of my fibromyalgia and my depression crashed down on me. I stopped really caring about how my house looked, how clean and tidy it was, I stopped looking after myself and just got lost in symptoms, and depression.
After recently seeing a psychic (HERE is a video about that) I found my depression and grief lifted and I started to realise that I wanted my life back. I might have constant pain, anxiety, fatigue and neurological problems, but I like my life and I am happy. I don't expect a lot from life and all I want is to get back to daily yoga, meditation, and housework and to have enough energy to cook a healthy meal in the evening.
So how am I going to manage this when my flare has left me with more pain and fatigue though the worst of it has eased along with the depression. Well, if you have been following my blog for a while you will know that I am a planner, and this is how I am going to get my routines back.
I have my week ahead planned, I know what I am going to do and how, and that has left me feeling far less worried and overwhelmed. I have remade up my natural cleaning products and I am back to my determination to lessen the amount of chemicals in my home. I am hoping that with my new plans, my determined nature and lots of breaks I will be able to keep up with the daily routine I started today.
I woke up and took my medications at the usual time and then hit the yoga mat for a gentle 30minute practice, I then lay down and followed a 15minute guided meditation and then a short bible study. I then ate a yummy smoothie bowl and rested for a while before cleaning my living room. By the time I had done these things it was after 1pm and I was amazed at how long these few things took me, however I felt incredibly proud of myself for taking my time and listening to my body. After a shower, I came here and wrote this blog, I am hopeful that by breaking things into shorter tasks and being organised I can do this routine every day.
What I want to say is, life is hard with chronic illness, they grind you down and can become so hard to live with, but if you keep pushing and keep motivated you can still achieve your goals!
Namaste xxx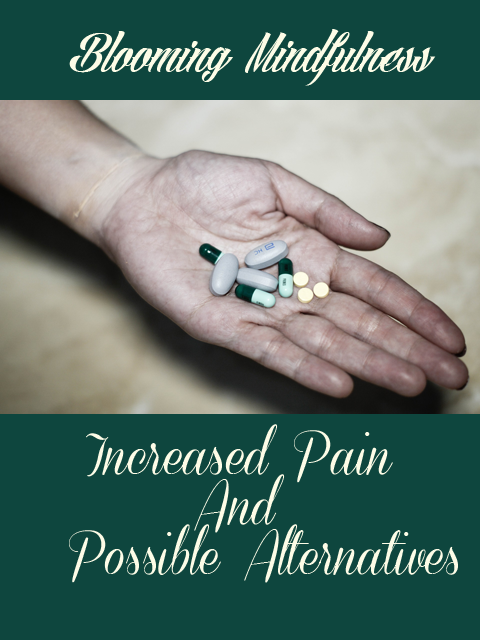 Hey everybody!
Summer is here in England, and as we Brits know that means it is hot, humid, stormy and can be raining in the morning, blazing sun in the afternoon and that night have a storm! The problem for us fibromyalgia sufferers is that means our symptoms start to shout and make themselves known and mine certainly are!
I have been having a lot of sinusitis, headaches, pressure migraines, burning pain in my arms and legs, and increased pain in my shoulders, upper back and neck…basically I hurt everywhere and the medications I am on from the doctors are not really helping anymore! Usually I would make an appointment to see someone and get my meds reviewed, but at the moment that is not really an option as getting an appointment means waiting about a month or begging and pleading every day!
So being typical me I hit google for alternative therapies and the one thing I have not been trying is supplements. The problem is as you can see from THIS LIST is that there are so many recommended for fibromyalgia how do I know where to start? I am feeling very lost and overwhelmed and wishing I could win the lottery so I could maybe have all the latest treatments and get rid of the daily pain!
However, as that is not really an option I have ordered two books from Amazon one is From Fatigued to Fantastic and Pain Free 1-2-3 both by Jacob Teitelbaum. I got them used and they are coming from the USA, but by getting them second hand I am saving almost £25!! I am someone who does believe in Western medicine, afterall I was a nurse before I got sick, but honestly I feel like it is letting me down and I need to take control of my own health!
When I was wrongly diagnosed with Multiple Sclerosis I had a psychiatrist, a neurologist, physiotherapy, accupuncture, even people to cut my toe nails so that I wouldn't hurt myself while unable to feel my feet. Now I have a different diagnosis all of that has gone away, and it is really hard for me to get in to see my GP. My symptoms however, have not changed and I sometimes feel like I have been kicked out and left to deal with it all by myself. Well if that is the case I am going to study and get my symptoms under control by myself I am not going to let it beat me!
So readers, what alternative therapies do you use? What have you tried has has or has not worked and are there any books that have helped you?
Namaste xxx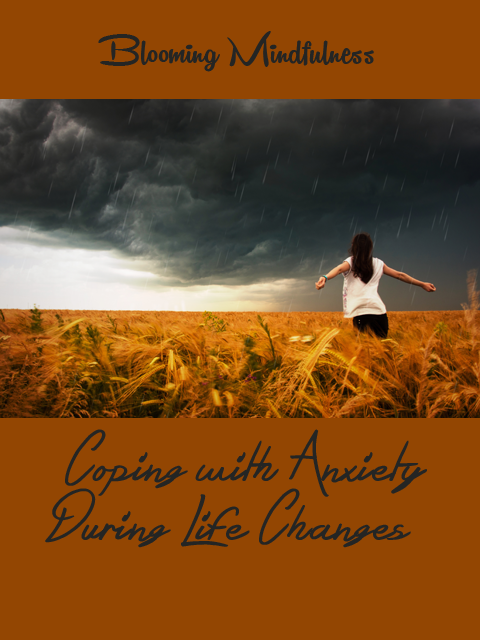 Hi everybody!
At the moment I feel a little like someone just tossed everything that feels safe in my world up in the air and I am running around trying to catch everything!
My husband is a police officer, but he has epilepsy and if he has a seizure he will be put on restricted duty. Also, because of his work he gets very stressed, it is high pressure and he gets a lot of hate from the public etc. So when the headquarters set up a job for officers that are on restricted duties for whatever reason my hubby went for it and got it.
It has longer travel times because he is further away and it is in the city centre so he takes public transport rather than driving. This is of course cheaper and gives him time to read and relax on the train which is great, and the job itself is office based and much less stress so I am really thankful for that.
However, I have an illness called Generalised Anxiety Disorder, which basically means I have panic attacks and fear over things that most people have no issue with. My anxiety is always there and I have had it all my life so I am used to it and day to day meditation helps me to cope with it. However, this new job means that Lee is not at home much more than he was before.
On an early shift he used to be home around 4pm and I would cook and get sorted while he had a shower and it worked really well he was always more tired but we had a system. Now he is home about 6-6:30 and by then I am in pain, extremely tired and unable to stand long enough to cook. By the time he has showered it is time to me to get into bed and it would be impossible to cook for me and I do not want Lee to have to cook after being at work.
Cooking is really important to me, I worked hard for occupational therapy to say I could cook and I have researched a lot so we have food that is not processed or junk food. I have found twice in his first week at work that we have ordered in food because I was not up to cooking so we for sure need a new way! I am frantically trying to find good vegetarian slow cooker recipes which is not easy because there are not a lot of imaginative recipes out there for non-meat eaters!
On a late shift he is home now at least 2 hours earlier which is such a blessing, but he leaves now at about 10am and not 1pm like he used to! Mornings feel like a scramble as he rushes to get ready in time and I struggle to wake up and get my body moving! I am not good in the mornings because my body is stiff, and my fatigue is awful first thing it takes me a good hour or so to wake up enough to get out of bed.
All this change is hard for me to deal with, I am so thankful for this new job and so proud of my guy I could burst, but inside my tummy is like a washing machine and my nausea is pretty bad as well. I am going to take the next few days Lee is off to find some slow cooker recipes I can make on his early shifts so I am not standing for a long time, and finding a way to get our mornings running more smoothly.
I think it is important when anxiety is taking over to breath, it is so easy to forget and let those shallow, fast breaths take over which is part of fight or flight. However, that breathe is extremely unhealthy and unnatural to have all the time, I use the things I have learned about breathing through yoga to slow and even out my breathing so my body can relax and I am not struggling so much with that side of it.
I also step up mindfulness and meditation, both things that stop my mind wandering to imagining terrible things and letting those negative thoughts that tell me I am letting myself and Lee down etc from taking over. I have learned through these things that I am in control of my thoughts they are not in control of me and that was a big lightbulb moment for me with my anxiety and depression.
Humans hate change, we fear it and with my anxiety unnaturally strong anyway it is important for me to thing logically and to remember that by talking with Lee and by organising myself better these things will soon fall into place.
Namaste xxx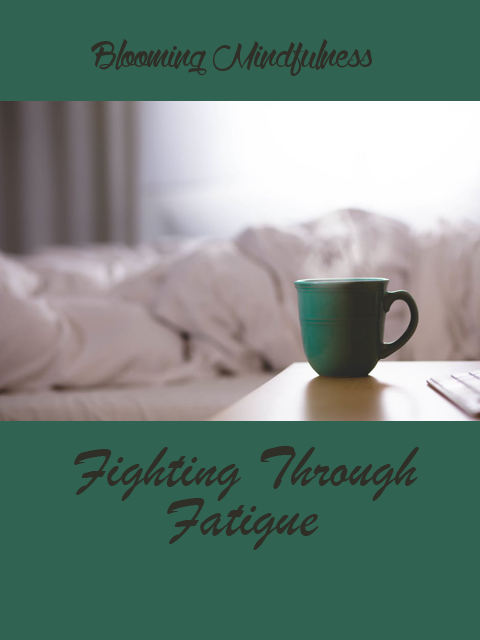 Hey everybody!
So as the year sweeps by me I find myself struggling more with my fatigue, in fact I am not sure it has ever been this bad which worries me to no end! I am someone who has always liked to be active, I have always tried to exercise, I love to read and to learn new hobbies and yet at the moment I can more often than not be found curled up on the sofa doing a zombie stare into space!
At the start of this year, I made a promise to myself to start daily yoga and to get more into crafting especially learning to knit and crochet. However, as fatigue has upped it's game I have found myself struggling to keep up with my housework no matter daily yoga and new skills!
But I am not a woman to be easily dissuaded once I have made a decision I will keep going for it no matter what and those goals are still things that I would love to achieve. So though my body is heavy and my eyes sore and gritty I am going to get with the programme and make things happen…but how I make them happen might have to change a little.
I was trying to power through a yoga challenge on you tube, I have completed it before and was determined to again. However, I just kept on failing and in fact by pushing my body too much I was in more pain as well as more fatigue. So Instead I have concentrated on more restorative yoga routines, my body needs help to keep the strength I have worked hard to get not pushed beyond it's limit! The fact that I am now able to do daily yoga again is lovely, I am now doing shorter routines that concentrate on relieving pain and helping my body to relax before bed. I am enjoying my favourite hobby again and finding my body feeling so much better!
As for hobbies, well I have kind of stalled, my pain, headaches and fatigue are ganging up on me so for now I am going to concentrate on housework and yoga. I am not one to give up or surrender though and this is a 'paused for now' not a 'I give up'.
I am also working hard to make sure I am fully rested at night by getting settled in bed, taking my CBD oil at the right times and not waking too early in the mornings. Trying to feel fully rested when you have fatigue is almost impossible, but I am doing everything I can and at the end of the day when I am tucked up in bed is there really more that I can ask of myself?
Namaste xxx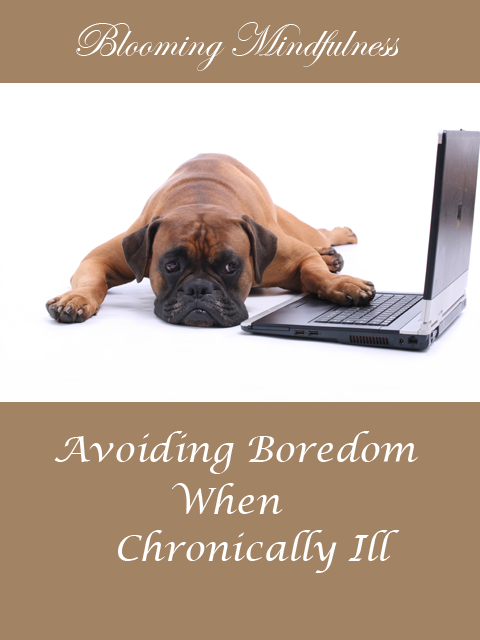 Hey everybody!
So I stopped working about 15years ago, the decision to stop was not an easy one for me to make. When I had to leave nursing I had several jobs in shops and as office assistants, but in the end I had to step away from it all because I just could not cope. My pain and fatigue made it difficult, as well as my brain fog which if anyone suffers with it, makes it impossible to learn new things and retain them well enough to do at a job when you throw in social anxiety!
At first I just kind of fell into a life online, I had just started using the internet at home and I would spend all day on myspace with my friends roleplaying. This is writing as TV and film characters, yes it is as geeky and as fun as it sounds and I still do it on another site.
However, after I married Lee I started to get out of my general depression which had me living a nocturnal life and speaking to hardly anyone. I started to open my eyes and realise that I needed more in my life than that and I wanted to be a better person.
I started to do yoga, and studying about Buddhism and it opened my eyes to learning for fun. Instead of the pressure that came from a school environment and knowing about exams and assignments, instead of a work environment where I was being watched by supervisors etc, I found it so much fun! I started to open my eyes and realise there is more out there than I thought.
I taught myself very simple HTML and started running a few fansites for actors I love and I still have one for Olivia Colman and one for Michael Rosenbaum. The skills I learnt doing this, led me to starting this blog, which was again I wanted a way to improve myself and to give back to a community of people who are often pushed aside or ignored by society because I think people do not like to face illness or how it could change their lives. And now I have started my own You Tube channel and I am starting to learn how to edit, this is probably my biggest challenge but I am excited to see how I can grow and challenge myself.
I have heard so many healthy people say to me "Wow you are so lucky you don't have to work I would love to be at home everyday" and yes they probably would for a day or two, but after a while they would be so bored! I think it can be easy to forget that just because someone is sick they are still a person with dreams and goals. I would love to say that being home alone all day while my husband works is great, but I am here not chilling, I am trying to do the housework and exercise and stay sane while battling pain, fatigue and mental fog that makes my memory so very bad!
I will say this though, if you have a dream, or something you want to learn go for it! Where there is a will there is a way!
Namaste xxx