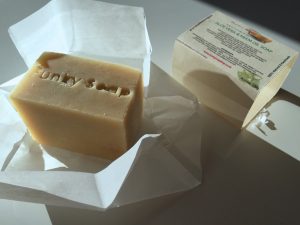 Hey everybody!
So anyone with Fibromyalgia, and some other chronic health conditions, will know itching and rashes can be a problem. I started out trying shower gels with moisturiser built in and had no luck, in fact the more I used these sort of products the drier and itchier my skin became!
Then just over a year ago I decided that I was sick of so many chemicals in my life, I started to make my own cleaning products and body butters. I was beginning to think chemicals and plastics might be why there is so much chronic illness about and I wanted to stop spraying it around my house and rubbing it into my body.
I came across Funky Soap on Amazon a couple of months ago because I was tired of shower gels and though over the last year I had wanted to learn to make my own soap I realised my illness would hold me back. I did a simple search for handmade soap and found them, since then I have bought more products including dog shampoo and my husband a shaving foam soap bar. Today however I will be concentrating on their handmade soap and the shampoo bar because these are what I use daily now.
The first thing I tried by them was their Sweet Rose Conditioning Soap I had wanted to start taking baths again and I wanted a soap that would be a little bit luxurious feeling and be a bit of a treat. The main thing I love about this soap is that the whole bathroom smells so nice all the time now and I do not use any chemical room fresheners so it is so nice to have a sweet smelling bathroom without that. I love that it has real, dried rose petals in the top so when I use it in the bath some comes out and it is so nice to see them floating in the water! This soap is not drying on the skin and all and the scent remains on the skin for hours which is so nice! I often catch myself sniffing my arm long after a soak in the bath!
The second soap I bought was Banana and Honey Soap this is used by me and my husband daily in the shower it is so nice smelling and again it is not so strong but it does leave a sweet scent in the bathroom. I love this soap because it is really moisturising and I have found my skin is so soft with it, noticeably so even after using moisturising shower gels for so long. I have found my skin is a lot less itchy and much less prone to rashes since using this along with the body butter I make. I love also that if I am having a bad day I can use this soap and I do not need to moisturise afterwards which is so nice because some days just taking a shower is too much and I need a nap!
Lastly I tried a solid shampoo for the first time Nettle and Marshmallow Root  I was apprehensive to try this but after years of problems with shampoos, thin hair that falls out a lot with my medications as well as itchy and sometimes painful scalp I was literally just thinking well let's try this! I must admit since using this I have found my scalp to be a little more itchy than it used to be and I might try one of the other bars next time. However, I realise that using this type of natural shampoo bar instead of my usual chemical heavy shampoo I get from the supermarket would need a transition time to get used to. The bar came with a sheet explaining that you need to give your hair and scalp time to get used to it sometimes and the itching almost feels like when something is healing if that makes sense?
I do have very greasy hair that needs to be washed daily and I have always hated this, however since using this soap I have noticed my hair is not as greasy as with shop bought shampoos and I am so thankful for this! It means that on days when I am not well enough I do not have to force myself in the shower I can give it a day off and it will not look too bad which is a god send to the chronically sick!
Overall Funky Soap Shop has a lot of choice, there is more than just handmade soap, they have scents that are not too male or feminine for if you are sharing the soap like I do. I also found the website to be easy to navigate and the information sheets to be informative. I have not needed to use their customer service, so I cannot comment on this, but my orders were delivered quickly and I have been nothing but impressed. I love their products and would recommend to anyone especially those of us with a chronic illness wanting to look after our skin and hair without a ton of chemicals and harsh, man-made scents.
If you use their products comment below what you think and if there are any you think I should try?
Namaste xxx
PS nothing here was sponsored or given to me I paid and these are all my own, unbiased opinions.