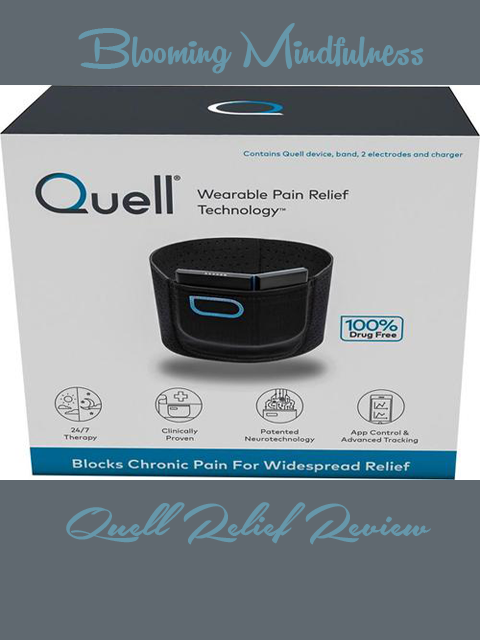 "I have been given this product as part of a product review through the Chronic Illness Bloggers network. Although the product was a gift, all opinions in this review remain my own and I was in no way influenced by the company. "
Hey everybody!
So I was sent this product a few weeks ago as I said, and it is a great little product so let's get into the details of it. The website says that it stimulates sensory nerves, taps into the body's natural pain relief response, sensory nerves carry neural pulses to the brain, and that they trigger a natural response that blocks pain signals. These are big claims and I think as anyone who has lived with chronic pain, I was a little sceptical but hopeful that this would help me.
The device itself is easy to put together, the electrodes are attached via two small connectors and there are 4 sections of blue gel that sit on the skin and that is how the device delivers the pulses to the skin. The device then is housed in a long strap which is always worn on the upper calf and it is kept in place with velcro.
The small device is controlled by an app which is free from the app store and I added it to my phone. There you tell it about how your pain has been over the last 24hours and it uses that information to make sure you get the right amount of signal.
I found it really easy to put together and to use, the app is great you can change how strong the pulses are, and tell it how bad your pain is and it even registers when you sleep and how active you have been. Once it is on your leg it is comfortable and once you have the strap comfortably attached you can almost forget it is even there! I did find that the connectors came away from the unit a few times which meant I was not getting treatment, and there were times when I knocked it because it does stand out a little.
I also felt a little self conscious with it on, I wear a lot of skirts and having this black strap on my leg got people asking a lot of questions! I do wish there were other styles of strap, maybe in other colours just so you could coordinate with your clothing and make it look nice. Many of the pictures on the site show people wearing it to work out and I assume that is why these colours were chosen, maybe other strap designs will come in the future.
I did wear the device to my yoga class and when I was doing my exercises at home, it made some postures a little difficult, but overall there were positions I could hold longer because I had the device on! It surprised me to find that, I honestly did not have high hopes but it really took away that dull ache that always seems to be there no matter what meds I take or what I try! I slept better with it on as well, it eased my pain to a point where I felt relaxed and it was great to find something that helped without it having to come from taking tablets!
Overall, this is a really good product, it is easy to operate, you can control the pulses and it is comfortable to wear and to sleep in! Most importantly of all it does control the pain and for me it is great support for the medication that my doctor prescribed me. I will for sure keep on using this product and would recommend it to anyone who suffers with chronic pain.
You can check out more information at their official site HERE
Namaste xxx
Hey everybody!
First of all sorry I needed to take a little break but it has to be expected when you run a blog with chronic illnesses! Also I had my PIP assessment which is to see if I qualify for a benefit here in the UK and the stress and worry from that has not helped!
However, here I am half asleep and frankly p***ed off!!! My fatigue has flared and I honestly feel like I am trapped inside my body! I try to keep up with my housework and to do things that make me feel human, like shower and wash my face and get dressed, but it is a constant battle! I wake up every morning after sleeping like the dead feeling just as tired as the night before and yet I have things I need to do on that day!
I find myself feeling so guilty when my husband is at work and I am just lying about doing nothing but staring into space. I wonder if he would be happier without me and if I am just a useless lump. Then I have to try and shake off the depression and try not to do an impression of Eeyore so I can hopefully pull myself out of this slump and get things done.
I wish I could say this will be a useful and positive post but honestly I am just fed up! I have things I want to get done, like my yoga practice and bible study and a little housework just like I could before and yet I feel so tired and my body feels so heavy I can barely think straight no matter get jobs done!
So instead of giving out tips and tricks of how I deal with things I am reaching out to the chronic illness community and asking for tips? Do you suffer with fatigue and if you do how do you make sure that jobs and goals do not just pile up while you nap? Leave me some comments here or on social media links are around let me know please? I need something to help before I go mad!
Namaste xxx
Hey everybody!
First of all I apologise for not writing a post last week! There was supposed to be someone to come and assess me for PIP the new disability benefit in the UK. I was so stressed it made my pain worse, and so I was struggling with so much…and then on top of that they just did not show up and did not call to explain! I have another appointment but I am not looking forward to all the stress it will bring. Anyway, yes that is why I did not post anything last week, I apologise.
So, I have been practising yoga now for about six years and for most of that time I have done it daily using the teacher Yoga with Adriene I have spoken about her many times. She is an amazing teacher and I love her style, however her videos are not aimed at the Spoonie community and so it can be difficult to keep up.
I often found that I had to choose whether to do yoga or some housework and practising daily was impossible. I love yoga and I want to do it daily it is my main form of exercise, it keeps my body supple and helps me to be in the moment. I use it as part of my religion as I am Christian Buddist and so I really wanted to find a gentle practice that I could do every day and it would not make me too tired.
Then Adriene uploaded a 'Yin yoga' routine which is a form of yoga I had not heard of before:
"Yin yoga is a slow-paced style of yoga with postures, or asanas, that are held for longer periods of time—for beginners, it may range from 45 seconds to two minutes; more advanced practitioners may stay in one asana for five minutes or more."
I really enjoyed it and though it is not what people picture when they think of yoga I really got so much out of it because it moved my body but was gentle and did not tire me out….so I started hunting for different yoga teachers on You Tube who practiced more gentle routines that could help me to listen to my body more and not make my illnesses worse.
I found a couple of teachers so far, Sleepy Santosha is a woman who is a Spoonie and because of that her routines are designed for people with illnesses. She has a very soothing style, the routines are awesome and she has some specifically for Chronic Fatigue Syndrome and Fibromyalgia. Chakrapod is the another teacher who has routines for specific illnesses but also some that are a little tougher and more traditional, I love her style she is really chill and I would recommend her. I have some others as well and you can find the exercise routines I do in a playlist HERE
Overall, this change has bought me closer to what yoga is really about, it is not about getting abs and doing crazy poses that you can show off! Yoga is anything where you are concentrated on breath and movement, and there are lots of yoga routines you can actually do in bed. This change in my attitude to yoga means I can now do yoga every day and I can still manage a little housework, my symptoms are more level and do not fluctuate as much as they were when I was trying to push myself.
Do you have any yoga teachers like this that you would recommend? If you try any of the yoga routines in my list let me know I would love to know what you think of them.
Namaste xxx
Hey everybody!
Yes September is here, the leaves are starting to turn, and there are Halloween decorations in the shops! It is my favourite time of the year, so much cosier and I absolutely love the relief of getting away from the heat of summer and the settling down of my symptoms.
As I usually do when there is a big change in weather, I have gone through my wardrobe and got rid of things…and replaced them with things from the sales! Usually I buy a couple of things and leave it at that but this time I have decided to change my style a lot more than I ever have before.
My style is usually grungy and hippy with not a lot of focus on what I wear because I rarely go out and even more rarely ever see anyone! However, after watching people on you tube who wear more of a vintage style and are confident enough to wear more feminine and less 'fashionable' clothing that can be found in charity shops and antique places.
Now I have always wanted to dress more 1930s-50s not rockabilly, but more authentic? However, I stand out a lot when I am in a wheelchair or using my walking stick and I kind of always wanted to hide away? Well no more!!!
If you watch my latest You tube video HERE then you will see some of the items I managed to get in sales to start off my collection. I am going to be thrifting and keeping my peepers peeled for cheap places to get this sort of clothing. I love that these pieces suit my hourglass shape more and they will not go out of fashion so I will be able to wear them without worry next year.
I have been changing things up a lot in my life recently and it feels so good to get motivated and get my style and our home looking more like we want it to. I feel so much more inspired and motivated, so maybe if you feel a bit stagnent it is time to clear things out and redecorate a room, or just donate some old clothes that you no longer wear?
Namaste xxx
Hey everybody!
So as you might know, if you have been reading my blog for a while, I have been struggling with my depression for a while now. Our living room has felt cramped and clutttered for a while now and so me and my husband thought we would have a change. We cancelled Sky TV because we never watched it, and that meant the TV did not have to be next to the window like it always has been.
We donated some furniture and things and that freed us up to bring down Lee's grandmother's rocking chair and use some savings to get a couple of antiques. Now after a couple days of craziness in the living room the space feels bigger and calmer. We both love spending time in there now and nothing beats feeling relaxed and calm in your own living room.
Now it might seem strange, but I have also found my mood has drastically changed since the change round as well! I had not imagined it would make a difference, but honestly I do feel lighter and happier and I don't know maybe the old addage 'a change is as good as a rest' is true?
Now I am not suggesting we all go around changing our whole lives around, but maybe now and then we need to take care of our surroundings:
Pull furniture out and give it a good clean
Declutter your space and get organised
Donate any furniture or ornaments you are not attached to
paint or recover old furniture to give it a new lease on life
Get some new throw pillows or blankets/throws to brighten up the area
I hope this new brighter mood lasts, but even if it doesn't I hope that I can always appreciate the things around me. Buddhism and Christianity teach that we should not hoard things or become too attached to them…maybe that is why I feel so much lighter now?
Namaste xxx
Hi Everyone!
First of all I apologise for this post coming to you a little late, when you read this post I hope you will understand why I needed a little time to process things.
So last year my beloved Grandad passed away, he was my best friend and I spent much of my childhood in their bungalow with him and my Nan. Losing him was hard on everyone in the family of course and it took us some time to recover from losing him in our lives.
What we hadn't known while he was alive was how bad my Nan's Alzheimer had become because he would cover for her. My Dad has been incredible taking care of her, but it came to a point when she was not safe at the bungalow alone with people just popping in anymore.
She was assessed and has a place in a wonderful residential home not too far from us, where she will be safe and cared for 24/7. It will take a lot of pressure off my Dad and I hope will allow him to get some of his relationship with her back. He was working so hard to look after her that I could tell he was beginning to resent her because he was so tired and missing out on things. I am so glad that she will be safe and he will be able to relax knowing she is.
However, her getting this place means letting go of the bungalow she lived in with Grandad and it almost feels to me like losing Grandad all over again. My Nan has kept a few posessions, and me, my Dad and his brother have taken the things that are treasures to us. I was going to go to the bungalow with my dad to look for myself, but in the end this was not possible and in a way I was glad to have only happy memories of the place I spent much of my childhood.
I now have the small table that I ate on as a child, ornaments and trinkets that I saw about them, and pictures that meant so much to me as I grew up. I will treasure all of these things and the memories they hold for me every day, however getting them feels so sad and I am struggling to process by it is upsetting me so much when I should be thankful my Nan is safe and not feeling so down.
I am a Buddhist Christian, and as such I try to live in the moment, I am still learning this valuable skill, but these events have shown me I am so attached to the things that represent those I care for. I have the memories and they cannot be replaced, but I love having my Nan and Grandad's things about me. Does this make me too materialistic? I am very reflective and a little lost right now, but I know one day I will look back and see a big lesson this experience taught me.
Namaste xxx
Hi everybody!
Over the last month or so my depression has flared, I have had chronic depression since I was 14years old and usually I can battle it, but sometimes it just gets to be too much. I have often fallen into letting my depression take over and stop me from doing the things I love and enjoy. It can even stop me bothering to shower or clean my teeth and that leads to me just feeling even worse!
I have come to realise that this is how depression works, it stops you wanting to do the things that can help you to feel better. So this time I fought back and followed the following steps as a way to stop it taking over totally:
Eat healthy food: It is easy to skip meals and snack on junk food when you feel depressed, but this time I used an app called Lifesum to track my food and to make sure that I am eating the right things and drinking enough water every day.
Get enough sleep: Now when you are plagued with negative thoughts and worries sleep often stays away. I have found listening to relaxing music, or podcasts or audiobooks can stop you being able to think and allow you to relax enough to rest if not to sleep.
Limit time online: These days this can be hard, but spending too long online, scrolling through social media etc, has been shown in many studies to contribute to depression. If you want to fight depression do not give it the tools to bring you down!
Be kind to yourself: This means something different to everyone, but it does not mean shopping and eating! This means small things like taking a bath, using body creams of your favourite scent, having a little chocolate or watching a favourite movie.
Fresh air: Getting out of the house for a short walk, preferably in nature if possible, can really help to ease your mind and help you to feel less like a blob on the sofa and more like a human who is struggling but fighting every step of the way.
Plan your day: Every day plan a few tasks, no matter how small even if it is make the bed, wash my face, take a short walk. Keeping busy and feeling like you have achieved something no matter how small can make all the difference to how you feel about yourself at the end of the day.
Be thankful: Every night as you get comfortable in bed, say to yourself three things you are thankful for, preferably one of them is about yourself. This helps you to be grateful for what you do have and to see at least one good thing about yourself that can poke through the negative thoughts.
These are the things that helped me, and the depression is now starting to lift off me thankfully. What are the tips and tricks you utilise when you feel depressed?
Namaste xxx