Health Update
Hey everybody!
So a couple of weeks ago I posted THIS post, in it I spoke of how I feel let down since my diagnosis was changed from Multiple Sclerosis to Fibromyalgia, Chronic Fatigue Syndrome, and neurological problems they did not look into. I felt strange doing it, but I sent the surgery a link to the article and soon was called to see the doctor to discuss it.
That appointment was yesterday and I really do not know how I feel about how it went!
They listened to me and referred me to people to try and help I have been referred to a rheumatologist to hopefully take over the care of my Fibromyalgia. I have also been referred to have ultrasounds on my shoulders to check what is going on and why I am getting so much pain and cracking with them.
I have also been referred to a therapist, I think because of my chronic depression which has flared, but I wonder if they are thinking some of my symptoms are in my head? She did say at one point that Fibromyalgia is a 'dumping illness' that is used when no other diagnosis can be found and that it cannot be cured.
I sometimes feel as if Doctors being scientists are only interested in illnesses that can be cured or measured. As my illnesses are mainly causing me extreme pain and fatigue neither of which can be cured or measured they really do not know what to do with me!
I sit here before you frustrated but slightly hopeful, maybe something will be found that they can latch onto and that will get me the help I want. Or maybe who I have been referred to will know the latest research and will know how to deal with my neck and shoulder pain which causes headaches and pain without just throwing medication at me???
I will keep you all informed as things progress, I am unsure what to do about the fact the doctor prescribed me Morphine for pain and feel a little disappointed that something else was not suggested…still I am willing to try anything at this point and cling to the hope that next year will bring me some good care.
Namaste xxx
Hey everybody!
So a couple of posts ago HERE, I talked about how I felt the NHS had let me down because since my diagnosis was changed from Multiple Sclerosis to Fibromyalgia and Chronic Fatigue Syndrome. I have had hardly any medical intervention since then and have felt like nobody cared, this started me feeling depressed and lost and honestly I had stopped going to see my GP because I never got answers I wanted and I just put up with worsening symptoms.
So after thinking about it for a little bit, I sent an email to my doctor's surgery with an explanation and a link to that post. I wanted to see if it would make a difference and I wanted to make sure that this kind of thing did not happen to anyone else. I suspected that I simply fell through the cracks of an already overstretched and underfunded NHS, but I am still a human and it was about time I needed to be my own advocate.
I heard back early the next day from the surgery manager who said they were very sorry about how I felt and the doctor wanted to see me. I got a phone call later that day and I have an appointment to discuss my concerns and hopefully get some of my symptoms treated and referred to the right people.
This really did reinforce for me that I am my own advocate, and though I know the NHS is given a raw deal by the government, and though I used to be on the other side, I deserve to be treated better. I read a lot of blogs run by other chronic illness warriors and I follow them on You Tube and I see the sort of treatments that they recieve and I have been given none of those options. So this week I am going to be researching and printing things off and taking it all to the doctors because I need more than I am getting.
So this was a big lesson to myself, but also I hope that it inspires all of you that if you are not feeling supported or well treated by your medical team speak up! I am going to be taking my husband with me to back me up and I am going to make sure together we are heard…nobody can speak up for you unless you try to speak up for yourself.
So if there is any research or treatments you think I need to look into leave me links in the comments and I will get researching!
Namaste xxx
Hi everybody!
So this is a difficult thing for me to say, I was trained as a nurse in the NHS and I worked with them for a couple of years before I got sick. I love that we have a national health service that is free on point of contact, anyone here can be seen and treated for any health condition without having to worry about how to pay. I hate that the Conservatives are starving it of money and resources but I hope that it can be saved because healthcare should not be something you forego because of the cost!
When I first became sick I was treated for an infected insect bite, but honestly they did not know what was wrong or why my left leg was numb and painful. I was referred to many doctors before I was diagnosed with Multiple Sclerosis in 2005 if memory serves. I saw therapists, MS specialist nurses, physiotherapists and I had a neurologist who treated me as well. I injected myself daily with medications, I had times in hospital, MRI scans, and a lot of support from my GP.
Then in 2015 I was called in to see my neurologist who told me that I had been misdiagnosed and though I had neurological problems they would discharge me as it had been too long and they couldn't look into it. So I was once again lost without a diagnosis, however my GP suspected Fibromyalgia and referred me to a rheumatologist who diagnosed me officially with fibromyalgia, but I have not seen that doctor since.
In the time since then I have not had a main doctor who has been a specialist and looked after me, I have seen physiotherapists a couple of times, and though I have been told by a couple of different people they suspect early arthritis of some kind I have not been referred to anyone. My migraines and headaches that are almost daily now have not been treated though I have told my GP about them, and I have asked to be referred to someone to be in charge of my illness and treatment I am still waiting.
I feel incredibly depressed and as if nobody cares, I am in constant pain, fatigue that leaves it impossible for me to do housework or gentle exercise daily, headaches leave me exhausted and I honestly hate it! I have all the same symptoms, if not more now than I did back then when my diagnosis changed and yet my treatment has gone from feeling supported and cared for to nothing. I feel as if nobody cares in the NHS that I am suffering and crying in pain at some point most days…and yet we do not have the money to go private it is not even an option.
I have no idea what I am meant to do in order for them to listen and care for me again, I am sick and tired of being so useless and lost and all I want is something more than more medications thrown at me. I feel let down by the NHS, either because of bad management or just lack of understanding about this complicated illness…but whatever it is I am left here feeling depressed and wanting to get a little of my life back so I can maybe help my husband more and feel like a functioning and worthwhile human, is that really asking too much?
Namaste xxx
Hey everybody!
First of all sorry I needed to take a little break but it has to be expected when you run a blog with chronic illnesses! Also I had my PIP assessment which is to see if I qualify for a benefit here in the UK and the stress and worry from that has not helped!
However, here I am half asleep and frankly p***ed off!!! My fatigue has flared and I honestly feel like I am trapped inside my body! I try to keep up with my housework and to do things that make me feel human, like shower and wash my face and get dressed, but it is a constant battle! I wake up every morning after sleeping like the dead feeling just as tired as the night before and yet I have things I need to do on that day!
I find myself feeling so guilty when my husband is at work and I am just lying about doing nothing but staring into space. I wonder if he would be happier without me and if I am just a useless lump. Then I have to try and shake off the depression and try not to do an impression of Eeyore so I can hopefully pull myself out of this slump and get things done.
I wish I could say this will be a useful and positive post but honestly I am just fed up! I have things I want to get done, like my yoga practice and bible study and a little housework just like I could before and yet I feel so tired and my body feels so heavy I can barely think straight no matter get jobs done!
So instead of giving out tips and tricks of how I deal with things I am reaching out to the chronic illness community and asking for tips? Do you suffer with fatigue and if you do how do you make sure that jobs and goals do not just pile up while you nap? Leave me some comments here or on social media links are around let me know please? I need something to help before I go mad!
Namaste xxx
Hey everybody!
So this morning I woke up crying, I had slept passed my alarm and my pain was to a point where I was crying. It was so painful literally everywhere that I couldn't move and I felt sick, I knew I needed my tablets and I knew I had to force myself to eat…not easy to do when you feel like this.
More and more I am finding my pain is breaking through my pain meds, and yes I have tried CBD oil but it makes me drowsy so it would still stop me doing things! When my pain is this bad it is almost impossible to contemplate yoga, and housework or anything other than laying still and trying not to cry.
A couple of weeks ago I had an appointment with a pharmacist to go over my meds and see where I can change things to make the pain relief better. Unfortunately, he said I was on the maximum medications and should not be having much break through pain so if I do to take paracetamol and if that does not help to get a referral to a pain clinic!
I have been to a pain clinic before and they were not very helpful, they said there was not much they could do for me which to be honest was a blow to me. I hate pain, it is so hard to want to do anything when you are in pain all the time. In fact, it makes me want to scream and cry, though I tend to hold it inside because I hate worrying people! Right now I am also having trouble with my ears which is affecting my balance and giving me pressure migraines and both of these things along with my chronic pain make me want to curl up in a ball in bed and never leave!
Now I have had chronic depression since I was 14 years old, and I can tell when my mood is dipping, tearfulness and wanting to hibernate are my biggest tellers and the things I look out for. So right now as I am avoiding talking to my online friends and wanting to be left alone to try to cope with this extreme pain I am trying to look forward, make plans to achieve my goals.
My goal is to be where I was two years ago, back then I was doing yoga, managing to do a little housework, take a shower, walk the dog on a short walk and then rest. This is all I want, so that is where I want to see myself again so I can contribute to keep up with the house, I can look after my doggy, and keep up my exercise.
To get there I am going to see if I can speak to my Dr tomorrow about:
seeing someone about my migraines
get referred to the pain clinic
maybe get myself a referral so I have a specialist overseeing me regularly for my fibromyalgia like I did when my diagnosis was Multiple Sclerosis
Hopefully if these things happen I can start to get myself back to being the person I was and build up my strength, and get myself out of the depression hole I am starting to fall into!
Have you experienced this? Did you get anything out of seeing a pain clinic? What are your goals? I hope to get some advice and tips so leave me a comment.
Namaste xxx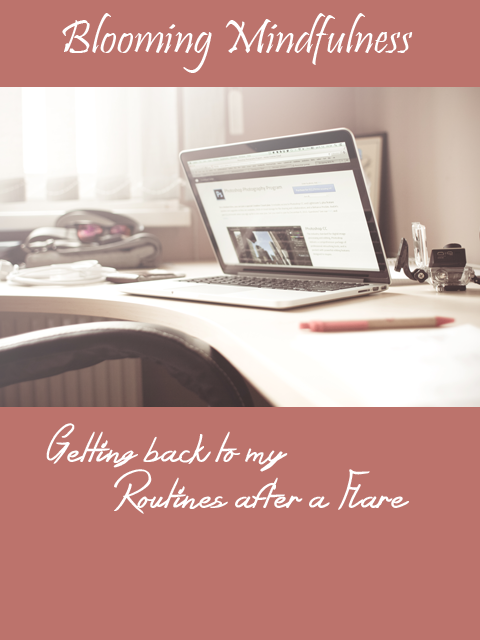 Hey everybody!
The last year has been incredibly hard for me, I lost my Granddad, I had a flare of my fibromyalgia and my depression crashed down on me. I stopped really caring about how my house looked, how clean and tidy it was, I stopped looking after myself and just got lost in symptoms, and depression.
After recently seeing a psychic (HERE is a video about that) I found my depression and grief lifted and I started to realise that I wanted my life back. I might have constant pain, anxiety, fatigue and neurological problems, but I like my life and I am happy. I don't expect a lot from life and all I want is to get back to daily yoga, meditation, and housework and to have enough energy to cook a healthy meal in the evening.
So how am I going to manage this when my flare has left me with more pain and fatigue though the worst of it has eased along with the depression. Well, if you have been following my blog for a while you will know that I am a planner, and this is how I am going to get my routines back.
I have my week ahead planned, I know what I am going to do and how, and that has left me feeling far less worried and overwhelmed. I have remade up my natural cleaning products and I am back to my determination to lessen the amount of chemicals in my home. I am hoping that with my new plans, my determined nature and lots of breaks I will be able to keep up with the daily routine I started today.
I woke up and took my medications at the usual time and then hit the yoga mat for a gentle 30minute practice, I then lay down and followed a 15minute guided meditation and then a short bible study. I then ate a yummy smoothie bowl and rested for a while before cleaning my living room. By the time I had done these things it was after 1pm and I was amazed at how long these few things took me, however I felt incredibly proud of myself for taking my time and listening to my body. After a shower, I came here and wrote this blog, I am hopeful that by breaking things into shorter tasks and being organised I can do this routine every day.
What I want to say is, life is hard with chronic illness, they grind you down and can become so hard to live with, but if you keep pushing and keep motivated you can still achieve your goals!
Namaste xxx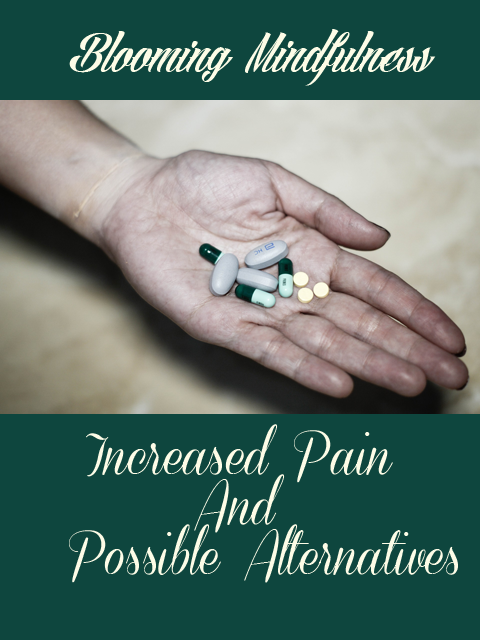 Hey everybody!
Summer is here in England, and as we Brits know that means it is hot, humid, stormy and can be raining in the morning, blazing sun in the afternoon and that night have a storm! The problem for us fibromyalgia sufferers is that means our symptoms start to shout and make themselves known and mine certainly are!
I have been having a lot of sinusitis, headaches, pressure migraines, burning pain in my arms and legs, and increased pain in my shoulders, upper back and neck…basically I hurt everywhere and the medications I am on from the doctors are not really helping anymore! Usually I would make an appointment to see someone and get my meds reviewed, but at the moment that is not really an option as getting an appointment means waiting about a month or begging and pleading every day!
So being typical me I hit google for alternative therapies and the one thing I have not been trying is supplements. The problem is as you can see from THIS LIST is that there are so many recommended for fibromyalgia how do I know where to start? I am feeling very lost and overwhelmed and wishing I could win the lottery so I could maybe have all the latest treatments and get rid of the daily pain!
However, as that is not really an option I have ordered two books from Amazon one is From Fatigued to Fantastic and Pain Free 1-2-3 both by Jacob Teitelbaum. I got them used and they are coming from the USA, but by getting them second hand I am saving almost £25!! I am someone who does believe in Western medicine, afterall I was a nurse before I got sick, but honestly I feel like it is letting me down and I need to take control of my own health!
When I was wrongly diagnosed with Multiple Sclerosis I had a psychiatrist, a neurologist, physiotherapy, accupuncture, even people to cut my toe nails so that I wouldn't hurt myself while unable to feel my feet. Now I have a different diagnosis all of that has gone away, and it is really hard for me to get in to see my GP. My symptoms however, have not changed and I sometimes feel like I have been kicked out and left to deal with it all by myself. Well if that is the case I am going to study and get my symptoms under control by myself I am not going to let it beat me!
So readers, what alternative therapies do you use? What have you tried has has or has not worked and are there any books that have helped you?
Namaste xxx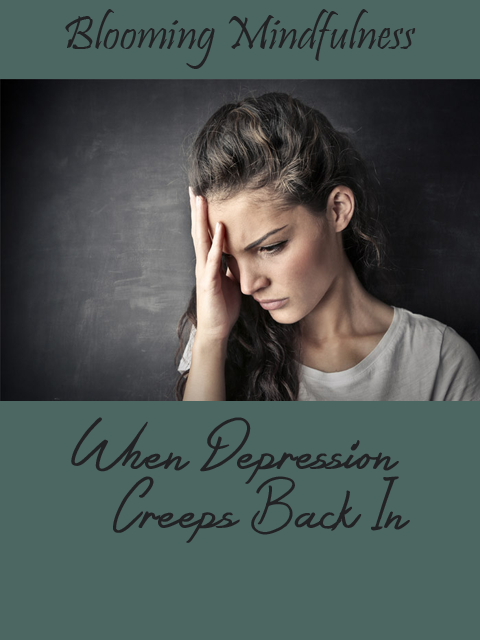 Hey everybody!
Over the past 5 or so years I have been working hard to overcome my mental health issues and find ways to push through them. I had counselling and they taught me to practice mindfulness, to be in the moment and not live in the past. I turned to Buddhism and started to study how to get well. I also got to a point with my anxiety where I could talk to people I didn't know and take my dog Gizmo on short walks by myself.
Then at the beginning of last year it became clear that my Grandad was dying and it is coming up to a year since he passed away. I can honestly say this has been the hardest year of my life, I have been incredibly blessed in so many ways and yet he is always on my mind in one way or another.
Grief takes time and patience, and it is something you cannot rush or push your way through. However, it is something I thought I could avoid so I have not really faced it, I have kind of pushed it down and carried on trying to be myself. The problem is that I was tired all the time, I was not meditating or doing my yoga practice, and I was lying in bed until lunchtime quite often so that I could just wallow in it.
My last post I reviewed a book and movie, and when I watched the documentary with my husband I realised that I had been avoiding things. I realised that if I carried on my illnesses would get worse and I would end up suffering and that would be something my Grandad would never want for me.
I read THIS ARTICLE today where it has been found that worldwide depression is the leading cause of disability worldwide! Todays society and lifestyles are not working for us and we all need to really look into ourselves and those we care about. If we do not start to change our lives we will all be in trouble and it just reaffirmed what the Connection movie and Whole health life book said! I really think depression is so overlooked and is easy to hide if we want.
So when I realised what I was doing and that depression had crept back into my life I immediately took some steps to start getting out of the hole so if you find you are depressed or someone close to you is here are some tips:
Talk: I straight away went to my husband and opened up about how I was feeling, what I thought the problem was and what I wanted to do. This can be the hardest part, I didn't want Lee to worry or get upset, however he was there for me he listened and he gave me advice. He agreed that he thought it was depression and that he had been worried but afraid to say anything, and if you are worried about someone like he was, reach out it means so much.
Make goals: I hate to say it but getting into good habits is not easy, I wanted to get back to daily yoga, housework, getting outside the house, eating regularly, and making sure I get up by a certain time every day. I talked about them with my husband and doing this simply keeps you accountable and gives you someone on your side who will be there to support you and give you a little nudge if you try to get out of it! Make the goals you set small and manageable, it could simply be I will get up and take a shower every day…no matter what the goals are do not make them so ambitious and big that you are going to set yourself up to fail because you will just feel worse.
Talk to your doctor: I am on daily antidepressants anyway because my depression has been chronic since I was 14, but talking to a doctor can help so much. They can refer you to have counselling, maybe put you on antidepressants for a short time to help you at first, and even just be someone to talk to if you have nobody else. This is especially important if you have been turning to harmful behaviour to deal with your depression such as eating disorders, alcohol or drugs, self-harm, etc.
Do research: We live in a world where information is literally at our fingertips, so get online and look up ways to help yourself, read books, join a group online, you can even email the Samaritans now! I am going to start reading a book I bought a while ago about dealing with grief, there is so much out there so pick what works best for you and go for it! Learning more about depression and how to help yourself is important because at the end of the day if you do not do the work you will not get better!
Lastly, if you are struggling, if you have words of encouragement, or if you simply need to talk drop me a comment below, or email me this is a safe place and I am always here for anyone who needs a friend.
Namaste xxx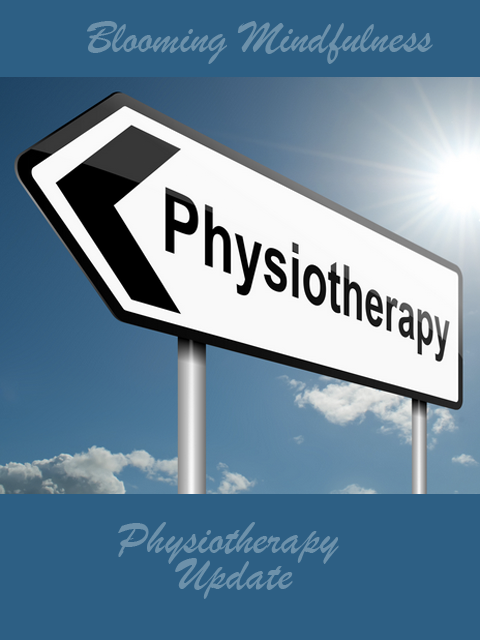 Hey everybody!
So first of all I have actually been referred three times to physio, first time for my shoulder they injected it and said they would call with an appointment and I never heard back. Second time was for neck and upper back pain and I wanted some exercises or something to help ease them, and I heard nothing. Third time was for my thumb and I heard nothing so we called the doctor who referred me and they said they should have given me a number to call but the doctor must have forgotten! Thanks for the pain I had in that time while I waited!
I explained this to the physiotherapist I saw and she said unfortunately they know nothing about the other times and only knew about my thumb….yeah not impressed doctor!
Anyway, the doctor had said he thought it might be the start of arthritis as it runs in my family and can be experienced with fibromyalgia. However, after examining my thumb she thought it was just an inflamed and irritated joint and gave me some exercises to do at home to keep and improve my range of motion as it is my dominant hand.
She said maybe in the future they might inject the joint or give me steroids but they wanted to try these exercises first. I was thankful for this because anyone with chronic illness will tell you that they do not want more tablets if they can help it!
She is also going to try and find me a different type of walking stick that does not put my weight into that joint like the one I use now and this will help me to be able to help the joint heal and walk safely. I was also told to ice the joint every day to help bring the swelling down so I am feeling good about this. I am thankful it is something that can easily be treated and the therapist was really nice which I was thankful for too.
Namaste xxx