Gizmo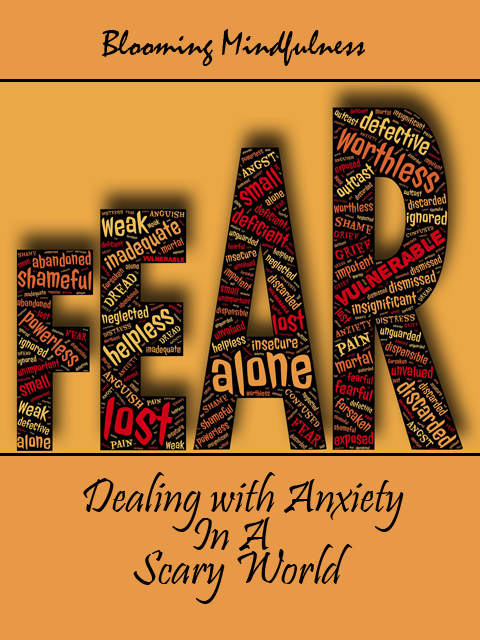 Hey everybody!
Wow is it just me or is the world getting crazier? Here in the UK we have had a concert in Manchester bombed and now stabbings and people hit with a van in London…I am in a small town but I have friends all over and who knows where the next attack is going to come from?
Now I know this will go against the first sentence I wrote up there, but I in fact do not think the world is getting crazier. I have lived through the IRA attacks, I have seen bombings and shootings and wars all over the world and I ask myself, when will we learn? People seem to be nastier and more outspoken, maybe because of the internet or maybe the internet has just given nasty people an outlet?
Either way for me personally seeing that nothing has changed leaves me quaking in my boots afraid to go out of the house to walk my dog and feeling very small and scared. I have been diagnosed with Generalised Anxiety Disorder, which is characterised by WIKIPEDIA as:
"Generalized anxiety disorder (GAD) is an anxiety disorder characterized by excessive, uncontrollable and often irrational worry, that is, apprehensive expectation about events or activities. … These symptoms must be consistent and ongoing, persisting at least six months, for a formal diagnosis of GAD."
I have had this my whole life and was diagnosed about six years ago with it by a therapist who gave me a lot of coping mechanisms and tips and tricks to learn to live with it. In the last few years, I have worked hard to be able to go on short walks with Gizmo alone, and to be able to speak to people in shops etc.
However, these attacks have sent me scurrying back into my home to hide away, the thought of going away to London for a convention is in question and I feel like terror is really setting me back. The problem is that these evil people can strike at any time, we do not know who they are or when they are doing this which is why it is such a shock when it happens. I am worried that this will undo all the hard work I have put in and I really do not want that to happen.
I am hoping that I can set myself small goals, and use logic to try and stop myself slipping backwards, and I can only pray that these attacks stop soon. I hope we as humans can be good and can learn from the past, I do not understand war and I never want to know it all we can do is put our faith in the government to keep us safe and to protect us.
Stay safe everyone
Namaste xxx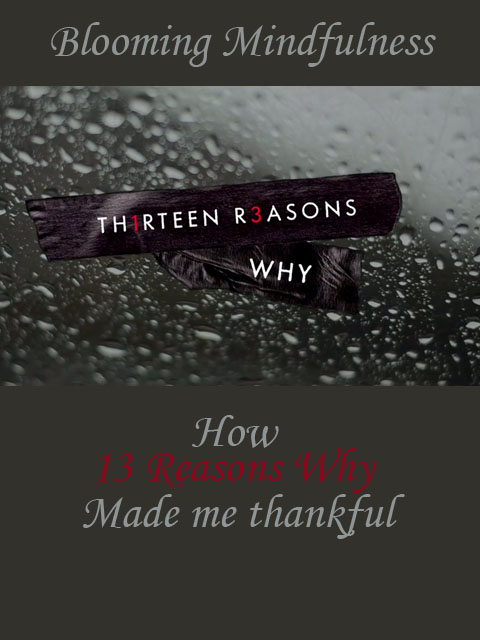 Hey everybody!
First of all if you are planning to watch 13 Reasons Why and have not yet seen it this post will contain spoilers so come back to this after watching. Also, there will be mentions of alcoholism, social anxiety, depression, and suicide in here so please be aware of that if you choose to continue.
So in 2 days I had watched all the episodes and the documentary of the TV show 13 Reasons Why. This show is about a girl called Hannah who leaves behind 13 cassette tapes each one singling out a different person and why they are part of the reason she decided to commit suicide. The show sugar-coats nothing, it is hard to watch, there are times I had to pause it and walk away, or I fast forwarded, cried…yeah it is a tough, but I feel important watch.
Now, when I was a teenager I was very much a mixture of Hannah and Clay, I was incredibly depressed, I suffered with social anxiety and I was suicidal. I used alcohol as an escape and I am sad to say that I was at times suicidal. I was nervous to watch this show as I worried that it would trigger old feelings and thoughts and it did but I coped with it in a very unexpected way…I became thankful!
There is a scene where Hannah and Clay both imagine what their futures could be like if she had not killed herself. This is a really sad scene, yes we want to see this glimpse, but also knowing they could never have that now was so upsetting. That scene got me thinking a lot about the times I was suicidal and wondered if I could have ever imagined where I am now?
Back then life seemed so bleak, the last time I considered ending my life I was in my early 20s, my fiance at the time had left me, I was living with my parents again and I was sick. I had not been living with my illnesses long and I was still waiting for diagnosis and to be honest everything I tried I seemed to fail at. Also as an added bonus, my father became incredibly frustrated and angry to see me so depressed and would shout and say things that I am sure now as I look back he would immediately regret.
But not long after this I started dating, I joined two dating sites and had a few dates on one and only one date on the other…that one date was my soulmate Lee and we have been married seven years! He looks after me, he is kind and funny and totally gets that I have illnesses but he never makes me feel like a burden. I have a wonderful dog, Gizmo, we live in a really lovely house and we are incredibly happy.
Over the past few years I have worked hard on my social anxiety, I have had counselling,  I can go out for a short walk with my dog, I can even talk to a shop assistant without wanting to have a total breakdown. Every day I struggle with my anxiety and depression but I have the tools now to cope with them and to work through them. I might not be able to work, but my self-worth comes from my family, my friendships and how good of a person I am.
13 Reasons Why made me feel so incredibly thankful that I did not choose the path that Hannah did, I kept fighting and things got better. As a teenager I was not able to cope with this harsh and stressful world, but now I have the support and the tools that make it easier.
Namaste xxx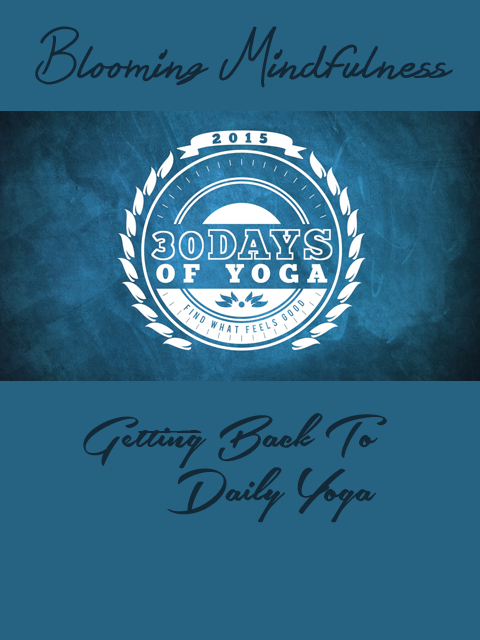 Hey everyone!
So last post I spoke about my recent realisation that depression has crept back into my life and how I have been inspired by a book I read and film I watched to fight it. I think this is something a lot of people get wrong, depression is a mental illness that is incredibly sneaky! You can go for councelling and read books and do the steps but it is, for people who suffer which chronic depression, a daily fight. I wake in the morning to a noisy brain, anxiety and negative thoughts that make it hard to even want to get out of bed. Every single day I have to fight through all of that to get up, get showered, to work out and just to not hide in bed!
I have had a breakdown and been on suicide watch, I have hoarded medications 'just in case', and through it all I have wanted more! If I had ended things there I would have not met my husband, I wouldn't have my dog, I would have missed out on time with my friends and family, and I would have not heard they got my diagnosis wrong!
Now I am learning about alternative therapies, and I have a very different attitude to life and to me daily yoga is a big part of my mental health being good. Over the last year I had slipped to maybe once a week and that to me was a big wake up call when I realised. I knew I needed to change things, so I went to my online Yoga teacher on You Tube 'Yoga with Adriene' and I chose her 30 day challenge to get me going!
This is 30days of yoga and it is a playlist of 30 videos, one a day that I am committed to finishing, however the way I look at this is a bit different to how she meant…
I have chronic illnesses and though I want to do yoga every day, if I am going out one a day, or I am going to yoga class that night there is no way I can do yoga in the morning it would kill me! So I look at it as 30 videos and I am going to finish them all in as little time as possible, so far I have done 4 videos and that has taken me 5 days because yesterday I could barely think straight enough to get out of bed! I have to be smart and look after myself, however that does not mean I am not going to do my best to do a video a day and I am really hopeful that I can complete it!
So far however what means more is how I feel, I am much more positive, I have started doing housework and eating better again, I am sleeping better and overall my pain has improved. Yoga and meditation go hand in hand for me, they are part of my beliefs as a Buddhist and I know from reading Whole Health Life, and the Connection (review HERE) that these are important to lower stress levels. I will keep you updated how I get on but please send me encouragement on twitter, Instagram, here all the places!
Namaste xxx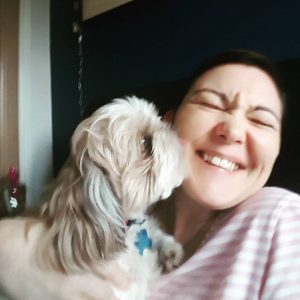 Hey everybody!
So this week has been very up and down for me, on a low point I had a two day migraine where I felt so sick and dizzy I just rested and could really do nothing else. The picture included in this post was from day two when Gizmo was giving me so many kisses to help me feel better and strangely it did! He stayed with me all the time and looked after me like a good little doggy.
The day after I felt tired but I had to admit I was sick of the illnesses I have beating me! Since the beginning of this year I have been struggling to control my depression, my fatigue has become significantly worse and those two things together mean that I have not been able to keep up with my life.
I am sick of not being able to practice yoga and meditation every day, it has left me with tighter and more cramped muscles and with less of a positive mood. All of these things have left me not feeling myself and that is so not something I want to bring to 2017.
So I am now committed to practicing yoga every other day, and meditating for 5 minutes daily until I can get back to a point where my brain is not constantly busy. I am also going to do housework on the days that I do not do yoga and I have set up a weekly routine for my online time too. As someone with a chronic illness I have found that unless I plan and organise myself and my time I end up with not enough energy and just sitting like a blob on the sofa feeling useless.
So as I look ahead to a new and better year I hope that I can build on who I am today and be the best person I can be every day.
Namaste xxx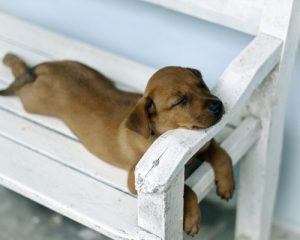 Hi everyone! Today I have been really lazy and I had a lie in until 9am! I then had nutella on toast as a treat breakfast with a nice cup of English Breakfast tea! Since then I showered, but am still wearing PJs, and I have done a little writing…still it has been lovely to just chill!
Gizmo my shih tzu still has his collar on because he is still healing after having two cysts removed so he has been having lots of cuddles. I am so lucky to have him honestly because I rarely get visitors and so when Lee is at work I can get lonely. Instead I find myself chatting away to my dog and spending a lot of time with him being silly!
I love making myself laugh and I definitely think it helps to combat my anxiety and depression to keep busy. I love to fill my day with writing, reading, yoga, meditation, hobbies like knitting and photography as well as cooking and housework because if I don't I tend to get lost in my head very depressed and anxious and just feeling really crappy! It is my personal way of dealing with these illnesses and I must admit that though it can be painful and tiring if I manage my time well and listen to my body for the most part I can keep things at bay.
This is why a lazy day to me is chilled but still keeping busy as much as possible to help me not fall into bad habits of not being mindful and present in the moment. I started learning about Buddhism last year and along with yoga and meditation it has changed my life. It might not work for you but this routine, organisation and mindfulness works for me, I hate when people try to tell you how to deal with your illness. I always appreciate advice but I know myself my mind and my body better than anyone. We are all different so don't try to tell me what works you know?
Anyway I hope you all had a lovely weekend and that the week ahead is good xx