Let's talk about fostering a world community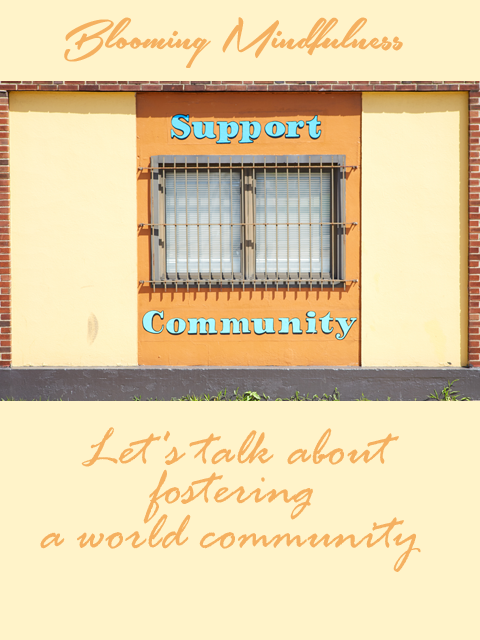 Hey everybody!
So I have been thinking about this a lot, how can we improve our community and why it seems so fractured. This post was spurred on to be written though by Melissa at Mint Tea and Elephants, we were talking in a facebook group and I mentioned some of my thoughts and she said she would love to read it, so blame her haha!
I am not a news watcher, I stopped watching the news years ago because it always triggered my anxiety. I started to worry about the end of the world, what if zombies became real if we act like this now? Why do people get so lost that they commit crimes and turn to drugs and alcohol? Why is it that a few people seem to prosper while everyone else seems to think it is OK to just struggle alone and to turn down any help offered and not help others?
Just a few generations ago people did not travel far from where they were born, they grew up knowing everyone and helping one another when needed. We seem to have everything, with kids having mobile phones and iPad at young ages and yet children struggling with suicidal thoughts is on the rise! The more I think about it the more I wonder that it could be we are losing that community spirit we used to have. In the past people in a street would share the big ticket items like lawn mowers and TVs, Just think how many lawn mowers there are in just the street you live in and how often they are used!
Humans naturally are pack animals, we naturally long for approval and to fit in so that we will survive. It is a natural instinct, but it seems to have taken a turn, instead of trying to help the people in our street we are looking on Instagram, comparing ourselves to others and getting depressed when our lives don't look like that! I often see people on social media saying they need to take a 'mental health break' from social media, it is as if living with comparing and jealousy is unhealthy for us.
I know I have fallen into this trap when it comes to this when it comes to my You Tube Channel and this blog, I see others making money at them, being shared and growing their subscribers and it can make me feel jealous. I think this mentality of numbers within the 'influencer' community is what can cause most of the problems. So I took a step back and realised that I was feeling upset that I share people's blog posts and videos but they were not doing the same for me….
But should that be why I do it? Surely I should practice my beliefs and put them into my life in every way not just when it suits me! I try to practice the four types of yoga every day, and one of them Karma Yoga is what this is all about. Karma Yoga is the path of unselfish action, this means doing things to help others and to raise others up without expecting anything in return. I should do it because I want those around me to succeed, and not because I want them to do the same or I think because I shared that video my views and subscribers will rise!
Now just imagine if we all practice this, no matter your faith, what if we all did nice and kind things not expecting anything in return not even a thank you? Do you think if we all changed our hearts to try this that we would all get more success and be happier because I do! So I am challenging you to do these three things and let's change the world and foster a little more community:
Smile at a stranger
Be kind expecting nothing in return
Share blog posts you read, and you tube videos you watch
Below is my You Tube video where I discuss this and yeah I hope you will leave me a comment and let's get talking
Namaste xxx