Blooming Mindfulness award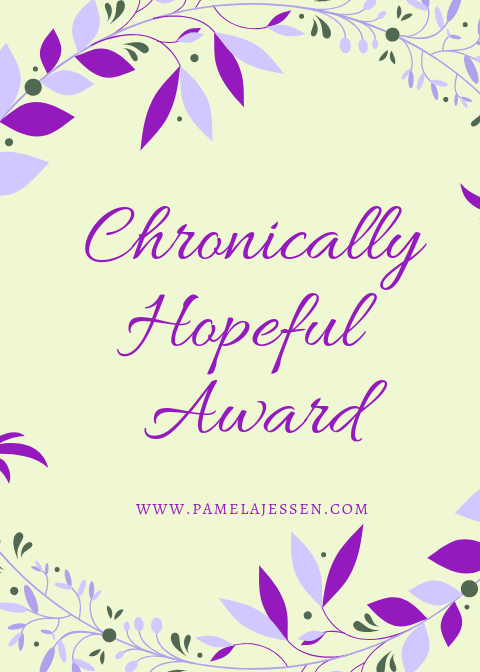 Oh my goodness I am so excited and thankful that Back Pain blog UK has nominated me for an award that was set up by Pamela Jensen from There is Always Hope. The Chronically Hopeful Award is, in her words, "to recognise the incredible people who blog about chronic illness, mental health and disability."
This meant so much to me because both of these blogs are favourites of mine who I have been subscribed to for years. Both of these incredible people inspire me to keep writing and to strive to bring some light into this world. There are many blogs out there, but I think all three of us can agree that this award is lovely because it rewards hope.
I started Blooming Mindfulness because I wanted to help others and to show you don't have to become bitter because of illness. Getting this lovely award is validation that I am doing that and I am so happy!!
Rules:
• Thank your nominator
• Recognize Pamela from There Is Always Hope as the creator of this award with a link.
• Use the Chronically Hopeful Award logo somewhere in your post
• Copy these rules onto your post
• Answer your nominator's questions
• Write 5-10 of your own questions (they don't need to be illness related)
• Nominate 5-10 other chronic illness, mental illness, or disability bloggers
• Comment on each of your nominees' latest posts to tell them they have been nominated
Questions to me:
1. How long do you spend blogging and do you blog daily? I blog once a week now because of fatigue, and I mainly write for about an hour or so a week.
2. What got you into blogging? I have been blogging ever since I first got a computer back in the day. I have had several different ones all as hobbies to share my journey with illness.
3. What three things do you love about Sunday's? My husband works shifts so I tend to take my 'weekend' as when he isn't working. Nut once a week I take a day to lie in, rest and maybe go for a drive in the country if I feel up to it.
4. Dog or cat? Dog definitely I love my dog Gizmo and any dog is bound to end up with an ear scratch from me
5. Heat of cold when you are in pain? Heat every time for me, I love my heating pad far too much for it to be right haha
Who I nominate:
My Medical Musings
Being Lydia
Wheelscapades
Melissa vs Fibromyalgia
My brain lesion and me
Jade Marie
My questions:
What are your blogging goals for over the next 6 months?
If you could meet up with your younger self for coffee what advice would you give?
What is your favourite flavour of ice cream?
What is your favourite movie genre?
Your favourite Disney character and what you think that says about you?
I am so thankful and just filled with happiness to get this! I want to thank all the blogs I follow and nominated for inspiring me in my blogging journey.
Namaste xxx