Facing changes as winter approaches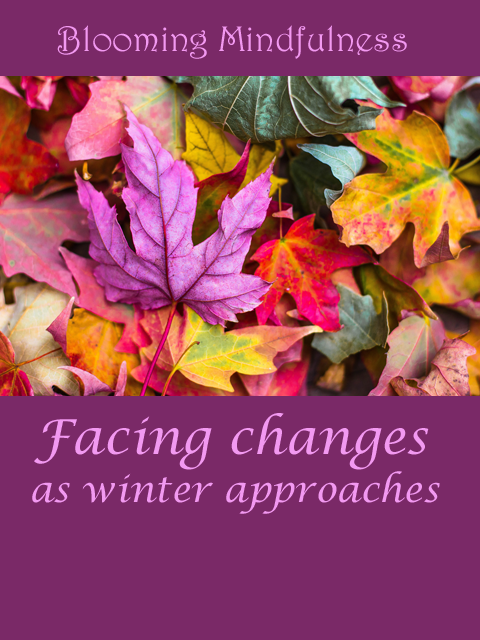 Hey everybody!
Winter is coming fast and like in the spring I like to take stock and look ahead. Making plans and changing things up, and that is happening on this blog as well. If you have been following me on Instagram recently, you will know that I have been really getting into my psychic classes, and especially I have become interested in Crystals and living more in tune with the Earth.
Now I started this blog to talk about chronic illness and how my faith helps me through, but my faith has changed and so has my outlook. I was a Christian-Buddhist then but now I see man made religion as holding me back from really getting close to God. I love that he provides every kind of plant to heal us, and crystals and rocks that contain energy to help us as well. If we live our lives around the moon then we are more in line…
Now I do not want you thinking I am no longer a Christian because I am, I still read my bible daily, and my faith is still the cornerstone of how I live my life. However, I want to talk more about my beliefs and my psychic class and the things I am learning on here, so from now on I shall be talking about that on a Monday and on a Friday you will get a round up of how my chronic illnesses are going and how my life is going.
Here we go:
So this week I started a book called Moonology the author is an astrologist and she believes that linking up your plans and hopes every month with the moon will help them to happen. Now I am not a Wiccan, I do not have alters or do spells because I believe in the power of prayer. I am new to manifesting myself, but I know that by trusting in God and setting intentions then we can make anything happen. We know that ancient civilisations trusted in the stars and moon, and I think they were right, I think God provided so many simple ways for us to make our prayers more powerful.
I am really enjoying reading and learning about the power of the moon's influence over prayer and I am going to start using it in my monthly plans from now on. I really would love to see my blog and my You Tube Channel do well and start to grow so I can help others and as the bible says:
 "You are the light of the world. A town built on a hill cannot be hidden. Neither do people light a lamp and put it under a bowl. Instead they put it on its stand, and it gives light to everyone in the house.  In the same way, let your light shine before others, that they may see your good deeds and glorify your Father in heaven. – Matthew 5:14-16
I have also been studying some crystals and really starting to learn about the ways that crystals can help those of us with chronic illness, for example Howlite is a really calming stone. It helps reduce anxiety and stress, it is great for insomnia and having it by your bedside will help you to sleep, it did for me! It can also clear your mind and so it helps with both meditation and mindfulness and has really become a favourite stone of mine. I am learning about how they can help different illnesses and I even had a bracelet made for my husband by Mighty Moon on Etsy with crystals meant to help with epilepsy.
Now I am not suggesting that they are a cure, but if you use them alongside other forms of care what is the harm? Do you use anything like this? What crystals or books do you recommend for someone wanting to get into more natural remedies and to support their body without so many chemicals that cost so much money!
My psychic week:
So I have been meditating a lot, reading up on so much and spending a lot of time trying to find my way and getting close to my intuition. I have been getting hazy images in my third eye of things changed round in the room while meditating, and after speaking to my psychic teacher I found this was perfectly normal. It was simply my Spirit Guides training and teaching my spiritual mind to learn logic. This was so interesting to me and I find the more I meditate and learn the more I open up to angels and spirit guides.
I have also been having times when I can hijack my dreams and use them, while asleep, to contact people I know who have passed!! I am unsure right now how this will play out, but it has happened three times and I am quite excited to learn more. Right now it kind of feels like the world is opening up to me and I am learning from much older civilisations how to get closer to God and how to open up to this Earth that God gave us.
I hope you will enjoy this change on the blog, and that you will stick with me while I find my way with updating twice and talking about my spiritual side, please let me know down below in the comments if you have any ideas or thoughts.
Namaste xxx
This post includes some affiliate links, but it is not sponsored.