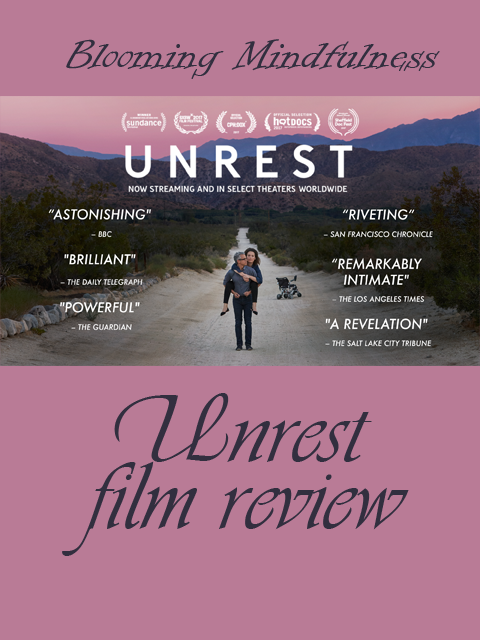 Hey everyone!
So I am on antibiotics at the moment and they are really making me feel awful! So I got up this morning and thought I would order Unrest on Amazon and give it a review.
Unrest centers around Jennifer Brea and her husband who are both intelligent and adventurous people who love travelling and as I put it 'grabbing life by the balls'. Then Jen got sick with a virus and their lives changed drastically as she became sick with Chronic Fatigue Syndrome or Myalgic Encephalopathy. We follow her journey as she records her life, her struggles to cope with her husband becoming her carer, we see her interview other people with the illness all over the spectrum, and we see her husband caring for her.
This is a very raw documentary and I must have cried so many times while watching it because I saw myself and my relationship with my husband so clearly on the screen. This film shows Omar feeling lost and alone as he tries his best to support her, it shows him willing to try anything to help and it also shows that it is so hard to see someone you love suffer and not knowing how to help.
I was so moved by their stories, but it was when she spoke about the history of unknown viruses that cause chronic fatigue in the past that hit me hard. Hysteria especially was hard because it is clearly Chronic Fatigue when you see the old medical videos and photographs and yet these people were locked away in mental institutions and treated terribly because back then doctors thought it was all in our heads…
Then we hear about Karina, a girl whose parents cared for in their home in Denmark, then one day the police took her from her bed to be cared for by a doctor because they believe it is all in her head and her parents are making her sick! Yes these horror stories we like to think do not happen now really do and I know I am being treated like it is in my head by family and doctors!
Unrest is stunning to watch, moving in so many ways, it showed the good days and the bad, it showed the money we spend on made up cures because we get desperate and it shows that when family become carers it can make things so hard. I really found myself coming away from this film feeling thankful that I am not alone, that other people out there know how I feel and all of our stories are real and similar and if only doctors would watch maybe things could change for us all?
I really hope people get to see this powerful and important film, this illness and illnesses like it have been overlooked and hidden away for too long. So go watch the film online HERE is a list of where and how, share it and let's stop hiding this illness and let's get our stories out there so no more people go missing.
Namaste xxx