convention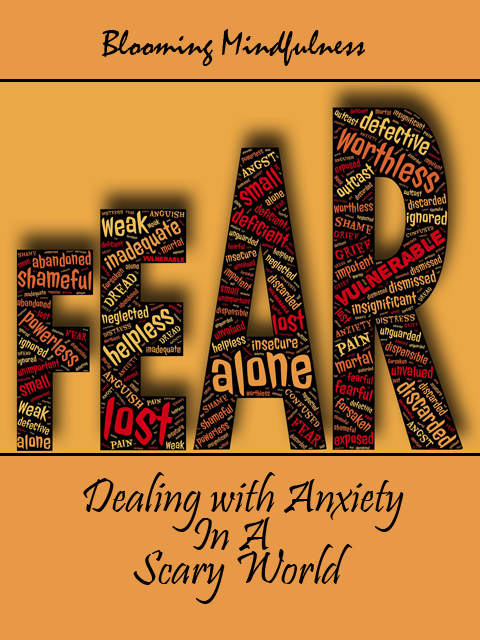 Hey everybody!
Wow is it just me or is the world getting crazier? Here in the UK we have had a concert in Manchester bombed and now stabbings and people hit with a van in London…I am in a small town but I have friends all over and who knows where the next attack is going to come from?
Now I know this will go against the first sentence I wrote up there, but I in fact do not think the world is getting crazier. I have lived through the IRA attacks, I have seen bombings and shootings and wars all over the world and I ask myself, when will we learn? People seem to be nastier and more outspoken, maybe because of the internet or maybe the internet has just given nasty people an outlet?
Either way for me personally seeing that nothing has changed leaves me quaking in my boots afraid to go out of the house to walk my dog and feeling very small and scared. I have been diagnosed with Generalised Anxiety Disorder, which is characterised by WIKIPEDIA as:
"Generalized anxiety disorder (GAD) is an anxiety disorder characterized by excessive, uncontrollable and often irrational worry, that is, apprehensive expectation about events or activities. … These symptoms must be consistent and ongoing, persisting at least six months, for a formal diagnosis of GAD."
I have had this my whole life and was diagnosed about six years ago with it by a therapist who gave me a lot of coping mechanisms and tips and tricks to learn to live with it. In the last few years, I have worked hard to be able to go on short walks with Gizmo alone, and to be able to speak to people in shops etc.
However, these attacks have sent me scurrying back into my home to hide away, the thought of going away to London for a convention is in question and I feel like terror is really setting me back. The problem is that these evil people can strike at any time, we do not know who they are or when they are doing this which is why it is such a shock when it happens. I am worried that this will undo all the hard work I have put in and I really do not want that to happen.
I am hoping that I can set myself small goals, and use logic to try and stop myself slipping backwards, and I can only pray that these attacks stop soon. I hope we as humans can be good and can learn from the past, I do not understand war and I never want to know it all we can do is put our faith in the government to keep us safe and to protect us.
Stay safe everyone
Namaste xxx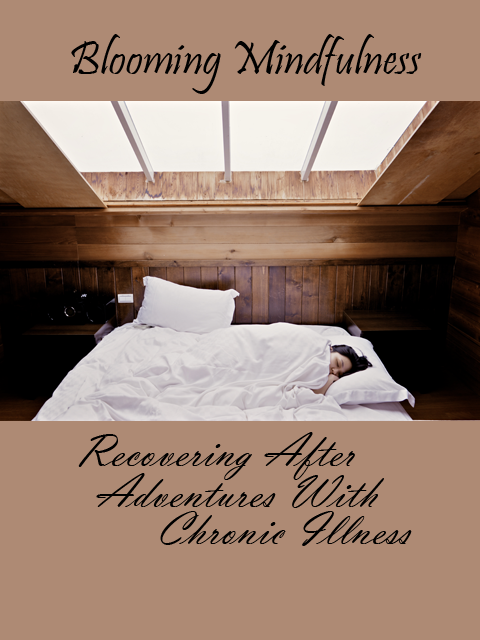 Hey everybody!
Phew what a week!!! Monday I travelled alone by train to London to stay with my best friend Louise, we both have chronic illnesses so we mainly rested, but we did go to see two plays! And then I came home, rested for one day and then went to a convention where I met some of the cast from IZombie!
London is overwhelming in itself because of me mostly being home alone and being in a small town, but add into that a convention and I feel dreadful! My pain level is about 11/10 and my fatigue saw me not get out of bed until 3pm today!!! I need a holiday to recover I think, instead I am at home and using everything in my arsenal to be able to get my body through it!
I love having these little adventures, but my body really struggles with it so I have to be careful and rest lots, which I did. Thankfully Louise understands and we only went to the plays with nothing else planned while I was there. We spent a lot of time in our PJs and resting which was a lifesaver when I went to the convention!
Now I have a pressure migraine, I am so tired and my upper back in painful, my arms and legs are burning and overall I just need time to recover. I do struggle with giving myself a break and understanding I need to rest more than most people. My father my whole life made jokes that I am lazy and he still does it now, I often feel like I let him down because I am not able to work or to keep up with things like he can.
However, I realise he just doesn't get it and I have to quiet those voices that make me want to push myself to the point where I have a flare and end up needing more meds or referrals for more care! Instead, I need to rest, to use whatever medications, lotions, potions, heating pads or anything at all that can help my body recover. I wish I could ignore my body and push through but that would be stupid, I am not well and I need to give myself a break. So I will look through my photographs from my adventures and remember it was all worth it!!
Namaste xxx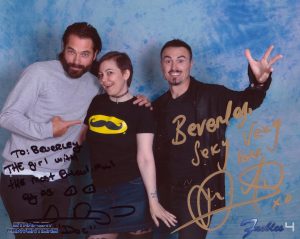 Hey friends!
So this past weekend I was at Heathrow near London for a convention for the TV show Lost Girl and some of the new shows that the cast is now starring in. You can get more information HERE
I have been attending Starfury events since probably around 2002 and I have to say over all the various event organisers I have gone to these type of events with they are my favoourite. The attendees are a priority and it feels more like a family than a way to just make money, it is clear that the people running the events are fans too and the people who have come as guests have always said they have felt it is more friendly and they get to know us better. I love Starfury and are more or less the only company I go to events with now.
So my weekend….
FRIDAY
I got to the hotel about 3pm and met up with my friends Hannah and Caitlin and we joined the looong queue for registration, I have not seen the queue so big before and I really think they needed more than two people working the reg desk! I managed to get everything sorted thanks largely to my friend Helen who knew I would not be able to wait in a long queue again to get my ticket for the talk with my favourite actors who were there and I was so thankful for that! I managed to sort out my photo tickets and everything else pretty quickly and was so thankful for that, queuing is not easy for me and I was getting tired by the time I had everything sorted.
I then had a nap and some food which helped me to recover ready for the party in the evening, the theme was Blame Canada and after much consideration I decided as Lost Girl is a Canadian show I would just dress as a female version of Vex my very favourite character and the actor Paul Amos was at the event!
Now this night I drank too much alcohol and had so much fun #noregrets! Paul Amos turned up at one point in the evening with doughnuts and crisps which he gave to us! I was so happy to see him I have met him once before and he is such a lovely man so mischievous and fun and yeah I just adore him! We went to bed about 2am I think and after some more food and water I slept well thankfully because I knew Saturday would be a full day!
Saturday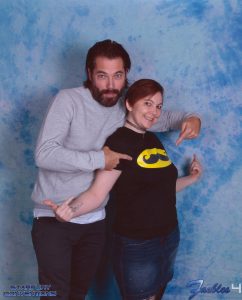 I woke early and had a shower and a yummy hotel breakfast I was running on adrenaline already because I was going to be meeting all the cast and with that in my head there was no way my illnesses were going to hold me back! First thing on the list was photographs, now I was on a budget for this convention and I knew I would have to be careful so I basically decided to concentrate on Tim Rozon and Paul Amos so I had a picture of them on their own and then one of the both of them (they are illustrating this post).
The staff at Starfury I have known for years and they know I do not take advantage so they are always so kind to me. I got to go first and I was so thankful because of my struggling with waiting hours in a hot room with lots of people with my anxiety and pain levels.
I went and had my picture alone with Paul Amos first, he was in heels which is the sexiest I mean any Rocky Horror fans will know Tim Curry and therefore find men in heels sexy… so the photographer took about 6 photos of me with Paul because he was trying to get his heels in shot. This was my only complaint that they did not give me a choice of which one I wanted, I paid so I feel like maybe I should have been able to choose. However, the photo I got is so cute I just adore Paul and yeah I was more than happy.
Next was a photo with Paul and Tim, Tim was a lot more reserved than Paul, most people are, but it was his first convention in the UK and I am not sure he knew what to expect. I was so happy when he said he liked my shirt which was the Batman symbol but as a mustache instead, he plays Doc Holiday on the show Wynonna Earp and his tache is pretty epic on that! Both pictures with him he was pointing at the symbol and it was so cool to know he got it!
After that we went to the talks, these are the guests in various groupings on stage answering questions and telling stories, it is one of the best parts of the weekend for me. For one it gives me a chance to rest and just chill out, plus we get to hear stories from set, behind the scenes facts, and funny jokes between them which is so cool! It is so fun and they had the main hall set up the best I have seen for wheelchairs I was really happy to have a good view and to not be crashing the Gold ticket holders in the front rows!
In the early afternoon I had paid for a small group to just have an informal chat with Tim Rozon and Paul Amos, they played father and son on Lost Girl but it worked out for me because they are my faves! The talk was so nice, I swallowed back my anxiety and spoke to both actors, I contributed and chatted and I felt so proud of myself for it! I got to listen to Paul speaking Welsh which was so so so sexy and to tell Tim why I love Doc on the show!
By early afternoon I was in a lot of pain, but I try to do everything on the Saturday so that if I am not well on the Sunday I can rest. So last thing was autographs! I managed to go through with the gold like they had agreed and everyone was so nice helping me to get everything I was so thankful to the staff! I had nice little chats with Aaron, KC, Tim and Paul, but Paul was the chattiest I could tell all the actors were suffering with jetlag bless them! Tim wrote I was the girl with the most beautiful eyes which made me giggle and Paul was so chatty and even promised me a dance at the party later!
I then had a long nap before getting ready for the party, tonights theme was Misfits of Science so I dressed up as a sexy Ghostbuster…because why not? Paul, Kris, Zoie and Anthony came to the party in the evening and I loved watching them all having fun…especially Kris who was lifting people like he was Patrick Swayze in Dirty Dancing and so funny when drunk! At one point Paul was dancing not far away so I got out of my wheelchair and went over to remind him he owed me a dance, he got so excited and hugged me and I got to dance with him twice which was so kind of him! He also came round at one point with bottles of booze everyone was taking shots out of…would have been rude not to! I even got to take a selfie with Paul he just made my night and I love him so much for being so kind to me.
Sunday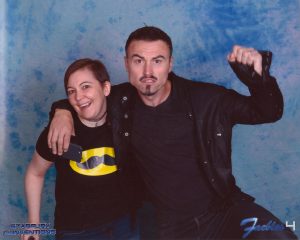 Sunday I slept in until about 10am I think because things were not starting until 12 and I was in so much pain! Thankfully after meds and a hot shower I was able to go to see the talk with KC, Tim and Paul. This was such a funny talk I really enjoyed all the talks and though I was tired and not feeling well by this point I was just happy to be entertained and to rest.
I had a nap in the afternoon too after a cheeky McDonald's and got dressed up like a saloon girl ready for the party that night which had the theme of The Wild Wild West! The closing ceremony was so sweet I caught Tim's eye a few times and shared a smile moments like that always mean so much. I was pretty much a zombie by this point and after the closing ceremony we went back to the room and I lay in full costume on my bed and tried to rest.
I felt like someone had kicked me in the middle of my back from sitting in my wheelchair so long all wknd and I was exhausted and ready for home by this point. Hannah and I went down to the party but we lasted about 20mins before heading back to the room, packing and eating and getting some sleep.
Overall it is one of the best convention wknds I have had and I thought the guests were all really nice and willing to have fun and make it special. I loved meeing Zoie finally she is a busy lady! However for me the weekend was all about Tim Rozon and Paul Amos. I am such a big fan of them both and they have me for life right behind them both!
Namaste xxx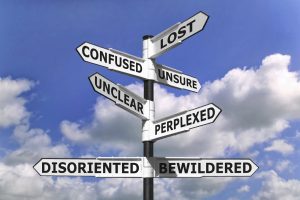 Hi friends!
So I am struggling at the moment and I have no idea what to do or who to ask and to be honest it is making me tearful and feel really down.
So I have been having digestive issues for a while now and a few months ago I had cameras everywhere to check I had no tumours or ulcers or anything like that which were thankfully all clear. However, those problems are still present and I am having a lot of stomach pains…
So about a month ago I went to a new doctor at Burton hospital to try and find out more and he said it could be Celiacs Disease which basically means you cannot have gluten. This would mean a big shift in my diet and so I have been trying to eat well lots of fruit and veg, lots of spinach and I bought a spiralizer so I can make Zoodles instead of pasta!
However, now I am finding my pain is getting worse as well as my fatigue so everything is off with me right now and I am really worried. I am still waiting for this doctor to send me the results which is so frustrating because they must have the results to a simple blood test by now! I am really getting down and feeling extremely depressed and confused. Why is a healthy diet so hard to figure out? Why is it taking so long to find out what is wrong? And what am I doing wrong now?
Basically I am going away with my bestie Hannah this weekend so no blog on Sunday but full update on Wednesday, we are going with hannah's friend Caitlin to London to a convention for Lost Girl fans! I am incredibly excited because two of my favourite actors are going to be there Paul Amos and Tim Rozon so I am hoping it will lift my spirits and just help me to relax and have fun!
I am sorry this is not a cheery post but I am just not in a brilliant place right now take care everyone
Namaste xx