Body positivity with a Chronic Illness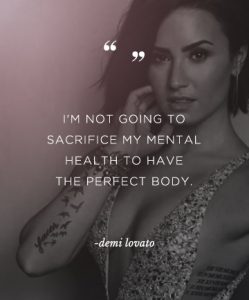 Hi everyone!
I have been hit full in the face with this over the last couple of weeks and it is something most people can identify with. I love my celebrities however my favourite actress is Nina Dobrev who somehow manages to be skinny, toned and have curves! I love my muscular men like Jamie Dornan, but I know my hubby sees them and wishes he could look like them!
Every TV show, film, magazine etc tells us we need to be muscular to be a sexy male and skinny and toned to be a sexy woman…though boobs and a big bum are a must! I have seen things about women with dark skin using lightening creams and even Korean people having eye surgery so they have different shaped eyelids!
So here I am saying that I am struggling because in the past I was thin, I was toned! Before I got sick I was a size 6 and I walked everywhere and did yoga, I went to dance classes and had a very physical job I was a nurse. Then I got sick and I went up to a UK size 12 I met my husband and then not too long after we got together I had a relapse of what they then thought was Multiple Sclerosis and I went into hospital for 3 days for high dose IV steroids…I then ballooned to a size UK20!!!
It has taken me a long time to get onto meds that allowed me to lose that weight, and thanks to Slimming World I got back down to a size UK10 and almost my goal of 91/2 stone….Then last year my Grandad passed away and I fell into a depression. I stopped watching what I ate and I stopped doing yoga every day and I got a little lost and in that year I put on a stone in weight and I went up a dress size which considering everything over a year is not that much. However, when I look at myself now I feel ugly, I have stretch marks from when I went from a 12 to a 20 in a short time, my body is no longer as toned and I feel very not sexy. In fact when I look at pictures of myself from last year I think I look ginormous!
So this year I promised myself I would get my diet sorted and get back to working out every day with the hopes that by the summer I will be doing yoga and taking my dog on short walks most days. One of my favourite You Tubers Helen Anderson is doing something similar and she is vlogging herself in the gym and instead of making me feel better it is making me feel worse! She works out to the point where she is sweaty and worn out and well I cannot do that! My body struggles with a 10minute walk and my short yoga sessions! By the evening I am in a ton of pain and struggling to stay awake on just that I just cannot keep up!
So I am trying to keep positive and please if you have a Chronic Illness and feel the same leave a comment below, but how am I meant to have a body that makes me feel sexy and good to myself when I cannot work out? How am I meant to get that sexy body when I spend most of my time sitting on the couch resting between tasks?
I follow a woman on instagram who gives me so much inspiration to try and love the body I have and not compare myself, Dana Falsetti she talks almost daily about body positivity and self love and sometimes the comments she gets make me want to cry no matter how they must make her feel!
So here I am asking you how do you keep from body shaming yourself when society sets such high and unreachable goals for able bodied people no matter we who are trapped in bodies that hold us back?
Namaste xxx
Picture source: totalbeauty.com