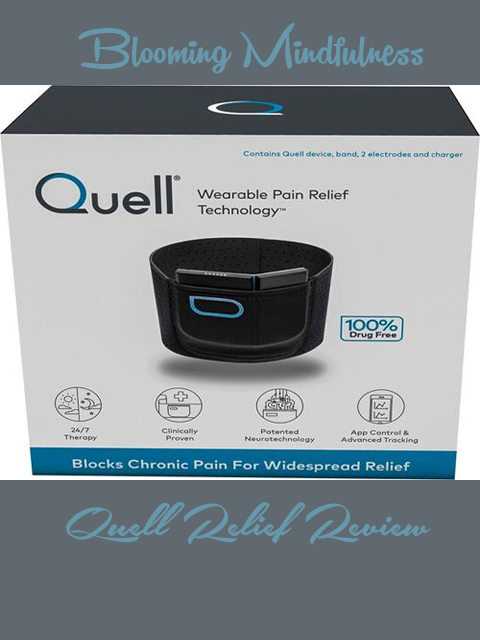 "I have been given this product as part of a product review through the Chronic Illness Bloggers network. Although the product was a gift, all opinions in this review remain my own and I was in no way influenced by the company. "
Hey everybody!
So I was sent the Quell a few weeks ago as I said, and it is a great little product so let's get into the details of it. The website says that it stimulates sensory nerves, taps into the body's natural pain relief response, sensory nerves carry neural pulses to the brain, and that they trigger a natural response that blocks pain signals. These are big claims and I think as anyone who has lived with chronic pain, I was a little sceptical but hopeful that this would help me.
The device itself is easy to put together, the electrodes are attached via two small connectors and there are 4 sections of blue gel that sit on the skin and that is how the device delivers the pulses to the skin. The device then is housed in a long strap which is always worn on the upper calf and it is kept in place with velcro.
The Quell is controlled by an app which is free from the app store and I added it to my phone. There you tell it about how your pain has been over the last 24hours and it uses that information to make sure you get the right amount of signal.
I found it really easy to put together and to use, the app is great you can change how strong the pulses are, and tell it how bad your pain is and it even registers when you sleep and how active you have been. Once it is on your leg it is comfortable and once you have the strap comfortably attached you can almost forget it is even there! I did find that the connectors came away from the unit a few times which meant I was not getting treatment, and there were times when I knocked it because it does stand out a little.
I also felt a little self conscious with it on, I wear a lot of skirts and having this black strap on my leg got people asking a lot of questions! I do wish there were other styles of strap, maybe in other colours just so you could coordinate with your clothing and make it look nice. Many of the pictures on the site show people wearing it to work out and I assume that is why these colours were chosen, maybe other strap designs will come in the future.
I did wear the Quell device to my yoga class and when I was doing my exercises at home, it made some postures a little difficult, but overall there were positions I could hold longer because I had the Quell on! It surprised me to find that, I honestly did not have high hopes but it really took away that dull ache that always seems to be there no matter what meds I take or what I try! I slept better with it on as well, it eased my pain to a point where I felt relaxed and it was great to find something that helped without it having to come from taking tablets!
Overall, this is a really good product, it is easy to operate, you can control the pulses and it is comfortable to wear and to sleep in! Most importantly of all it does control the pain and for me it is great support for the medication that my doctor prescribed me. I will for sure keep on using the Quell and would recommend it to anyone who suffers with chronic pain.
You can check out more information at their official site quellrelief.com
Namaste xxx