Trying to cope with the cold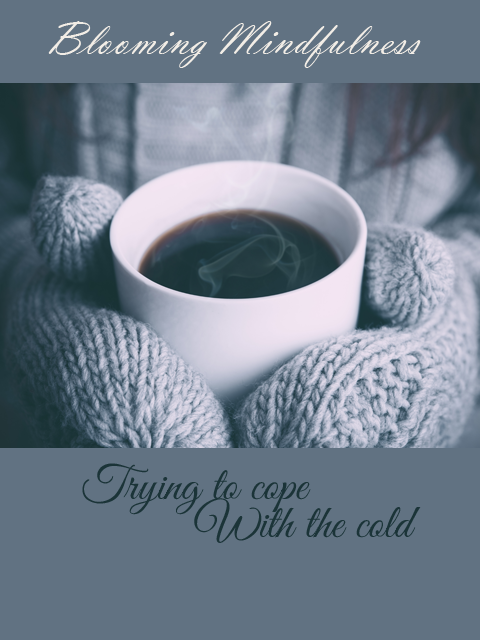 Hey everybody!
I really do hope that this cold snap is not affecting you all too much, I have been reading blog posts and watching You Tube videos by my fellow spoonies and it is not looking good! This year even in Florida there was snow, and I am definitely feeling the climate change that all the boffins have been warning us about.
For me personally it is making it harder to want to drink enough water, my pain is worse, my fatigue is hitting me and my depression is trying to push me around. Every joint seems to hurt and I even dislocated one of my knees just by turning round something that really shocked me!
So how am I keeping going and pushing through while this cold weather tries to push us to our limits? I mean we all have our tips and tricks and if we share them surely we will all feel a little better?
Keep hydrated: It is not easy to keep hydrated, drinking 2 litres of cold water a day is not easy when you feel cold. I keep a glass beside me at all times and I know if I refill it four times a day then I have had my quota. It has mermaids on it and that helps very much!
Hot drinks count: Keeping warm is as much about our intake as what we wear, however I struggled making hot drinks because of standing by the kettle and lifting it. But then someone on twitter said they bought this kettle by Breville that is more like a coffee machine, you don't lift the kettle you put your cup under it! Also, it boils in seconds so no more standing for long periods of time which is incredible it saves me energy because of that and it is so much safer because you are not lifting and pouring boiling water…plus it is in the sale at ASDA which was a big help.
Bundle up: Yes it might sound silly, but layer your clothes and there are lots of cute blankets for sale out there, like I got a very cute mermaid blanket from New Look before christmas which is so warm and cuddly! I am sat here in so many layers and blankets, and I even wear fingerless gloves in the house to help my hand pain!
Turn up the heat: By this I do not only mean turning on the heating or the fire, but also things like heating pads, hot water bottles etc can all make the difference between being in pain and feeling good. I also often go to bed early this time of year, I have the electric blanket on and a fleece blanket as well as a thick quilt and it is so nice to lie there warm and safe to read or watch TV.
Stay in: Most of the time I love to go out, it doesn't happen often because my husband works, but if he offers even to get in the car and wait while he goes to the shops I am up for it. However, sometimes we have to think about the weather, if it is cold, or icy then going out can be a risk too big to tackle. If us spoonies get a chill, or fall then it can take a lot to recover so don't be afraid to say no and stay in the warmth and be safe.
So these are some of the things I do, what do you do to keep warm and comfortable this time of year any tips and tricks gratefully received.
Namaste xxx