Cleansing and reassessments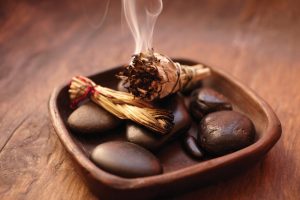 Hi guys! Well it has been a busy couple of days and I am really feeling it now! I just took a 2hour nap and I feel like a zombie but after much thought I decided to update my blog every Wednesday and Sunday and so here I am.
Yesterday our friend Tracy came over, she is a lovely person who works with Lee and also practices Reiki. I love meditation and yoga as you all know and this is just another way to keep your chakras clear and your spiritual self protected and healthy.
I have been feeling the presence of a spirit in our home that did not feel nice at all, it definitely felt male and though I am usually open to spirits I could not see or feel it clearly. One night I came back downstairs after going to bed to find a heavy feeling in the living room and a mouldy horrible smell…our house is a new build and does not have any mould!
Last time Tracey did Reiki on me she found me to be open, my spirit to be clean no negative energy at all, but this time it was very different! She said it was like someone had put a cloak of negativity over me and she could feel my chakras were closed and my spirit was murky and muddy. She could feel this spirit in the house and thought that because of my losing my granddad it had preyed on me seeing me as being weak.
It took her a lot to clean out all of the negativity from me and it was attacking Lee as well but not as much because he doesn't spend as much time in the living room as me. She told us to hoover or sweep the floor after she left because that was where she threw the negativity from us which we did and emptied the hoover. We also dusted the corners of the rooms telling the spirit it was not welcome here and to leave, I have ordered a sage stick to cleanse the house and I think I will do it regularly from now on.
We both immediately felt better the house feels like it is ours again, I don't know who the spirit was or where they came from, but it was not a good spirit at all. It tried to get back into me as quickly as Tracey was cleaning me out! I am so thankful that she came when she did because practicing yoga and meditation is extremely hard to do with any results when your chakras are closed!
This morning we woke early, 7am and got ready because I was being reassessed to see if I could go back to work. I think that people who claim for disability in this country are chosen at random, but it was so scary! I had gone a few weeks ago and they made me wait about 3 hours before saying they couldn't see me so they squeezed me in today!
The guy who saw me was really nice, I answered everything the best I could and was only in there about half an hour in the end! My anxiety was so bad though I was imagining the worst and so scared, now we just have to wait to see what they say! Hopefully the guy could see I was genuine and that my fatigue and pain stop me being able to work…I do not know how we will afford to live if they try to take my benefits off me!
I came home and had some food and a cup of tea with my Dad and his girlfriend Linda then when they went I went to bed for a nap I was exhausted! I wish the people who send for us knew how scary and stressful this process is, I know they want to catch fakers but if these people just went to work instead genuinely sick people could concentrate on trying to live!
Anyway I am going to attempt to make a roast dinner this afternoon with Lee's help as always I found a recipe for sweet potatoes roasted in honey and cinnamon so I am really excited to try that! I post picture of my cooking on my Instagram so head over there and comment if you would like me to share some of my recipes here too! xx