Dates with chronic illness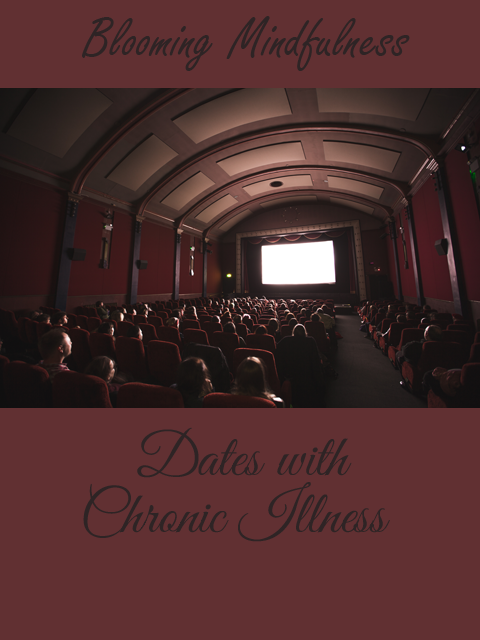 Hey Everybody!
So yesterday morning my husband took me to see Guardians of the Galaxy vol2 and out for lunch because I love going to the cinema and I was so excited to see it. I have recorded a You Tube video of my review which I will post up tomorrow so look out for that.
However, today I want to talk about how this sort of day affects me and people with chronic illness who just want to have fun! First of all, choosing what to wear and doing my make up gave me so much anxiety and I always get this way when I am going to be around humans. If anyone watches the news you know how scary the world is and I rarely leave my house so I often worry about going out, but I am stubborn and I push through it and make myself face the world.
I have been struggling with pain the last few days especially in my neck and arms, and I found this was made worse by the cinema seats. The cinema we go to is really nice, and for anyone sitting for long periods is difficult in one position, but I was constantly having to do neck movements I have learned in yoga to try and help the pain.
I also took my own snacks because my nausea was bad, I was thankful for this because I did not want to completely ruin my healthy eating just for one day out! Having a coke between us in there was nice though because it meant I did not get dehydrated, but the sugar in that stuff sent me a bit loopy!
Of course, cinema's are always loud and that triggered a lot of pain for me because loud sounds increase my pain and I know a lot of people with chronic pain find this. I can no longer listen to loud music or tolerate loud movies and as this was an action movie it was pretty loud with a lot of music. I came away with a lot of pain and wanting to retreat into bed where I could rest, however it is rare I get to go out like this so I wanted to go for some food as well.
We went to Frankie and Benny's which is an Italian style restaurant and we love the food there, I had a fruit cocktail and my husband tried a cola float for the first time. It was a nice chance for husband and I to just chat and relax together and I was really thankful for that, I enjoyed sitting because my leg pain was kicking up a storm by then too! I ate as much as I could of my main, which was spaghetti with tomato sauce and salad with a side of sweet potato fries and I really enjoyed the treat but by the time I had eaten that I knew if I tried to eat a pudding I would end up being sick.
Lastly we went to a store near to there and bought new pillows because our old ones had flattened and were painful and uncomfortable to lay on. By the time we got home me and hubby were exhausted, I was going to record a review of the movie but I had to rest my fatigue was giving me just enough energy to get into my PJs and climb into bed. We got home at about 5pm and I woke up at 8pm, I took my meds and then went to sleep for the night, I really wish people could understand that a date for me and Lee is so hard for us both and though we want to do it more often it just is not something our bodies allows!
Namaste xxx