Birthday celebrations with chronic illness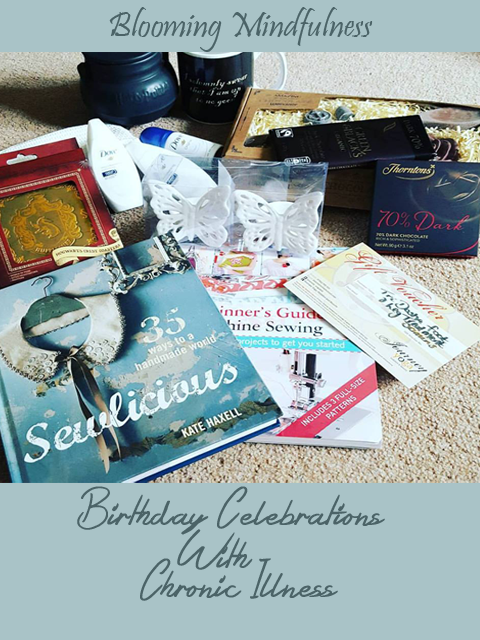 Hey everybody!
-plops down in a chair- Wow I had such an amazing few days celebrating my birthday! I have been spoilt by the people who mean the most to me and I have eaten more processed food and sugar than I usually eat in a year! It was so worth it!
On Thursday I was woken early, it was my birthday and I had presents to open and then I was told I needed to get showered for a surprise! The surprise was my best friend Louise and her mom, Gill coming all the way from London for the day and oh my goodness it made such an incredible day! We sat and chatted for aaages, my mom came for a little bit too and then my mom had to go home so she couldn't come out for lunch which was a shame. However, me, Lee, Louise and Gill went to a local pub we love for lunch.
We had such lovely food and more talking and I cannot even express how much it meant to me to have them with me for my day. I so wish we lived closer but I cherish every time I get to see them and it made my day so special to see them. In the evening, my dad and his girlfriend Linda came over and we just had a really relaxed night chatting and we had a take away of Indian food which was so yummy.
Yesterday was part 2 of the celebrations as me, Lee, my Nan, my dad, Linda, and some close friends Annalise, and Jess and Paul all came out for Afternoon tea. This was at a local hotel which is really lovely they have a lot of weddings and afternoon tea is lots of nice tea in lovely china teapots, and sandwiches, cakes and scones. It is so very English but really relaxed and just so nice to eat lots of yummy food and spend time with the people who count.
Now, I have a few illnesses that mean these two days were difficult for me and though I think it was worth it I also had to have it all planned out for a while! I started resting ready for celebrating at the start of the month, I definitely needed to because being social and talking as well as the walking needed are all so tiring. Getting tired also means that my pain is worse so I have to be aware if I take more meds that they will make me drowsy and I need to be patient with myself and let myself rest.
It is now the day after and I feel hungover though I did not drink anything and that is because of all the sugar and processed food I ate, I feel nauseous and my pain in my shoulders and the back of my head feels awful. I usually try to eat plainly, to make my food from scratch and to not eat take away or cakes and things. I am someone who tries to be as healthy as I can and I do notice if I eat food that is less healthy I can tell. Today I am drinking a lot of water to try and flush my system out and help my body filter out the less than healthy food.
I think however much we try to look after our health it is good to remember that there are special occasions and events where you need to enjoy yourself. Of course, afterwards your illnesses might flare but if you have had fun I find I don't tend to mind it as much.
Namaste xxx