Is meditation and chanting changing my brain?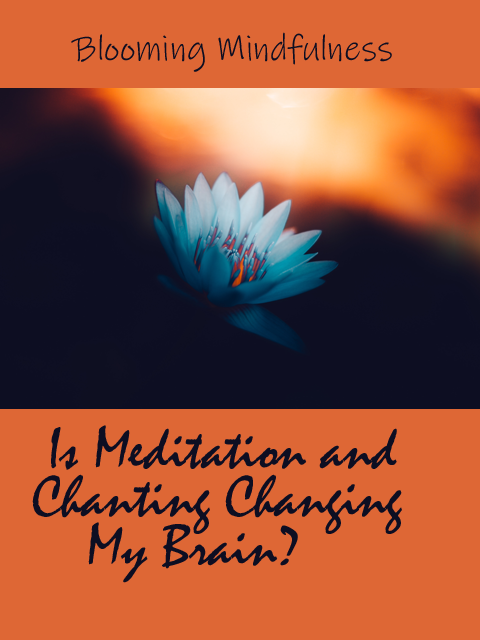 Hey everybody!
Well I am starting to feel more like myself and less like someone who just wants to curl up in a ball and do nothing and speak to nobody.
As I have spoken about many times before on here and my You Tube Channel, I suffer a lot with my mental health, namely chronic depression and generalised anxiety disorder. Both of these illnesses conspire against me to keep me inside and lonely and not doing the things I love to do.
However, over the last couple of months, me and my husband have been working hard to learn more about other cultures and other ways of thinking. Here in the West it all feels very overwhelming, there is a lack of kindness and compassion, and people tend to work work work without taking the time to look after themselves properly. Both me and especially Lee had fallen into that trap and we had enough!
Lee started learning about The Secret, and I found out about The Power of I Am and looking more into other religions that are as old as Buddhism which I have been studying for a while now. The realisation that if I put in the work I could be in control of my thoughts and take some control back became something that I greatly wanted to make happen.
After finding a course on the Insight Timer App, I started to learn about Bhakti Yoga, which is a spiritual practice within Hinduism, that concentrates on devotion and love for any endeavour. I found this so beautiful, and started to take mindfulness, gratitude and meditation more seriously. I also discovered chanting could help me stay in the moment and provide short mantras such as I am safe I am protected, which definitely calm my anxiety! As soon as I changed my thinking from what I want and what other people do to gratitude for what I have my whole demeanour changed! I woke up happy, something that has not happened since I was about 14years old! I started to be thankful for the home I live in and to see what I already had instead of focusing on what I wanted to change.
I also found that old emotions and feelings came up that I had stifled years ago, but by chanting or praying through it I found that I coped much better with them. It became so interesting to me that just changing my way of thinking could change things so quickly, I wondered if there was any scientific basis to think that my brain had changed. I found that there were articles about this, but many were not scientifically based which annoyed me because I am experiencing the change surely it can be measured somehow?
I did find this one study on sciencedirect.com which basically confirms what I am feeling and seeing myself, unfortunately the study was only done on small groups. However, it did help me feel like this could be a long term change and not just something that will last a couple of months and then stop working…I mean people have been using these tools for hundreds of years they must have an idea it works right?
Namaste xxx