When a pain flare is overwhelming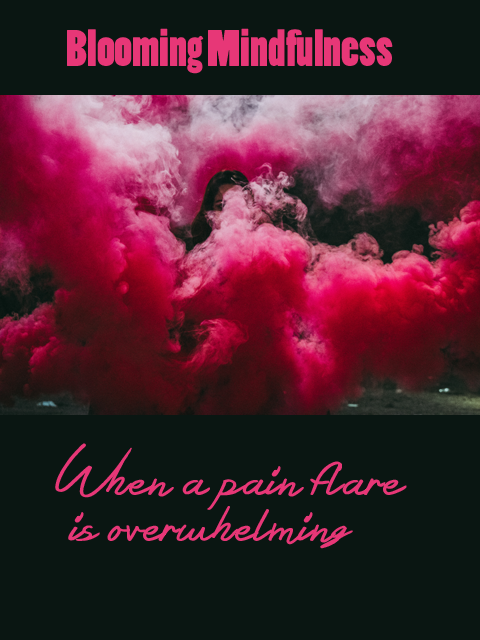 Hey everybody!
My pain is flaring at the moment and I will be honest it is kind of worrying and overwhelming! I am trying to keep my chin up and keep going, I think sometimes pain and fatigue can stop us in our tracks then we find our ways of coping; So when we flare it can be difficult to find our feet again
because we are already running at a much lower pace than most people could cope with!
What is a flare?
A flare is when your symptoms get worse but it is because of something you know and you are sure it will get better, for example after going out for the day or seasonal weather changes.
"A flare is a transient worsening in severity of a disease or condition that eventually subsides or lessens. For example, in many arthritis conditions the joints can flare with worsening of stiffness, pain, and swelling" – medicinenet.com
How do I cope?
I would usually go to see my General Practitioner, but to be honest she is not very compassionate and I do not think she feels Fibromyalgia is a real illness. She also has said many times she cannot give me anything else for pain and to try paracetamol, I did have a little hope when I was referred to a pain clinic…until they wrote refusing to see me because there was nothing they could do!
So the question I ask myself at times like this is how am I going to cope? I know I cannot turn to my doctor and though I am under a long term physiotherapist, I do not have anyone overseeing my whole condition who is a hospital team or anything like that. I think that is why it feels overwhelming because I have nobody to call and ask for help, but if you have been reading my blog posts for a while, you will know I am always looking to be as positive as I can.
Here is the things that are getting me through this flare:
CBD Balm – This stuff is brilliant for putting on the exact area of pain, and right now I am using it a lot on the back of my neck where my spine is very painful.
Heating Pad – Every chronic illness warrior knows that if you have a good heating pad you can use it to help pain so much. You can pick them up quite cheaply and they are brilliant especially for nerve pain which I am using one for right now!
Crystals – These days I can often be found with a crystal on my person and if I am in pain I will hold one against the area that hurts. Different crystals work for different conditions so check out that link for more information.
CBD oil – I have used this before but was priced out of using it for a while, however now my pain has flared I have turned back to it and I take it just at night to reduce my pain and to help my sleep. I also use the crystal Howlite at night to help me sleep and its soothing to hold so I would recommend that.
I would love to hear what helps you at times like this and also I do hope this helps you a little even if it is knowing you aren't alone while the seasons change.
Namaste xxx