Pushing passed Guilt with Fatigue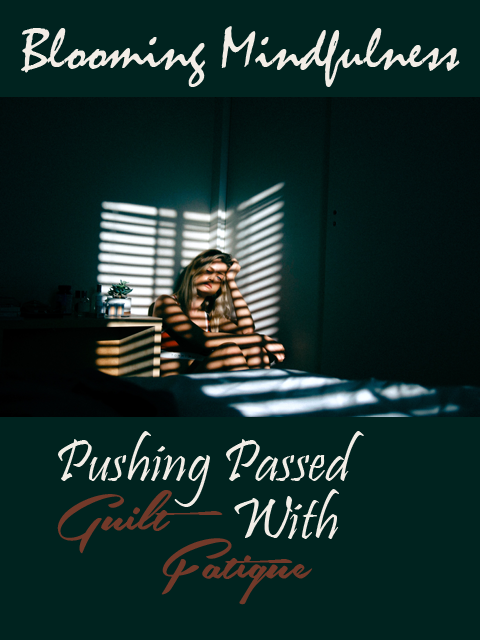 Hey everybody!
So it is getting closer to Christmas, with plans for visiting relatives and going out for dinner on the day as well as visiting my elderly Nan are all hovering over me. Of course, my body has chosen right now to get a cold and to hit me hard with fatigue that leaves me laying on the sofa unable to think straight no matter get dinner going!
My wonderful husband has epilepsy and his medications make him drowsy and tired, yet he comes home from work and makes dinner, helps me undress and get into bed and listens to me natter on and on about TV shows and Instagram and whatever else is in my head!
The problem is that I am constantly hit with guilt, I am forever saying sorry to him and that drives him insane! But I do feel so guilty, about him having to cook after being at work all day and I just hate that I feel like a useless blob on the sofa!
So much of our self-worth in society is tied up in what we do for a living, where we live, how we look and if you are unable to keep up, judgement comes from inside as well as from society at large. I find even my mother, who has Multiple Sclerosis, give me looks and makes comments when I ask Lee to pass me something or to help me. So when it even comes from those we think should understand how are we as chronic illness sufferers meant to keep our heads up and not drown in guilt?
I know many of you will understand what I am saying and will probably agree with a lot of points I have said, but my question is if we cannot do the housework and we need to put on family and friends how do we push passed this guilt that comes with fatigue? How do I as a woman who prides herself on having a clean and tidy house, deal with being unable to keep up with keeping everywhere clean? How do I pass jobs on to my husband when he is already tired from work and not feel like the most awful failing housewife?
Usually, I like to give tips and ideas but this time it is me asking for them: How do you keep your self worth going when you are unable to work or keep up with housework? How do you push passed the guilt that comes with times of extreme fatigue? Answers in the comments please? I will hopefully do a follow up to this post soon with some conclusions and helpful ideas to help my fellow Spoonies keep their self worth high!
Namaste xxx